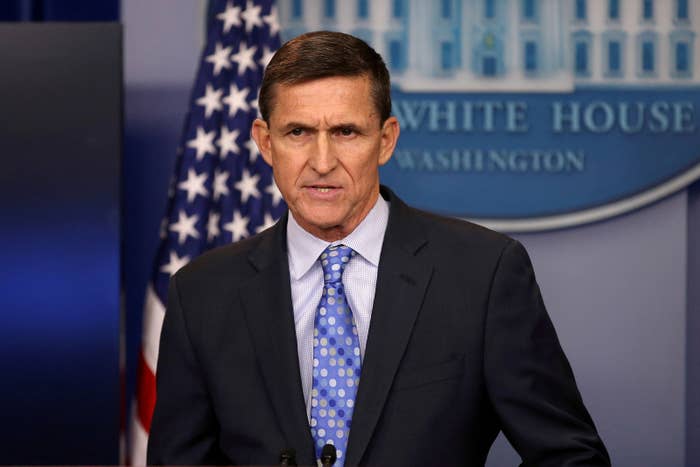 WASHINGTON – If the first indictments handed down in special counsel Robert Mueller's probe are any indication, things are looking increasingly bad for Michael Flynn.
Like former Trump campaign manager Paul Manafort, Donald Trump's first national security adviser failed for months to register as a foreign agent, in his case for his work for Turkey. And like former Trump foreign policy adviser George Papadopoulos, whose Oct. 5 guilty plea was unsealed Monday, Flynn allegedly lied to FBI agents about his contact with Russians.
The retired Army three-star general and former head of the Defense Intelligence Agency was fired after just 24 days in the job for misleading Vice President Mike Pence about conversations he had had with a Russian diplomat.
Mueller's rare leveling of a criminal charge for a violation of the Foreign Agent Registration Act against Manafort is a signal that it is in Flynn's best interests to work with the special counsel.
"Flynn is arguably responsible for the exact same kinds of crimes as Manafort — that is, acting on behalf of a foreign power and not registering," said Neal Katyal, a former acting US solicitor general and a professor at Georgetown Law School. "One way of understanding the Manafort indictment is that Mueller is saying to Flynn, 'I haven't indicted you yet, but you know you're as guilty as Manafort is, you better start cooperating'."
Like Manafort, Flynn belatedly registered as a foreign agent after taking $530,000 from a Turkish businessman for work he did that Flynn acknowledged principally benefited the "Republic of Turkey." During the time he was doing that work, in the summer and fall of 2016, Flynn was serving as the Trump campaign's national security adviser.
While he was secretly being paid to represent Turkish interests, he sat in on classified intelligence briefings, advised Trump on national security issues, and wrote an opinion column supporting the extradition of a foe of President Tayyip Erdogan. Even after he was off Turkey's payroll — and in the White House — he made some national security decisions that were in line with Erdogan's interests.
Flynn registered as a foreign agent on March 7, three weeks after being fired and eight months after he signed on to lobby for Turkish interests. In that same filing, he disclosed that he secretly met in a New York hotel with Turkey's foreign minister, Mevlut Cavusoglu, and the country's energy minister, Berat Albayrak, who is Erdogan's son-in-law.
Manafort and his associate Rick Gates are facing charges that they failed to register as agents for a foreign government under FARA, which requires that US citizens who lobby on behalf of foreign governments or political entities must disclose their work to the Justice Department within 10 days. However, as legal analysts and Manafort's lawyer himself pointed out on Monday, prosecuting someone for a FARA filing is very rare. The US government has done so only six times since 1966, the last time the law was revised, and that has resulted in only one conviction.
The Justice Department has usually focused on "voluntary compliance" — registering late — rather than pursuing criminal charges, according to a 2016 audit of FARA enforcement by the Justice Department's inspector general.
Mueller's use of the FARA violation charge against Manafort and Gates may indicate that this is about to change, which legal experts say should worry Flynn.
Whatever happens with Flynn will also have different implications for the president.
The White House has long tried to distance Trump from his former campaign manager, with former spokesman Sean Spicer once insisting Manafort "played a very limited role for a very limited period of time." On Monday, press secretary Sarah Huckabee Sanders said Trump had hired Manafort just to "to handle the delegate process … and he was dismissed not too long after that."

As for Papadopoulos, Sanders similarly stated on Monday that "he was a volunteer member of an advisory council that literally met one time" — an assertion that his guilty plea suggests undersells his access to senior campaign officials.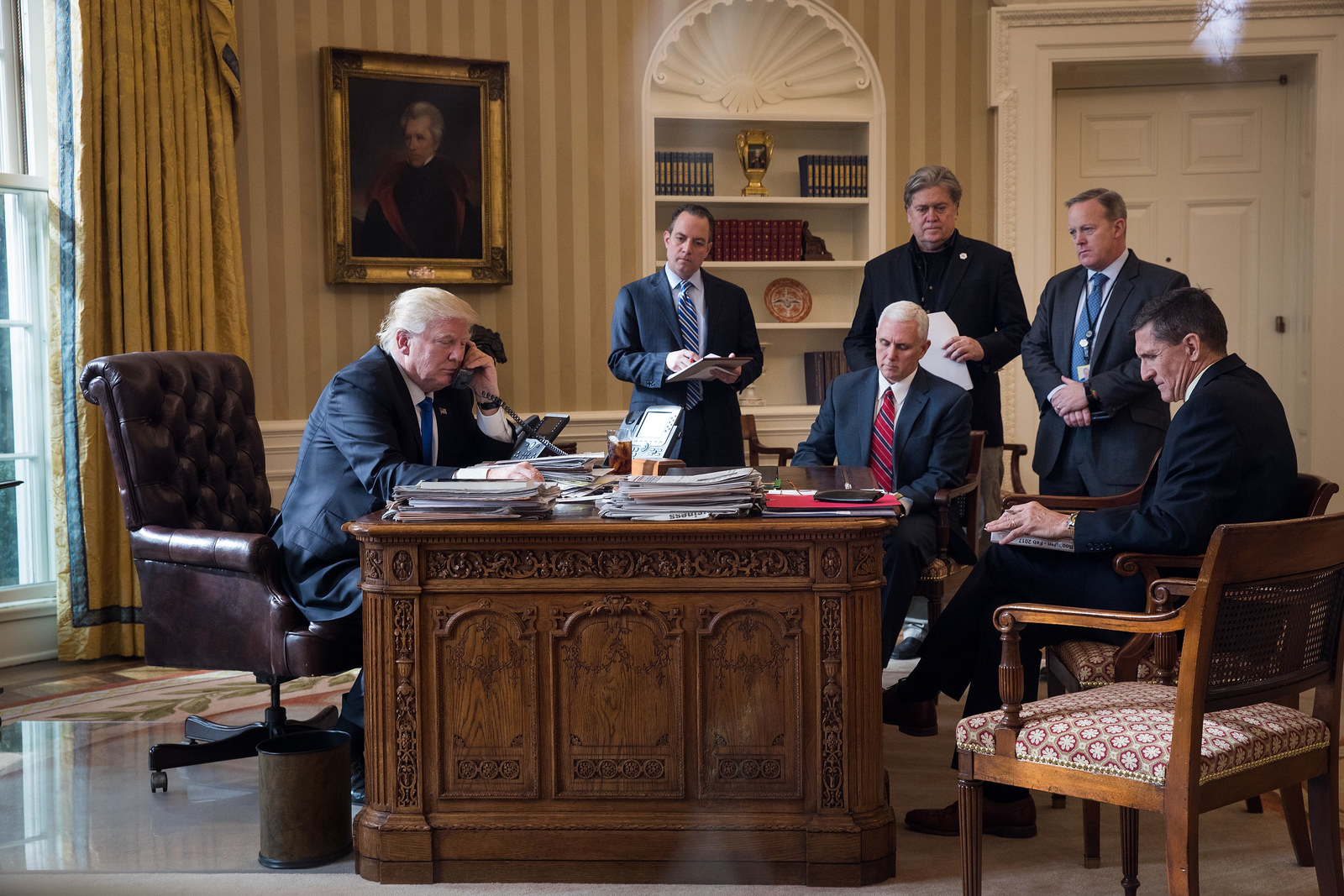 It's going to be impossible to create that same distance between Trump and Flynn, an early and zealous Trump supporter who was photographed many times sitting across from Trump in the Oval Office in the few weeks he was Trump's national security adviser. In the days after he fired him, Trump called Flynn a "wonderful man" and said "it's very, very unfair what's happened" to him, something he reportedly repeated for months afterward to baffled aides.
In March, he tweeted, "Mike Flynn should ask for immunity in that this is a witch hunt."
It was his dogged defense of Flynn that led Trump to infamously ask FBI Director Jim Comey to shut down a federal investigation, telling him, "He is a good guy. I hope you can let this go."
Since Flynn's firing, it has also come to light that Trump officials were alerted on at least three separate occasions that the incoming national security adviser was being paid to represent Turkish interests. After Flynn's op-ed advocating for one of Turkey's main objectives raised red flags for the Justice Department, they informed him they were investigating his work as an undeclared foreign agent.
Flynn's lawyer told the White House on Jan. 4, and on two other occasions told the White House counsel, that Flynn would be registering as a foreign agent. Even so, both Trump and Pence deny that they knew he was working for a foreign government during the campaign.
Papadopoulos's guilty plea is also bad news for Flynn, as he allegedly lied to the FBI as well.
"Special Counsel Mueller already has one criminal conviction. And this plea portends more charges to come," former US Attorney Preet Bharara tweeted after Papadopoulos's admission was unsealed.
According to the plea document, through "his false statements and omissions, defendant Papadopoulos impeded the FBI's ongoing investigation into the existence of any links or coordination between individuals associated with the campaign and the Russian government's efforts to interfere with the 2016 presidential election."
On Jan. 26, then acting attorney general Sally Yates told the White House counsel that two days earlier, Flynn had lied to the FBI about his phone calls with then Russian ambassador Sergey Kislyak. Flynn reportedly held five phone calls with Kislyak on the day the Obama administration imposed sanctions for Moscow's interference in the 2016 election. Flynn remained in his post for 18 days after Yates's warning before being forced to resign.
Flynn's lawyer, Robert Kelner, did not return a request for comment. Last month, Flynn's family set up a legal defense fund to defray the "tremendous financial burden" of his legal fees.
There are also a host of other legal charges that could be leveled against Flynn — and his son, Michael Flynn Jr.
Flynn was paid more than $33,000 to speak at a gala in Moscow two months before he joined the Trump campaign, where he sat next to President Vladimir Putin. That alone could have exposed him to criminal charges: Retired military officers must ask permission in advance if they travel to a foreign country or receive payments from a foreign government. The Pentagon and the State Department have told Congress that Flynn did not do so.
Flynn's son is also a subject of the federal investigation. As first reported by NBC, the probe focuses on his work for his father's lobbying firm, Flynn Intel Group, where he managed the day-to-day operations. Flynn Jr. also accompanied his father to Moscow for the speech in 2015.
Thomas Frank contributed.
UPDATE
Michael Flynn was paid by a Turkish businessman for his work that benefited the Republic of Turkey. An earlier version did not say who had paid his fee.