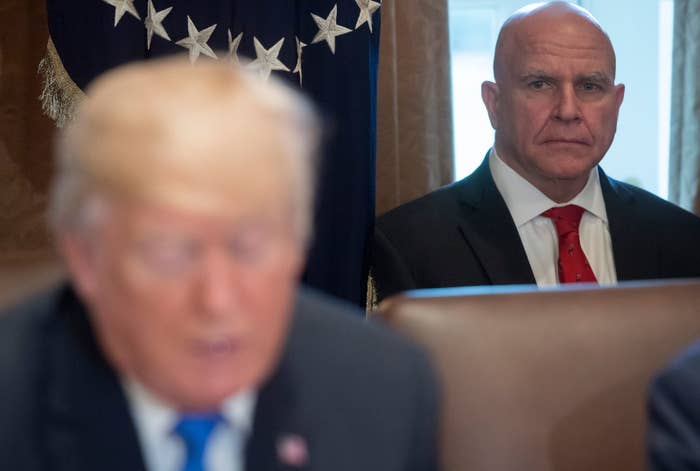 National Security Adviser Gen. H.R. McMaster will leave the Trump administration and be replaced by former United Nations ambassador John Bolton, President Donald Trump announced Thursday night.
"After thirty-four years of service to our nation, I am requesting retirement from the U.S. Army effective this summer after which I will leave public service," McMaster said in a statement sent out by the White House. "Throughout my career it has been my greatest privilege to serve alongside extraordinary servicemembers and dedicated civilians." He thanked Trump for "the opportunity to serve him and our nation."

Trump has asked McMaster to stay on until mid-April, before Bolton takes the position.
Bolton talked about his new job Thursday night during an interview on Fox News, where he has frequently appeared. He noted that he thinks, for now, he is still a Fox News contributor. "I didn't really expect that announcement this afternoon. But it's obviously a great honor, it's always an honor to serve our country."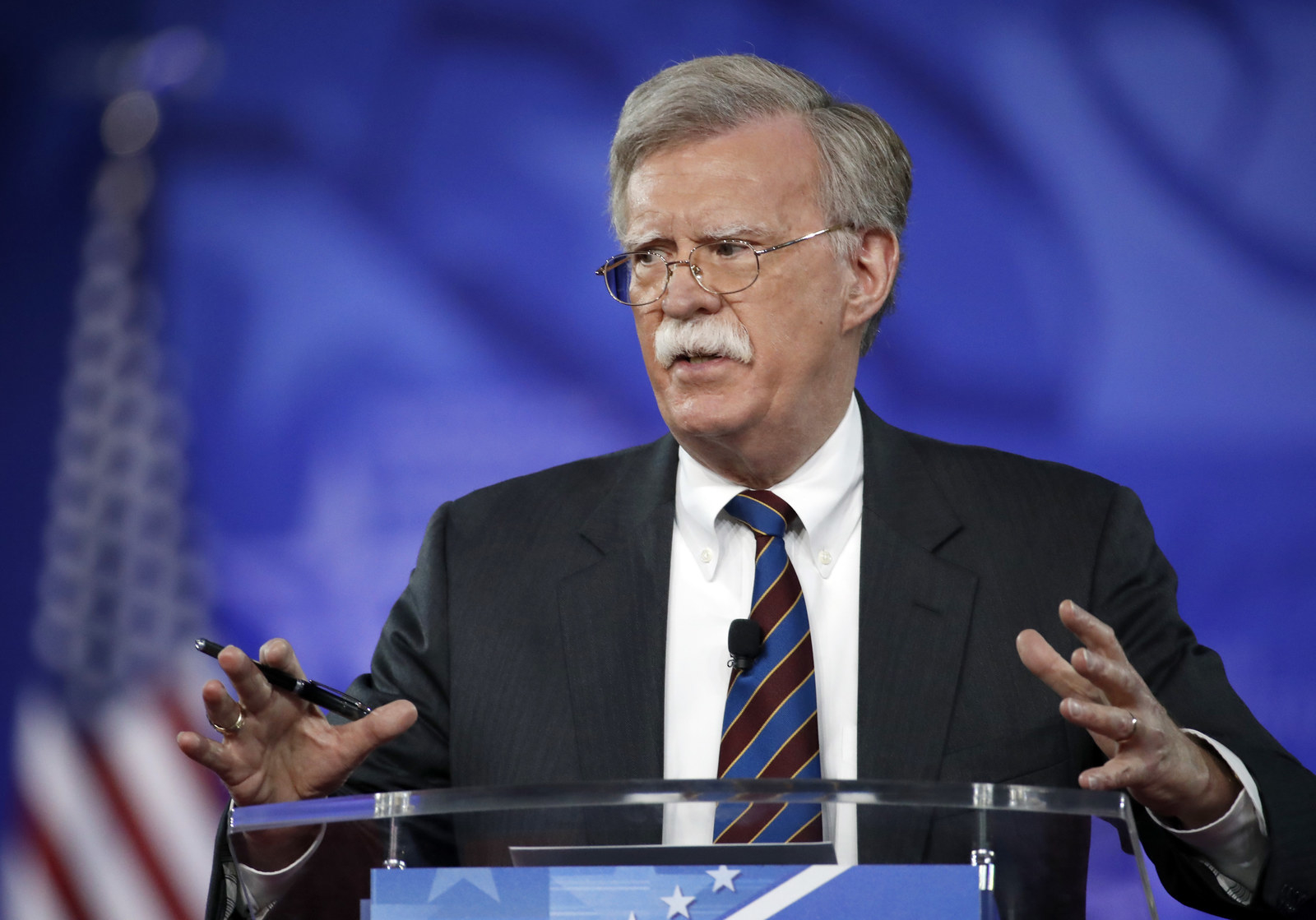 The decision was first reported by the New York Times.
Trump named McMaster as his national security adviser in February 2017, a week after firing his predecessor, Michael Flynn, following reports that he had misled Vice President Mike Pence about conversations he had had with the Russian ambassador about sanctions.

Trump's first choice to replace Flynn, retired Vice Admiral Robert Harward, turned down the offer.
McMaster, a three-star general and a veteran of both Iraq wars, chose to stay on active military duty while serving as the national security adviser. A respected military strategist, he joined several other high-ranking military officers advising Trump during the first year of his administration, including Defense Secretary Jim Mattis, a retired four-star general who pushed for him to accept the job, and John Kelly, another retired Marine general who first served as secretary of homeland security and then as White House chief of staff.
Bolton made clear on Fox News Thursday that he comes to the job from a different realm. "I'm not sure I've ever met General Mattis," he told Fox's Martha MacCallum.
But after more than a year, McMaster didn't develop a personal rapport with the president. The relationship between the detail-oriented McMaster and the president, who prefers his information condensed as much as possible, was often strained. McMaster's lengthy briefings reportedly chafed Trump, who viewed the gruff military strategist as condescending.
Their relationship became even more tense in February, when McMaster told an international audience that Russian meddling in the 2016 election was indisputable and Trump publicly tweeted his disapproval.
Frustrations appeared to run both ways. McMaster mocked Trump at a private dinner in July, saying he had the intelligence of a "kindergartner," five sources with knowledge of the conversation told BuzzFeed News last November. Michael Anton, a spokesman for the National Security Council, said at the time that "actual participants in the dinner" denied that McMaster had made those comments.
Bolton, though, has long been a Trump favorite. He's been omnipresent on Fox News throughout Trump's presidency, where he tends to speak bluntly on national security news of the day. One case in point: During his Thursday night interview, he referred to whoever leaked internal White House deliberation's about Trump's call with Russian President Vladimir Putin this week as "some munchkin in the executive branch."
Bolton has been floated for a seemingly endless number of foreign policy or national security jobs since even before Trump won the presidency.
In May 2016, months before Trump was even the official Republican nominee, Bolton said it would be an "honor to be considered for any position" in a potential Trump administration. Trump himself suggested during the campaign that he would consider Bolton for secretary of state, telling radio host Hugh Hewitt in August 2016 that Bolton is "a good man." But a month after Trump's win, there was already a campaign underway to prevent him from being nominated for any job in the State Department, with Republican senators reportedly skeptical of his fit.
Sen. Rand Paul went as far as to say he would block any Bolton nomination.
"I think an unrepentant advocate of the Iraq War doesn't really fit with Donald Trump's pronouncements throughout the campaign," Paul told BuzzFeed News a week after Trump's election. "Donald Trump was quite proud of the fact that he opposed the Iraq War for a long time, and not only did he oppose it, he learned the lesson that regime change didn't make America stronger or safer."

"John Bolton doesn't get it. He still believes in regime change. He's still a big cheerleader for the Iraq War," he said the next month on ABC's This Week. "John Bolton is so far out of it and has such a naive understanding of the world."
But the national security adviser post does not require Senate confirmation, so Paul will not be able to try to formally intervene. And some of his colleagues are already coming out in support of the change. "I know John Bolton well and believe he is an excellent choice who will do a great job as National Security Advisor," Sen. Marco Rubio said in a statement after Trump's announcement. "General McMaster has served, and will continue to serve, our nation well and I thank him for his service."
Bolton has been a controversial national security figure for decades. He is blunt (North Korea's Kim Jong Il was a "tyrannical dictator"; the idea that China would respond with force if the US recognized Taiwan — as he suggested doing — "is a fantasy") and has held hawkish views. Bolton advocated for the Iraq War as undersecretary of state for arms control and international security in 2002, saying the Bush administration was "confident" that Iraq's Saddam Hussein had "hidden weapons of mass destruction." More recently, in 2015, Bolton wrote a New York Times op-ed headlined "To Stop Iran's Bomb, Bomb Iran." In February, he wrote an op-ed for the Wall Street Journal laying out the legal case for a preemptive strike on North Korea. "It is perfectly legitimate for the United States to respond to the current 'necessity' posed by North Korea's nuclear weapons by striking first," he wrote.
Bush had to go around Congress to get Bolton as his UN ambassador in August 2005, and even then was only able to install him temporarily in an acting capacity. Senators from both parties had issues with Bolton's temper and worldview at the time, and were specifically troubled by how he viewed the body on which he was being nominated to serve.
"There is no United Nations," Bolton said in a 1994 speech. "There is an international community that occasionally can be led by the only real power left in the world, and that's the United States, when it suits our interests and when we can get others to go along."
Bolton's official nomination to the post was eventually abandoned and he resigned as UN ambassador at the end of 2006. After leaving the post, Bolton has flirted with running for president, and has used a political action committee to try and sway the Republican Party to his foreign policy vision.
Trump, especially during his presidential campaign, has staked out foreign policy positions that directly clash with Bolton's. Bolton said he was "disturbed" when Trump suggested in July 2016 that, as president, he might not abide by NATO's mutual defense agreement if member countries don't keep financial promises. He called Trump's comments, which were eventually walked back, "an open invitation to Vladimir Putin, who has already changed borders on the continent of Europe through the use of military force."
But Bolton has still been a constant presence in Trump's Washington. He has kept up his political operation, endorsing and backing candidates for 2018's elections. And he has frequently met with Trump since Trump's been president, stoking speculation that it was only a matter of time before he landed an administration job. White House press secretary Sarah Huckabee Sanders described Bolton as "a friend of the president" in December and said his stops by the White House were just check-ins.
One thing that's reportedly kept Bolton out of a job to this point: his notorious, walrusesque mustache. "Donald was not going to like that mustache," a source told the Washington Post at the end of 2016.
McMaster has long been disliked by some in Trump's base. Breitbart, the website formerly controlled by Steve Bannon, sought to paint McMaster as an embattled establishment figure with a squishy ideology, more akin to a Democrat than a Trump loyalist.
Bolton already showed a willingness to publicly defend Trump in the Fox News interview. Asked about the president's phone call with Putin this week, in which Trump congratulated him on his reelection against the warnings of his national security advisers, Bolton shrugged it off as "a matter of being polite."
"I don't consider it a significant point one way or the other," he said. "The president had other subjects to bring up... It was a matter of courtesy."
Some of McMaster's most high-profile moves included pushing to send an additional 3,000 to 5,000 troops to Afghanistan, and warning staff on the National Security Council that using the term "radical Islamic terrorism" is counterproductive to messaging efforts in the fight against terrorism. He was also known for being one of the administration's most hawkish voices on North Korea, and his insistence that deterrence will not work on Kim Jong Un.

The White House, as recently as a week ago, was denying a report in the Washington Post that a move along the lines of replacing McMaster with Bolton would possibly happen.
When McMaster himself was asked about the reports at the White House last Friday, he told ABC's Tara Palmeri, "Everybody has got to leave the White House at some point."