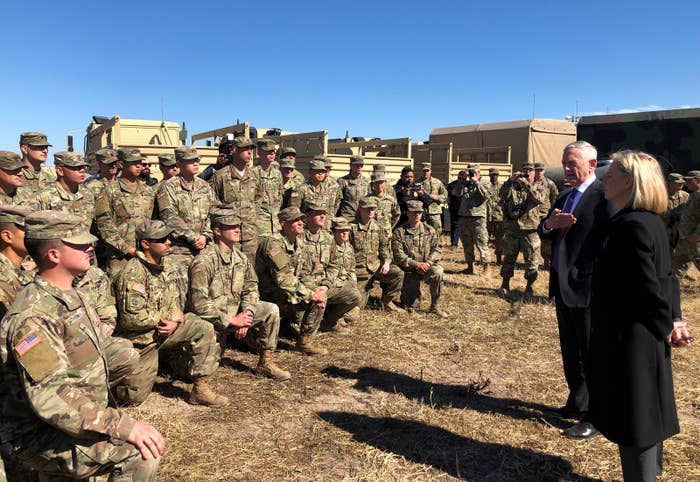 On a visit to US troops on the southern border on Wednesday, Defense Secretary Jim Mattis offered his most full-throated defense yet of President Donald Trump's "absolutely legal" deployment of up to 7,000 active duty soldiers ahead of the arrival of large groups of Central American migrants, a move that has been widely slammed as a political stunt.
"The eyes of the world right now, certainly of all the Americans, are on you," he told a gathering of troops stationed near the Texas town of Donna near the border with Mexico, where the US military set up a base camp when they were deployed ahead of the midterm elections. "This is a mission that's nontraditional because it's here in our country. Generally, we do homeland security overseas."
But the questions he was asked by some of those troops underscored just how unusual — or, in Mattis's words, "nontraditional" — the largest military deployment of the Trump administration has been from the beginning.
"Let's have at it, young soldiers: What's on your mind?" he jovially asked a group of US Army soldiers in military police and engineering units. Mattis, Homeland Security Secretary Kirstjen Nielsen, and roughly two dozen troops were all huddled in a tent set up in a vast, barren field, in a moment caught on a 30-minute livestream of his visit by the Pentagon press pool. The previous group had asked him what he missed most about being a Marine and listened to his historical analogies and calls to "keep the faith." These soldiers had more practical questions.
"Sir, I have a question. The wire obstacles that we've implanted along the border... Are we going to be taking those out when we leave?" one of them asked, drawing a few smirks from those around him. The most visible role US troops have served since they began arriving on Oct. 29 has been stringing up concertina wire, a razor wire that is notoriously hard to remove.
"We'll see what the secretary says, okay?" he answered, pointing to Nielsen standing next to him. "Right now, the mission is put them in. ... We'll let you know."

US Northern Command says that troops have deployed with 22 miles of the wire so far, with 150 more available. The US–Mexico border is 1,950 miles long. Most members of the migrant caravan are heading toward Tijuana, which lies some 1,300 northwest of the border camp in Texas.
"What are the short and the long-term plans of this operation, sir?" asked another young soldier.
"Short term right now, you get the obstacles in so the border patrolmen can do what they gotta do," Mattis responded.
"Longer term, it's somewhat to be determined," he said, adding that "if we were in war right now, you'd be asking the same question" and that the mission was a "dynamic, unpredictable kind of thing."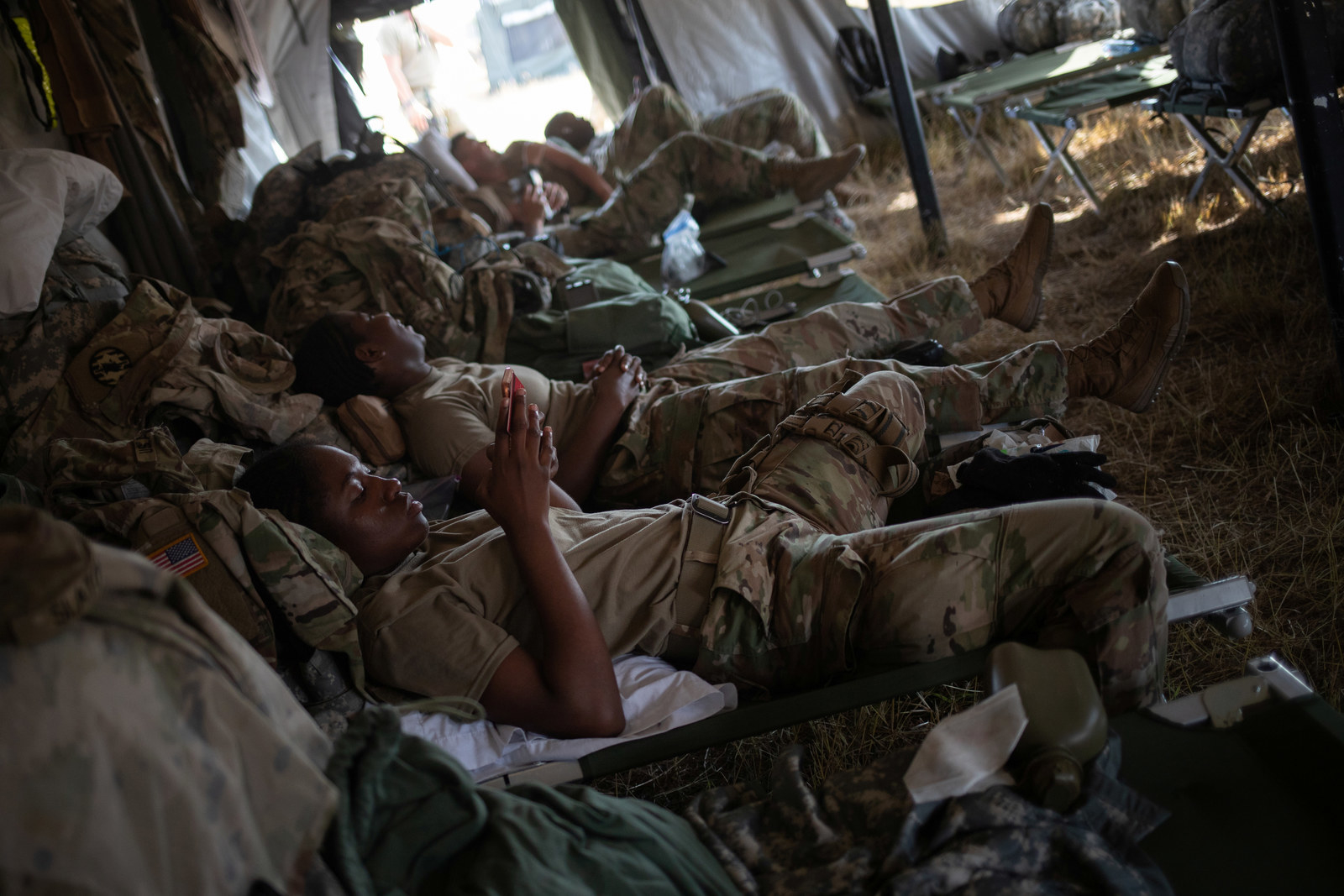 He then echoed the Trump administration's talking points in a way that seemed unusual for the typically calculated and camera-shy Pentagon chief, who has said little publicly about the deployment amid rumors that the president is looking to replace him.
"My mother was an immigrant, OK? She told me how hard it was to get into America. So believe me, we want legal immigration," he said. "That's part of what makes America good, but illegal we're going to carry out the law. … We'll just have to see what the situation develops in, and then we'll get you an answer."
Mattis has previously said his mother came to the United States from Canada as an infant.
He also told a different group of soldiers to not to pay attention to media coverage of their mission, in which many former military leaders have raised questions about the point of the deployment.
"There's all sorts of stuff in the news," he said. "If you read all that stuff, you know, you'll go nuts, know what I mean? You know what your mission is here. You've had to deploy on short notice to a nontraditional location and do your jobs. So you focus on doing that."

Mattis defended the deployment as a "moral and ethical mission" and reached back to 1916 to find another example of active duty troops being deployed to the border, as opposed to the National Guard deployments of former presidents Barack Obama and George W. Bush.
"There's nothing new under the sun," he said. "President Wilson a little over 100 years ago deployed the US Army to the southwest border — the threat then was Pancho Villa's troops," Mattis said.
As he walked around, nodding and shaking hands with clusters of soldiers standing on the expansive field of dry grass, an Army officer told him about "96 degree days" followed by cold and windy rainstorms, and laughed with another officer about how these conditions "build character."
He joked that they could "not have asked for a better training event than this" when the officer told him that they were supposed to be on a field training exercise when they were deployed.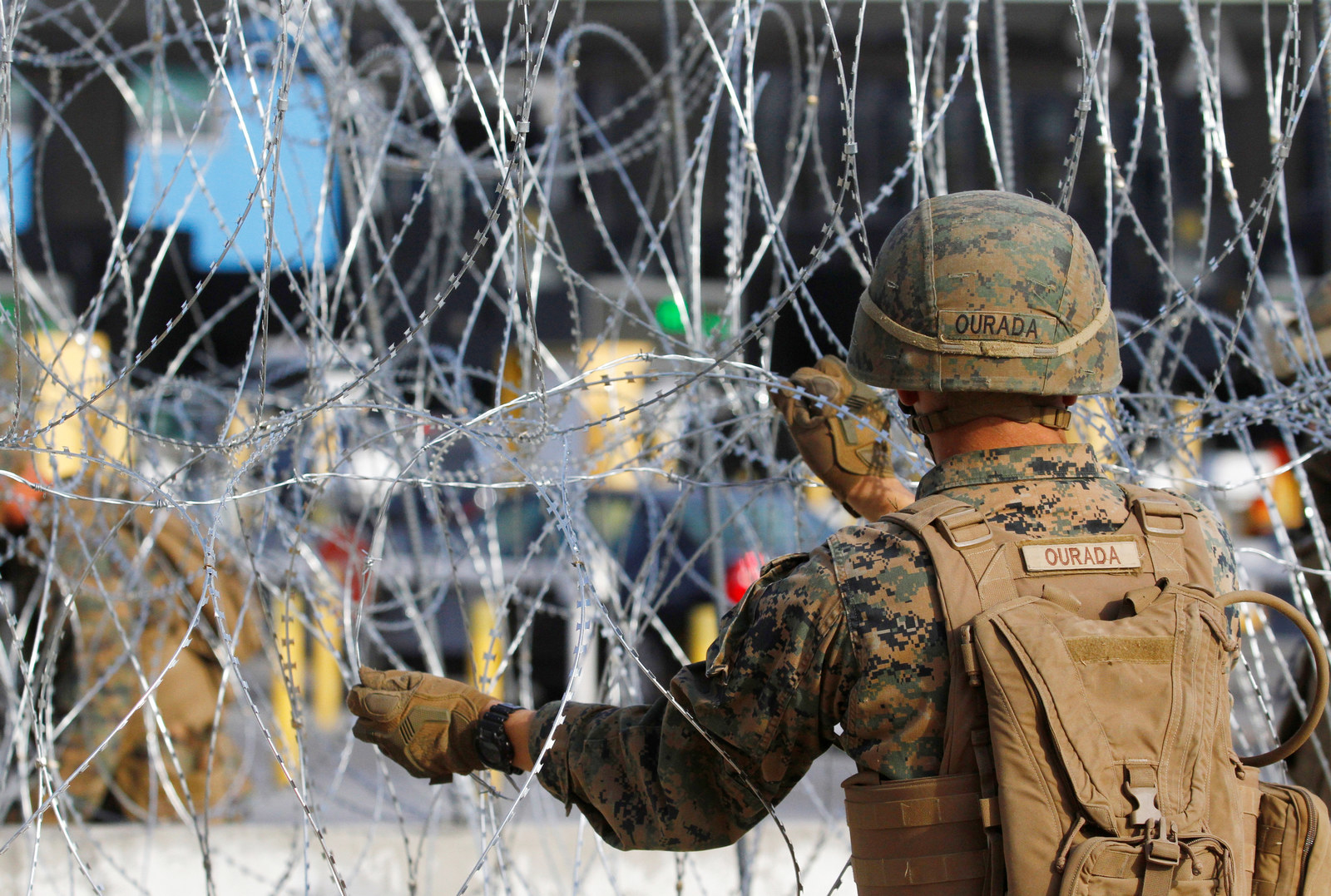 But the exchange highlighted how the narrow parameters of the large-scale deployment to "secure the border" from groups made largely of asylum-seekers left troops with little to do. Roughly 2,100 National Guard troops had already been stationed there since April, ahead of Trump's deployment order last month. Neither the active duty troops nor the National Guard are allowed to detain or arrest anybody at the border. They are barred from enforcing immigration or criminal law. There is no indication that troops will be going on patrol or manning border checkpoints.

"At the present, I do not anticipate military personnel coming into direct contact with migrants," he said on Wednesday.
Of the 39 units dispatched, only seven are military police units. The rest are trained to do engineering work and provide logistical support or medical assistance. Five are public affairs units, providing a steady stream of photos and videos showcasing soldiers in body armor and helmets. As of last Friday, roughly one-fifth of the more than 600 photos and videos on the Pentagon's media site related to the deployment showed US troops looking at, pointing at, transporting, stringing up, or taking inventory of coils of concertina wire at a few border crossings in Texas and Arizona.
Trump made the migrant caravans walking toward the southern border a key issue in the final days before the midterm elections, insisting the deployment of thousands of active duty troops would protect the country from an "invasion." Since election day, even as the caravan has begun moving again, he's remained mostly silent on the issue.
On Wednesday, Mattis said roughly 5,900 troops were deployed for the mission along the border. Last week, 2,800 were in Texas, 1,500 in Arizona, and 1,300 in California, according to US Northern Command.