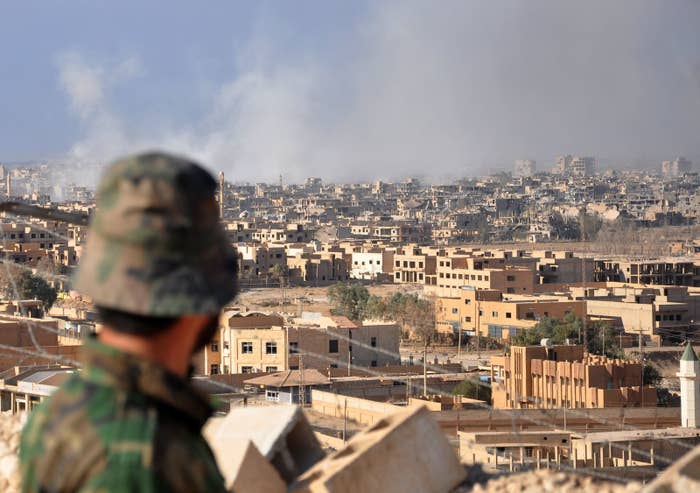 After months of saying ISIS had lost nearly all of the land in Syria that it once controlled, US military officials acknowledged Tuesday that ISIS fighters are on the rebound in some areas and that the estimate of how much territory the group has lost is now lower than it was just a few weeks ago.
"We had said 98% […] but as we've seen ISIS start to resurge in areas west of the Euphrates River, we'll just keep it at well over 90% of the territory that ISIS used to have has been retaken," Col. Ryan Dillon, a spokesperson for the US-led Operation Inherent Resolve coalition, told reporters at the Pentagon.
The ISIS gains have come in areas controlled by forces loyal to Syrian President Bashar al-Assad and their allies, including Russia, Dillon said.
"As we look at ISIS in areas where we are not operating, where we are not supporting our partners on the ground, there has been ISIS elements who have been able to come back and take territory," said Dillon, speaking from Baghdad, adding that some neighborhoods in southern Damascus have also seen an ISIS comeback.
Meanwhile, the departure earlier this year of fighters from the US-allied, Kurdish-dominated Syrian Democratic Forces to counter a Turkish invasion in northern Syria has hurt US efforts to rout ISIS forces in the Euphrates River valley near the Syrian city of Deir ez-Zor.
"What I will say is there really has been no gain of territory — significant gain of territory — since the departure of many of those fighters that left to go toward Afrin," Dillon said.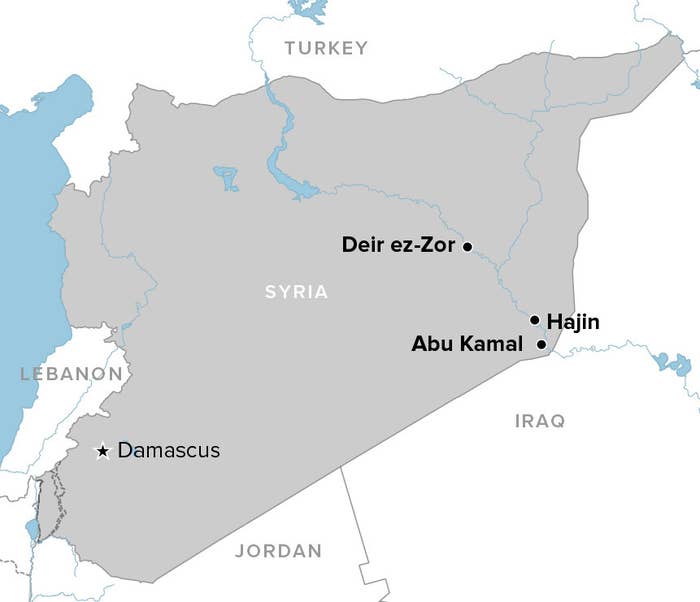 The US-led coalition has stepped up bombing raids on pockets of ISIS fighters in eastern Syria along the Euphrates river, focusing on Hajin, north of Abu Kamal, and Dashisha, near Deir ez-Zor, in hopes of containing ISIS to those areas, he said.
"That is where ISIS in eastern Syria is concentrated, and that's where we're going after them," Dillon said.
Dillon declined to provide a new estimate of how many ISIS fighters are still active. Previously, the US has said it believed ISIS combatants had dwindled to 1,000.
These details of an ISIS resurgence come two weeks after President Donald Trump said he wanted to bring US troops home from Syria — a pronouncement that set off alarms at the Pentagon, where officials favor a long-term stay in Syria to prevent an ISIS comeback. While Trump has since reportedly backed off that suggestion, Syria remains a tangled set of competing fighting groups and priorities.
Even as the US deliberated over its response to a chemical weapons attack in Douma last week, the US military conducted 11 strikes consisting of 20 engagements around Abu Kamal and Dashisha between April 6 and 12. The strikes succeeded in damaging ISIS-held buildings, vehicles, and fighting positions, and destroying improvised explosive devices, according to the Pentagon.

The statistic on ISIS territorial losses has been one of the Trump administration's favorite talking points as it touted its military achievements in Syria. Trump has regularly repeated that "very close to 100 percent of the territory" has been retaken from ISIS and that the US job is essentially done.
The Pentagon too had used that figure until recent weeks, when US officials began slowly walking the number back.
Gen. Joseph Votel, who heads US Central Command, first cited the 90% statistic April 3 in a presentation at the US Institute of Peace in Washington. "There are still some areas where they [ISIS] are present and that we will have to continue to operate on, and the situation continues to become more and more complex," he said.
Recent developments "slowed down our operations against ISIS," he said, pointing to the capture of the Syrian Kurdish city of Afrin by Turkish forces in March. Turkey has long opposed the US alliance with the Kurdish YPG, which makes up much of the SDF. Turkey believes the YPG is aligned with Kurdish separatists who have fought a decades-long insurrection against the Turkish government.
The State Department warned in March that ISIS fighters could seize the Turkish invasion as an opportunity to break the coalition's momentum.
"The fighting in western Syria over the last two months, including in Afrin, has distracted from the 'Defeat ISIS' campaign and provided opportunity for ISIS to begin reconstituting in some areas," State Department spokesperson Heather Nauert said March 19. "This is a serious and growing concern."
As feared, the Turkish operation led fighters with the SDF to quit the anti-ISIS fight and head to Afrin to defend the city from the Turkish assault. This eventually forced an "operational pause" in some anti-ISIS ground operations, US defense officials said in March.
On Tuesday, Dillon said this "drew down on the combat power and the ability of the Syrian Democratic Forces to continue to conduct offensive operations."
Despite these setbacks, Trump decided to go public with his impatience to get US troops out of Syria as soon as possible on March 29, suddenly announcing during an unrelated speech in Ohio that the US would be withdrawing from Syria "very soon" since ISIS had been defeated.
The move contradicted his own administration, which for months signaled that the US intended to stay in Syria long term. In a January speech, now-ousted secretary of state Rex Tillerson outlined a Syria policy that relied on an indefinite US military presence. Mattis had described the long-term goal in Syria as preventing "ISIS 2.0."
There are approximately 2,000 US troops in Syria, according to the Pentagon. Trump relented after military officials pushed back on his immediate calls for withdrawal, but has reportedly said they have only up to six months to finish the defeat of ISIS and get out, warning that he did not want to hear in October that they needed more time.
On Tuesday, the Pentagon said it was ready to share information on the ISIS comeback with Russia.
"If we do see things, or ISIS…on the west side of the Euphrates River, we will tell the Russians, and, you know, we certainly hope that they will act on the information that we have provided," Dillon told reporters.
The presence of several hundred US troops in Syria came back into the public eye last month when a US soldier and a British soldier were killed by a roadside bomb near Manbij, and five others were wounded. On Tuesday, military officials said that while the US was still investigating the incident, the evidence so far suggests that it "very much was an ISIS" attack.