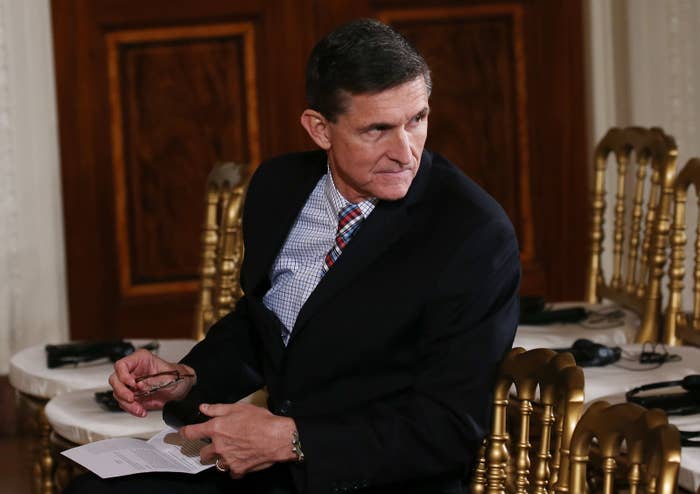 WASHINGTON – Ten days before he was tapped as President-elect Donald Trump's national security adviser, Michael Flynn published an opinion column that immediately raised suspicions at the Justice Department.
"We need to adjust our foreign policy to recognize Turkey as a priority," Flynn wrote in The Hill on Nov. 8, 2016, the day of the presidential election. "We need to see the world from Turkey's perspective."
He argued for a range of President Recep Tayyip Erdogan's talking points, defending his ruthless crackdown on dissidents, calling for the extradition of Erdogan's rival, Fethullah Gülen, and calling Turkey "vital to US interests."
What nobody knew then was that three days earlier, Flynn had received the third and last installment of $530,000 in compensation for lobbying for Turkey's interests. He would not register as a foreign agent until March, a month after he was fired from the White House.
According to a document obtained by BuzzFeed News, the Justice Department's counter-espionage division contacted Flynn about his Turkey work as early as Nov. 30. They also shared their suspicions with White House counsel Don McGahn in January, a former senior Justice official told BuzzFeed News.
In the court filing released on Friday, Flynn admitted that "officials from the Republic of Turkey had provided supervision and direction" over his firm's lobbying work, called the "Turkey project" in the document.
While Flynn's work for Turkey was overshadowed by his guilty plea for lying to the FBI about contacts with Russian officials, Friday's court filings were the first time the retired Army lieutenant general has acknowledged that a foreign government directed his actions while he served on the Trump campaign. This contradicts previous statements by Ekim Alptekin, the Turkish businessman whose company paid Flynn, and by Turkish officials, who have vehemently denied that Flynn's lobbying was connected to their government.
"For the record: nobody remotely linked to the Gov. of Turkey knew about Gen. Flynn's article in advance and I wasn't consulted either," Alptekin, an Erdogan ally, tweeted on March 8, the day after Flynn registered as a foreign agent.
Alptekin did not return requests for comment on Friday, but he has previously disputed that he was "taking directions from anyone in the government" of Turkey, had any ties to Erdogan, or received money from the Turkish government to pay Flynn.
Flynn's registration with the Justice Department shows that, as part of his work, he met with Turkey's foreign minister, Mevlüt Cavusoglu, and energy minister, Berat Albayrak, at a hotel in New York in September 2016. Albayrak is also Erdogan's son-in-law.
Flynn's acknowledgment of the Turkish government's role in his work appears on the last page of a five-page statement of facts devoted primarily to spelling out in detail how he lied to FBI agents about his contacts with Russian Ambassador Sergey Kislyak, the actions for which he pleaded guilty.
But under the heading "Other False Statements Regarding FLYNN's contacts with Foreign Governments," the statement of facts lays out how he also failed to disclose his work for Turkey under the Foreign Agent Registration Act, which requires US citizens who lobby on behalf of foreign governments to disclose their work to the Justice Department within 10 days.
Flynn signed the document, agreeing "that it is true and correct."
Why Flynn was not charged with violating FARA is unknown. Special Counsel Robert Mueller included FARA violations in charges he filed in October against former Trump campaign chairman Paul Manafort.
But even without an indictment, Friday's filings make it clear that Flynn was aware that he was working on behalf of Turkey even as he advised Trump's campaign and sat in on classified intelligence briefings given to presidential candidates.
It also raises anew questions about what Trump and his other advisers knew of Flynn's work. When Flynn's work for Turkey became public, the White House said Trump was unaware.
But Flynn's lawyer has said that he asked Trump's transition team before the inauguration if Flynn should register as a foreign agent, and documents obtained by BuzzFeed News show that the Justice Department on Jan. 24 notified McGahn, the White House counsel, that Flynn was suspected of working for Turkey.
In the statement of facts filed in court Friday, Flynn acknowledges lying to FBI agents about not knowing the extent of the Turkish government's involvement in his work, about the purpose of his work, and about writing the Nov. 8, 2016, commentary on his own initiative.
Flynn's contract with Alptekin, through his firm Inovo BV, ended on Nov. 15, three days before Trump nominated him to be his national security adviser, according to Justice Department filings. However, during the transition he made decisions that conformed to some of his former client's top priorities. In one case, Flynn halted a military operation against ISIS that would have partnered the US with Kurdish forces that Turkey considers a terrorist faction.

BuzzFeed News senior investigative reporter Jason Leopold contributed.