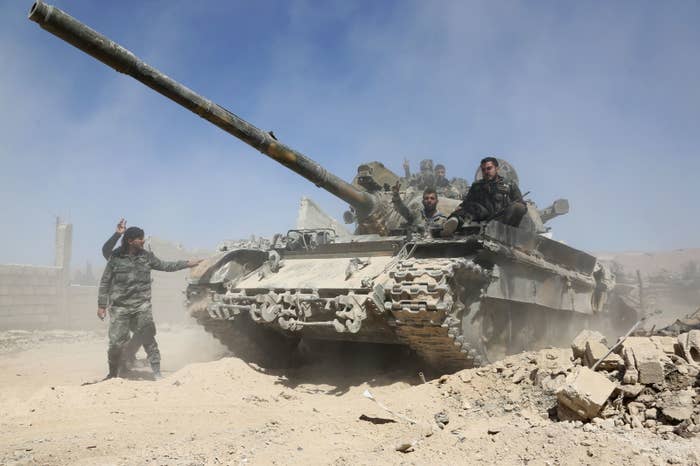 Facing pressure to keep his word to punish the Syrian government for a suspected chemical weapons attack over the weekend, President Donald Trump and his advisers appear to be having a difficult time deciding on a course of action.
A year ago, Trump authorized a strike on Syria in a whirlwind of decision-making that took just 72 hours. That amount of time elapsed Wednesday with no action, despite Trump's promise Monday that "major decisions" would be made in "24 to 48 hours."
On Wednesday morning, he sounded a warning on Twitter:
But later that day the White House was saying that "final decisions haven't been made yet." His defense secretary cautioned that the US is "still assessing the intelligence."

"We stand ready to provide military options, if they're appropriate, as the president determined," Secretary of Defense Jim Mattis said at the Pentagon, hours before heading to the White House for meetings — though notably not with the president.
Here's why it's taking so long to decide on how — or whether — the US should respond.
The military options do too little or too much
Last year the US retaliated with a limited, punitive strike when the US Navy fired 59 Tomahawk cruise missiles at an airbase from the eastern Mediterranean — an approach that allows the Pentagon to launch an attack from a safe distance.
Mattis claimed that the US had taken out 20% of Syria's operational aircraft, as well as hangars and fuel storage. But a day later, planes were reportedly taking off from the targeted airbase again, and the Syrian regime has continued to use those weapons.
Given the very minimal damage inflicted by the volley of Tomahawk missiles, it may not be a credible option this time, analysts say, even if the US strikes more than one Syrian base.
"I still think that the major goal here really is degrading the government's capacity to deliver chemical weapons on a broader scale," said Emily Hawthorne, a Middle East and North Africa analyst at Stratfor, a global intelligence company. "It would be more of a punch rather than a slap."
Military analysts think US preparations point to a similar scenario "since we have not seen a massing of greater assets" near Syria, she said.
Another sign that the strike may end up being limited is that broader options risk engaging the US more deeply in a conflict that the president said only March 29 that the US should withdraw from.
This time, the US is wrangling an international coalition
In a series of phone calls between Washington, Paris, and London, the US has been working on coordinating "a strong, joint response" to the attack, according to the White House.
France has been clear about what it wants to do.
"Our decision will ... attack the regime's chemical capabilities," Macron said at a Paris news conference on Tuesday, insisting he did "not want an escalation."
Last summer, Macron vowed that "if chemical weapons are used on the ground and we know how to find out their provenance, France will launch strikes to destroy the chemical weapons."
"When you fix red lines, if you are unable to enforce them, then you decide to be weak," he declared. "That's not my choice."
Defense analysts say that could mean striking Syrian regime command control or communications facilities, targeting personnel associated with the chemical weapons program, or targeting factories known to be involved in chemical weapons.
All of those risk collateral damage and potential conflict with Russia and Iran.
The Pentagon's worst fear — accidentally killing Russians
The Pentagon has worked intensely for years to avoid direct conflict with Russia on an increasingly crowded battlefield, often using a deconfliction line to communicate between the two militaries. They notified Russia ahead of time before the strike on the Syrian airbase in April 2017.
"The chemical sites that France has indicated it wants to target are close to where we know there's a heavier Russian presence," Hawthorne said. Inadvertently killing Russians "is something that the US wants to avoid at all costs."
In February, US airstrikes killed an unknown number of Russian mercenaries fighting on behalf of the Syrian government in what the Pentagon said was self-defense. The Kremlin said any Russian citizens killed in the strike did not report to them, "therefore, the Defense Ministry bears no responsibility for them." That would not be the case if the US-led retaliatory strikes killed real Russian forces.
The threat of escalation is great
The US could use manned assets such as the B-2 bomber. Although Russia has strengthened Syria's air defenses, reportedly increasing the number of S-400 surface-to-air missile systems in western Syria in recent months, that aircraft would be out of their range, analysts say.
Alexander Zasypkin, the Russian ambassador to Lebanon, said in a television interview on Wednesday that Russia would shoot down any missiles targeting Syria, "and even the sources from which the missiles were fired."
The US and its allies are still assessing the evidence
Mattis on Wednesday said the US was "still assessing the intelligence" about the chemical attack.
"Ourselves and our allies, we're still working on this," he said at the Pentagon.
The Organization for the Prohibition of Chemical Weapons on Tuesday said it was preparing to deploy a team on a fact-finding mission to Douma, the town where the suspected attack took place. It did not give a timeline, only saying that it would be preparing to leave for Syria shortly.
The World Health Organization said on Wednesday that the majority of the people killed in the attack had signs of being exposed to "highly toxic chemicals."
Meanwhile, Syria is preparing
The delay has given Syrian government forces and their allies ample time to prepare the anticipated strikes.
Syrian government forces on Wednesday vacated airports and some key military positions in anticipation of a US strike, according to the Syrian Observatory for Human Rights, a London-based monitoring group.
Israeli media reported that a convoy protected by Russian forces moved from the presidential palace to another place. However, a US response is unlikely to target Syrian President Bashar al-Assad, a move that would draw the US into a full conflict.
On the ground, Syrian troops were put on a 72-hour "high alert" and were fortifying their positions. Allied Iranian militias moved away from areas that they thought might be targeted.
Iranian Hezbollah fighters moved from the headquarters of their central command in the center of the capital Damascus to the so-called Imam Ali base located in Western Qalamoun, Ibrahim al-Idlibi, an adviser to the Syrian rebels fighting Assad, told BuzzFeed News.
He suggested that Iranians would be a likely target of any strike, given the Trump administration's hostility toward Iran. But at the Pentagon, there was skepticism that a US strike would aim at Iranian forces.
Elsewhere, others expected an attack and took steps to not be caught in the fire. Kuwait Airways on Wednesday said it was suspending all flights to and from Beirut due to "serious security concerns" about Lebanese airspace, which US missiles fired from the Mediterranean would fly through.
Munzer al-Awad contributed reporting from Istanbul.