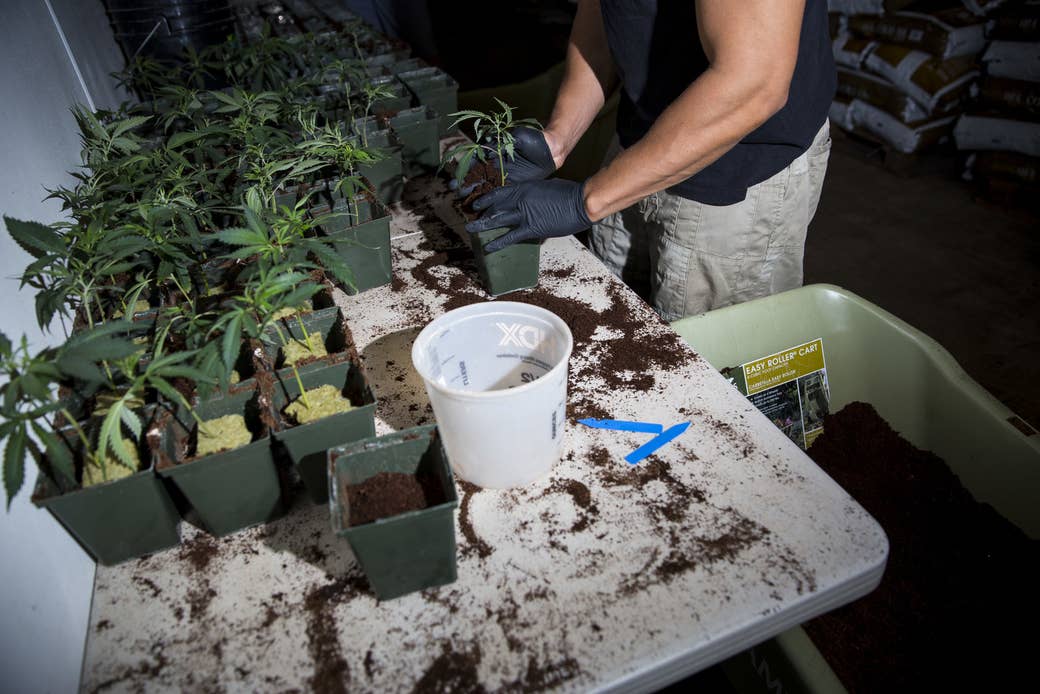 LOS ANGELES – In a featureless industrial warehouse in downtown Los Angeles, a group of military veterans spends long days walking up and down rows of plants, delicately inspecting buds and leaves in the glow of orange lights.

At the end of their three-month "seed to sale" internship at THC Design's grow facility, they hope to enter the lucrative multibillion-dollar cannabis industry with full-time jobs.
"I didn't even smoke in high school, so when people find out that I'm farming it they're blown away," joked Steven Passmore, a 35-year-old US Army combat veteran whose hair is held back with a yellow headband in the cultivation room's humidity. "I just explain to them that it's a job, this is what I do."
When THC Design announced the first cannabis cultivation training program for veterans in June, it received more than 65 applications. One of them was from a 71-year-old Vietnam veteran. Seven were accepted into the program, two of whom already have been hired for full-time positions. Passmore, who is pursuing a degree in botany at Los Angeles City College and had been experimenting with growing marijuana in his own small closet, was a natural fit. Under California law, it is legal to grow up to six plants in your home.
After breaking his clavicle in Iraq and receiving an honorable discharge, he returned home in 2007. For a long time, Passmore said, he was offered jobs by well-meaning contacts — minimum-wage retail positions that barely paid enough to scrape by, with no future prospects.
"I was insulted," he said. "It cut me really deep that I had separated myself from my family, gone and done things that are still really hard to live with, and accept that I was capable of, but was asked to do for my country, and then I came back and couldn't make enough just to live."
THC Design's internship program pays $15 an hour, a third more than California's minimum wage, with the chance to make $25 an hour as a full-time grower by the end. But beyond the paycheck, the veteran interns say they're on a crusade to advocate for medical marijuana to treat post-traumatic stress disorder and other service-related injuries.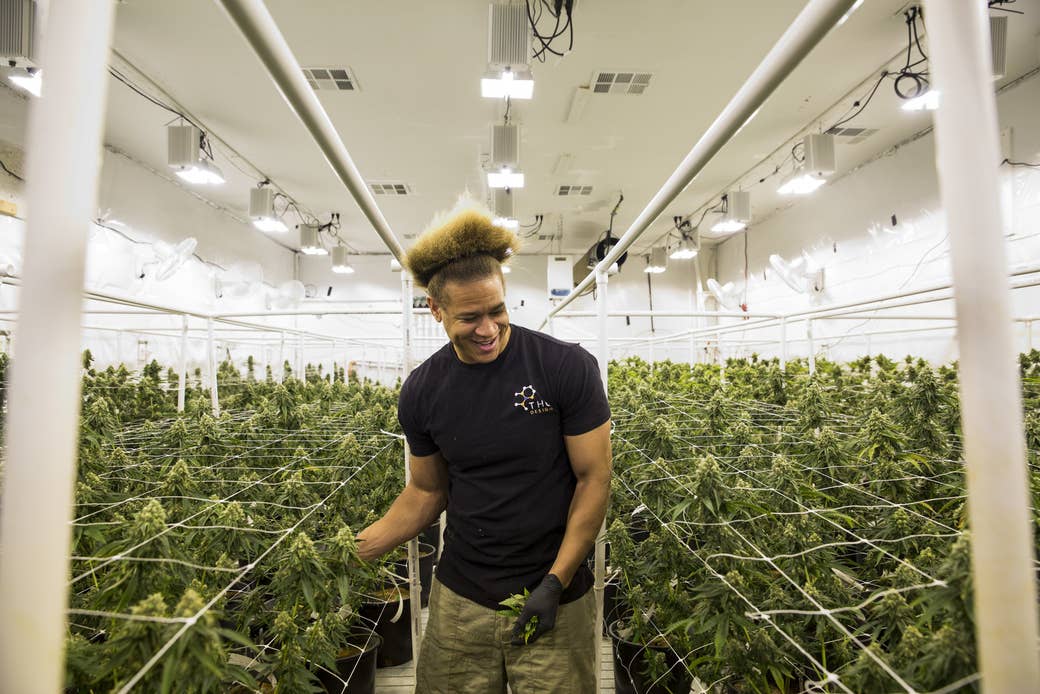 In interviews with BuzzFeed News, several of them described visiting Veterans Affairs clinics to seek help for physical pain, anxiety, depression, and insomnia and immediately being prescribed opiates and other addictive medications.

"The pills I was receiving from the VA — I could not work, I would take them and fall asleep standing up," said Brett Miller, a 35-year-old former US Marine and THC Design cultivation intern. "I no longer have that problem, because I no longer take them. Since then I've been to many talks with different groups of veterans, and you can really see how it brings a calm to what disturbs a lot of vets."
Similarly, Passmore said "the first thing the VA did is give me a bunch of pills," including opiates for his clavicle pain. His parents, a retired EMT firefighter and a nurse, "looked at them and said 'I wouldn't take these if I were you,'" he said.
After doing some research on more natural alternatives, Passmore, who describes himself as a "straight arrow," decided to try marijuana.
"I was spiraling," he said. "I was working a retail job that wasn't paying me enough to survive. I was disconnected from everyone in my life, my family, my lifelong friends. I thought no way, there's no way pot is going to fix all of these problems, but what's the worst thing that could happen?"
Unlike the VA-prescribed painkillers, he says, marijuana allowed him to manage his pain and get his life back together.
"Slowly but surely I pulled my own head out of my ass and reconnected with the people who mattered most to me in my life," he said.
Their experiences with the VA are common among military veterans. Currently, there are about 2.7 million US veterans of the Iraq and Afghanistan wars, and at least 20% suffer from PTSD. At the same time, VA prescriptions of four potent opiates — hydrocodone, oxycodone, methadone, and morphine — have more than tripled since 9/11, according to a 2013 report by the Center for Investigative Reporting. In 2016 alone, the VA treated 66,000 ex-servicemen and women for opioid addiction.
For THC Design cofounder Ryan Jennemann, it's also personal. After years of using opiates prescribed by his doctor, his father died from heart failure at 47. His father was a big advocate of medical marijuana, Jennemann said, but wasn't able to take advantage of it as a treatment since it was illegal in Oklahoma, where he lived.
Another THC intern, National Guard veteran Dustin Beluscak, saw the opposite scenario play out with his father, a Vietnam veteran who was prescribed opiates for cancer pain in the last years of his life. When he was prescribed cannabis in 2004, he was at least able to eat and speak.
Medical benefits aside, many veterans at THC Design say the very act of spending all day growing plants has had surprisingly positive effects — although they joke they "wouldn't be as excited if we were growing tomatoes."
"We talk about it all the time, how growing the plants changes a person, and you just feel different in different rooms," Miller said. "I grew up on a small farm in Pennsylvania and took the long way to end up in a small farm in Los Angeles, I guess."
Michael Garcia, a 33-year-old US Navy veteran, said the last few weeks working with growers at the facility has felt different from any other job.
"Camaraderie was something that was really big in the military, and it was something that I really didn't feel until I came back and started working here," he said. "People working together, everyone giving 100%, its nice."
Like many of the interns, Garcia heard about the program through the Santa Cruz Veterans Alliance, a veteran-owned medical marijuana collective. Now, as they begin to build careers in the cannabis industry, many say they're actively working to change the stigma surrounding marijuana for veterans.
"At one point if you had a conversation with your primary care doctor about cannabis, it would jeopardize your benefits for the VA," Miller said. "A lot of veterans are still unaware of the rules, and that's why veterans are instrumental in the push for cannabis to become legal all across the country."
VA physicians are currently banned from recommending medical marijuana, since the drug is illegal under federal law. If veterans want to use it, they have to pay out of their own pocket — but advocates say in many states they're unlikely to even hear about it as an alternative.
Even though medical marijuana is legal in 29 states and the District of Columbia, its use to treat PTSD still carries a stigma for many veterans, who worry that it will impact their treatment at VA facilities.
"Veterans who are lawfully prescribed medical marijuana need the peace of mind that they can discuss their medical interventions with their VA clinician without fear of prosecution," Iraq and Afghanistan Veterans of America lays out in its health policy agenda.
Federal approvals took more than a decade for a study of medical marijuana treatment for veterans with PTSD. Federal rules severely limit how marijuana can be studied because of its classification as a schedule 1 drug, along with heroin, ecstasy, and LSD.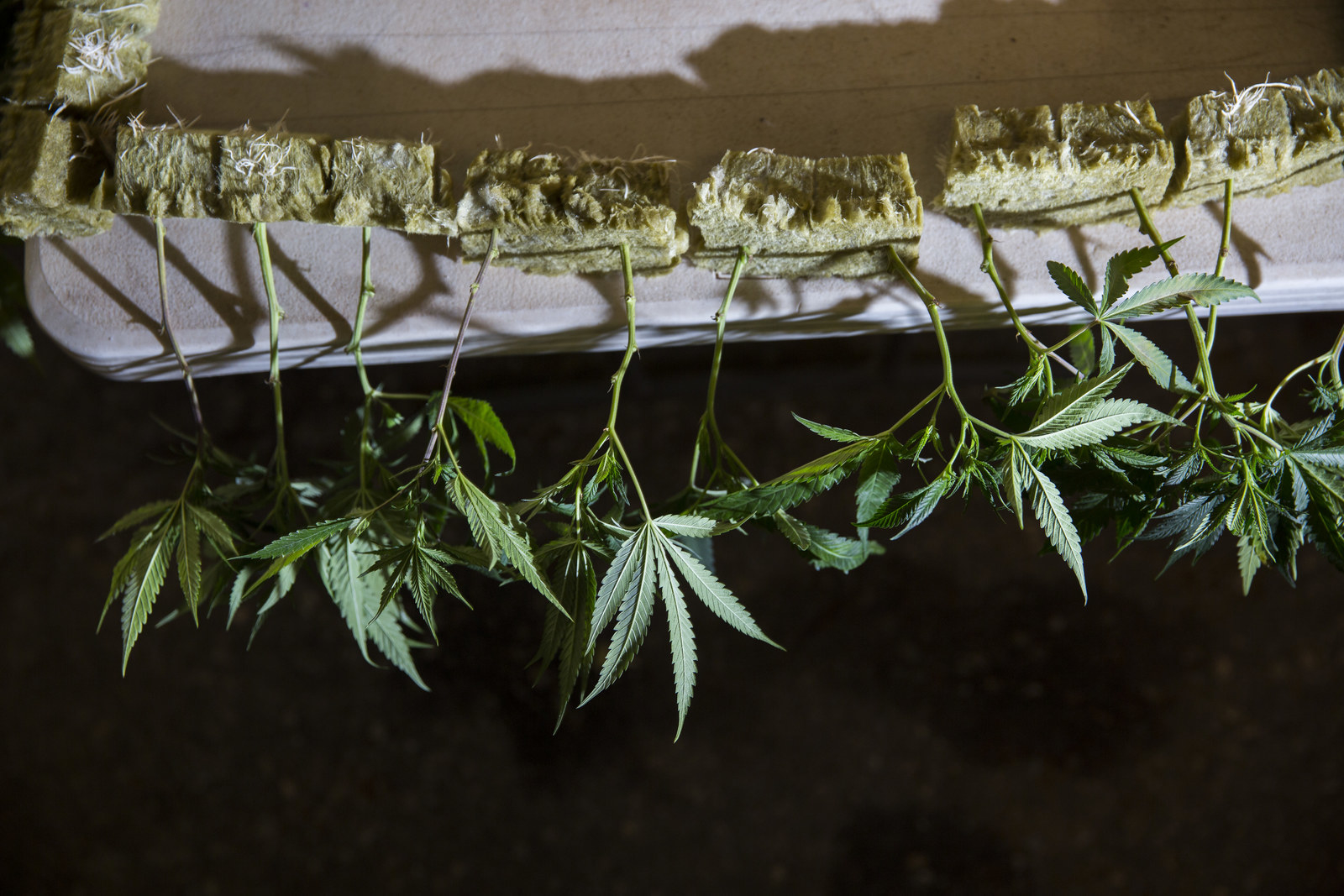 "It's still illegal under federal law because the FDA-regulated trials haven't concluded, and they need to speak the federal government's language," said Brad Burge, the communications director for the Multidisciplinary Association for Psychedelic Studies, a California-based nonprofit that is running the study with a $2.16 million grant from the Colorado Department of Public Health and Environment. So far, they have been able to enroll 28 veterans out of 76 needed.

"We've gotten thousands of inquiries, but the requirements are very strict, very specific," he said, adding that many veterans are not eligible because they would have to get off their current medications for the study. "The enrollment has been very slow, and would be a lot quicker if the VA was willing or able — we're not sure which it is –—to refer their patients to us."
Dr. Sue Sisley, the principal investigator conducting the FDA-approved research, has been lobbying the VA for years to let her discuss it with doctors at the Phoenix VA Medical Center, which has thousands of patients. It's repeatedly denied her requests.
"Federal law restricts VA's ability to conduct research involving medical marijuana, or to refer veterans to such research projects," VA spokesperson Curtis Cashour told BuzzFeed News. "If the researcher is truly interested in finding veterans for her study, she should spend more time recruiting candidates and less time protesting to the media."
Sisley's study has broad support among veterans groups, which say they are open to all research that might help with chronic pain and PTSD, the two most widespread illnesses connected to veterans' military service. Last month, the largest veterans group in the country called on VA Secretary Dan Shulkin to support Sisley's study.
"Many veterans have approached us to tell us that access to cannabis has materially improved their health and well-being," American Legion National Commander Denise Rohan wrote in a letter. "While their stories are very compelling, we need clinical evidence to have a fact-based discussion on the future of cannabis policy."
Shulkin, the VA secretary, said at a White House conference in May that he believes "everything that could help veterans should be debated by Congress and by medical experts."
"There may be some evidence that this is beginning to be helpful and we're interested in looking at that and learning from that," he said.
If Sisley's study does not enroll the 76 veterans it needs, it may be opened to nonveterans as well. That would ruin the point of helping service-specific ailments, Burge said. If the study were to move forward, VA clinics would be able to recommend it as a treatment, maybe curbing the overreliance on opiates, he said.
Back at THC Design in Los Angeles, the veterans learning to cultivate marijuana say they realize their situation is unique. Living in Southern California, being open about marijuana is "just part of the culture," Garcia said. Once they are more established in the industry, they hope to continue to push to make medical cannabis a viable alternative for every veteran.
"To any vet that is struggling with one of these ailments that many of us have dealt with — the pills, depression, anxiety — I'd say look at all the options that are out there and reach out," Miller said.