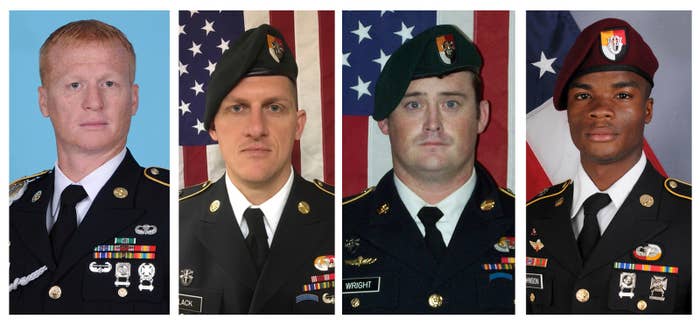 WASHINGTON – As the US military remained tight-lipped about even basic facts of the deadliest combat incident involving US troops since President Donald Trump took office, lawmakers on Thursday suggested that a subpoena might be necessary to get any details.
The Oct. 4 ambush of US troops in Niger, which left four US Army Green Berets dead, gained new attention this week after Trump told a young mother widowed by the attack that her husband "knew what he signed up for."
But contradictory accounts from officials suggest that the US military did not know what it was sending its troops into and raised questions about why the US troops had acted on limited intelligence and had no plan in place in case what has been called a routine training patrol went bad.
Nigerien Interior Minister Mohamed Bazoum called the attack by ISIS-linked fighters "a failure of human intelligence" on Thursday.
US and Nigerien troops "weren't being very careful and were not operating as if they would have on a mission where they expected to deal with an attack," he told Radio France Internationale.
On Thursday the Pentagon would not answer basic questions, such as the time of the attack, saying it was under investigation. French, US and Nigerien defense officials all described the ambush as a surprise, and painted a picture of confusion on the ground.
Two weeks later, everyone still wants answers, including, it appears, the Pentagon. Secretary of Defense Jim Mattis is reportedly dismayed at the lack of detailed information on what happened. US Africa Command has launched "the initial stages" of a formal investigation into the ambush, a Pentagon official confirmed to BuzzFeed News.
US officials have given sometimes contradictory answers about what happened, who evacuated the dead and injured troops, and why a fourth soldier was left behind, his body not recovered until 48 hours later.
Sounding exasperated, Mattis on Thursday said US military leaders "like to know what we're taking about before we talk. We don't have all the accurate information yet."
Similarly, the Pentagon's chief spokeswoman Dana White repeatedly insisted the military "will be transparent when we know exactly what happened."
Armed Services Committee Chairman Sen. John McCain of Arizona said he was disappointed in the Pentagon's opaque response and that he has conveyed that to Mattis.
"I'd like to hear them say that they're going to tell the Congress and the American people exactly what happened and why, and why we weren't told about it before," he told reporters on Capitol Hill on Thursday.

The 12-man team from the Army's 3rd Special Forces Group and roughly 30 Nigerien soldiers were near the village of Tongo Tongo, just miles from the Mali border, when the attack occurred. They were in unarmored vehicles on what was initially thought to be a low-risk mission, a meeting of village elders for what the military calls KLE, or key leadership engagement.
"It was not meant to be an engagement with the enemy," AFRICOM spokesman Colonel Mark Cheadle told reporters on Oct. 6. "The threats at the time were deemed to be unlikely, so there was no overhead armed air cover during the engagement."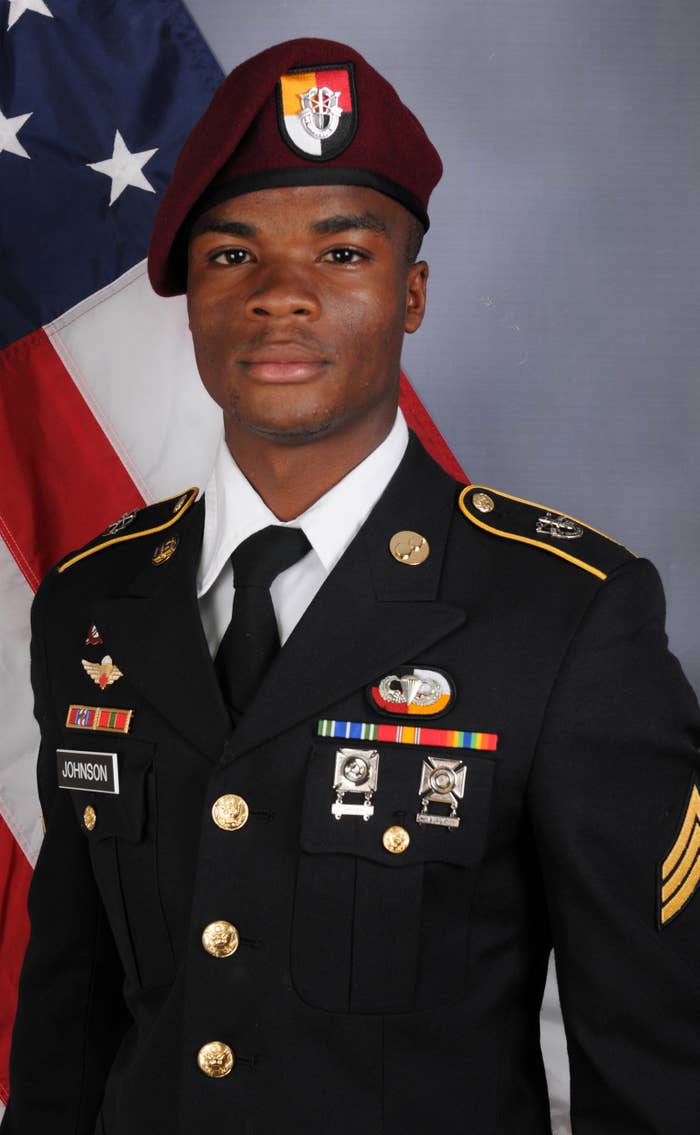 The group had done 29 patrols in the previous six months without contact with militants, Pentagon officials said.
French and Nigerien officials have provided a few details about what happened during the ambush. The group was attacked by about 50 fighters, "aboard a dozen vehicles and about twenty motorcycles," according to Niger's Army chief of staff.
The militants fired on the US and Nigerien troops with machine guns and rocket-propelled grenades, according to that account.
French forces in the region were called on to respond with aerial support, but it took 30 minutes for Mirage fighter-bombers to arrive at the scene. Even then, they could not fire on the attackers due to what French General Staff Col. Patrick Steiger described as "overlapping forces on the ground" – meaning the opposing sides were so close together that any aerial bombardment was likely to kill US and Nigerien troops as well as militants.
In the days after the attack, Mattis praised the speed of the French response.
"I completely reject the idea that that was slow," he told reporters.
The US military believes the ambush was likely carried out by an ISIS affiliate called ISIS in the Greater Sahara, or ISIS-GS, one of several affiliates operating in the region. The group has attacked French counterterrorism forces in the past, but this was their first attack on American troops.
The body of the fourth soldier, Sgt. La David Johnson, was not found until two days later. On Thursday, White would only say that "he was separated." It is still not clear how and when he was killed, and why he was left in the aftermath of the firefight when everyone else was evacuated.
Pentagon officials have pushed back hard against the suggestion that Johnson was left behind.
"From the moment of contact, no one was left behind," Lt. Gen. Kenneth McKenzie, director of the Joint Chiefs of Staff, said on Thursday. He would not say at what point US forces realized that Johnson was not with them, but he said that US partners "were on the ground actively searching" for him.
"A lot of men and a lot of women searched very hard to find him," McKenzie said. "We didn't leave him behind. We searched until we found him, and we brought him home."
On the way to receive his remains at Miami International Airport, JOhnson's widow was told that his casket would have to be closed for his funeral because of the condition of his body.
There also has been confusion about who flew the helicopters that evacuated the dead and wounded from the scene. At first, the Pentagon said it was French military. On Thursday, defense officials said a private contractor airlifted some of the troops from the scene. Pentagon spokesperson White would not say if any US air support had been on call.
In the days after the attack, Pentagon officials tried to put the best light on the mission, calling it "tragic" but "also illustrative of the general success of the campaign."
"I would say that what was actually very positive about it was the fact that they were able to have close-air support overhead, about 30 minutes after first contact, which is pretty impressive," McKenzie said.
Four Nigerien troops were also killed in the attack, and eight more were injured. US Army Green Berets were among hundreds who attended the memorial in the capital of Niamey, and the country declared three days of national mourning.
The US military has been in Niger since 2013, and currently has around 800 troops in the country, according to the Pentagon. The US has expanded its reach in the area in recent years, building a $100 million base for surveillance drones in Agadez, in central Niger.
Emma Loop contributed.