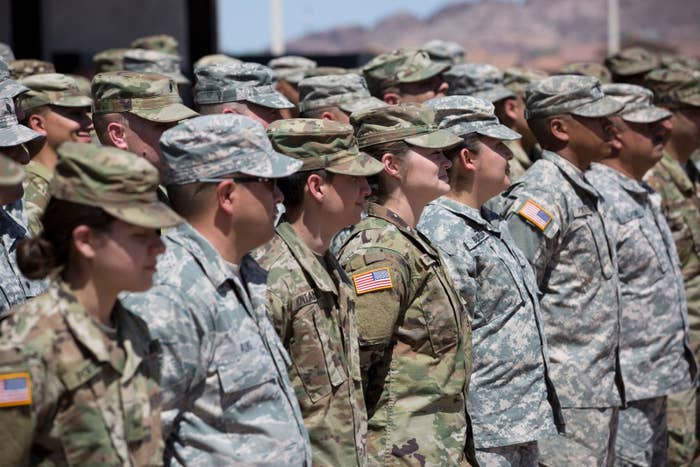 Despite President Donald Trump's repeated threats to involve the US military in closing or bolstering the southern border from an approaching migrant caravan, the Pentagon on Monday said it had not received any new orders to deploy troops.
"Last week's statement still stands," Pentagon spokesperson Lt. Col. Jamie Davis told BuzzFeed News, referring to Thursday's declaration that "beyond the National Guard soldiers currently supporting the Department of Homeland Security on our southern border ... the Department of Defense has not been tasked to provide additional support."
On Monday morning, Trump warned that "criminals and unknown Middle Easterners" were "mixed in" with the 7,200 Central American migrants crossing into southern Mexico — an assertion that appeared to have no basis in fact.
"I have alerted Border Patrol and Military that this is a National Emergy," he tweeted, abbreviating "emergency." Last week, Trump had warned that he would take military action to stop Central American migrants from crossing into the US.
"I must, in the strongest of terms, ask Mexico to stop this onslaught — and if unable to do so I will call up the U.S. Military and CLOSE OUR SOUTHERN BORDER!" he tweeted.
Over the course of his presidency, Trump has often touted his hardline immigration stance by threatening to use military force at the US–Mexico border, but it is still unclear what that would look like. In April, in response to an uptick in border apprehensions, Trump directed Defense Secretary Jim Mattis to deploy up to 4,000 National Guard troops there.

"We'll probably keep them, or a large portion of them, until such time as we get the wall," Trump said in April.
The White House and Pentagon officials on Monday did not offer details on what using the US military to "close" the southern border against migrants in a national emergency would look like and did not answer BuzzFeed News' request for more information.
The National Guard troops at the border are not allowed to engage in law enforcement work, and instead are tasked primarily with surveillance and assisting with logistics. But they face several restrictions. For one, those monitoring camera footage are not allowed to surveil the Mexican side of the border, so they mainly look into the US. They are also prohibited from interacting with migrants or making arrests.
"I have no plans to provide that support for any contact between the National Guard and migrants," Mattis said in May.
Defense officials refer to the role of National Guard troops as a "force multiplier," taking over logistical, administrative, and maintenance work that allows more Border Patrol agents to go into the field.
There are currently 2,100 National Guard troops along the US–Mexico border in Texas, Arizona, New Mexico, and California, according to the Pentagon.
In June, at least nine state governors said they were rescinding their promise to deploy troops and resources in protest of the Trump administration's family separation policy.