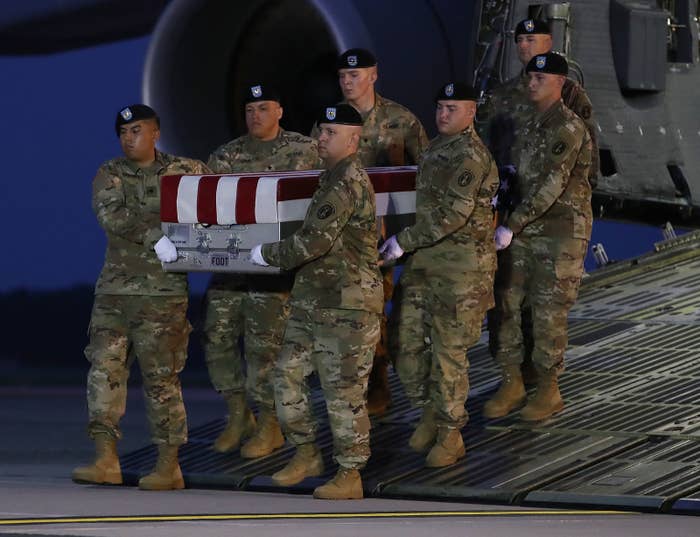 As yet another public showdown between President Donald Trump and Gold Star families escalated on Wednesday, many military families and veteran support groups said they'd seen enough.
"Mr. Trump, stop. Please, just stop," said Karen Meredith, who lost her son in Iraq in 2004 and serves as the Gold Star and Military Families coordinator for VoteVets, a progressive veterans group.
"This is not about you, this is about them," she said in a statement. "It is about all of us who lost our loved ones in war. For once in your life, please stop making everything about you."
The controversy over the president's treatment of military families has snowballed since Monday, when Trump during a press conference tried to deflect criticism over the White House's two-week delay in contacting the families of four US soldiers killed in Niger. At the time, Trump falsely claimed his predecessors did not call families of killed soldiers.
Rep. Frederica Wilson, a Florida Democrat, told reporters Tuesday she was present when Trump called the widow of Army Sgt. La David Johnson, who was killed in Niger. Wilson said Trump told Johnson's widow that her husband "knew what he signed up for...but when it happens it hurts anyway." Trump called Wilson's comment "fabricated" in a Wednesday morning tweet, but Johnson's mother ultimately backed up the congresswoman's claim, telling the Washington Post that "President Trump did disrespect my son and my daughter and also me and my husband."
White House Press Secretary Sarah Huckabee Sanders, asked about the back-and-forth during Wednesday's press conference, said Trump "took the time to make a call, express condolences and thank the family for this individual's service, and I think it, frankly, is a disgrace of the media to try to portray an act of — kindness like that, and that gesture, try to make it into something that it isn't."
The White House's defense hasn't quieted critics.
"There is no more difficult task than having to tell a next of kin that a loved one's been killed. A lot of us have had to do it, and you never forget it," retired US Army Col. Jack Jacobs, a Medal of Honor recipient, said on MSNBC. "But to turn that solemn duty into counting political coup…it's almost obscene, actually, it's kind of perverse."

Most current and former military officials declined to comment about the situation on Wednesday, saying that politicians and the media are equally disrespecting Gold Star families through an ugly debate. They largely insisted that more attention is only disrespectful to grieving families.
But former Defense Secretary Leon Panetta, who served under former President Obama, lambasted Trump for making himself and previous presidents the center of attention during a week when the caskets of four US Army Green Berets who were killed in an ambush in Niger were coming home.

"He made the focus about him," Panetta told ABC News' Powerhouse Politics podcast on Wednesday, adding that it "really distracted from what the country ought to focus on, which is the sacrifices of those individuals and those families."
Panetta took particular issue with Trump singling out White House Chief of Staff John Kelly, who has always been reluctant to talk about his son who was killed in Afghanistan in 2010, to bolster his claims that Obama had not called grieving military families.
Kelly is "intensely private about not only his own service but certainly what happened to his son," Panetta said. "It's very regrettable that the president decided to throw him into the argument. It really in a very real way not only hurts I think both John Kelly and his family, but it demeans the presidency."
Military support groups say that in all of the political frustration, there's been little attention paid to what Gold Star families actually want or need. Advocates expressed weariness at yet another dead soldier's family being drawn into a political fight, and said they refused to be drawn into the increasingly heated debate.
"We shouldn't focus on a 'he said, she said' kind of thing, but on how we can help the family instead of creating more pain for them," Kelly Hruska, the director of government relations for the National Military Family Association, told BuzzFeed News.
Family's like Johnson's are not being given the space they need to grieve, she said. Footage of the flag-draped casket with Johnson's remains arriving at Miami International Airport – and his widow's emotional reaction – has been playing on a loop on television news since Tuesday.
"When this happens, you end up having to grieve publicly, not privately, and it's unfortunate that it has come to this," Hruska said.
On Wednesday, several family members of fallen soldiers also come forward to say that they had not received a condolence message, contrary to the president's claims. Another Gold Star father said Trump had offered him $25,000 and an online fundraiser for his family, which never materialized. The White House says that check is in the mail.
Trump allies said that criticism of the president's comments did not describe the man they know.
Jack Kingston, a Trump surrogate on CNN, said that one of the soldiers who was killed in Niger, Staff Sergeant Dustin Wright, was one of his constituents when he served in Congress. Kingston said that his father told him that during a phone call, Trump "listened to me and my concerns, no complaints."
Sam Nunberg, an early Trump adviser during the election, put the blame elsewhere.
"This is a no-win for the president, but I also think this is his staff's fault," he said, arguing enough priority wasn't put on briefing the president on the deaths of soldiers. "I know the president, this would be no problem, he would make these calls."
While they didn't condemn him for going down the rabbit hole of talking about Gold Star families and the private actions of previous presidents, some people close to the administration said the resulting firestorm was a needless distraction from a stalled legislative agenda.
"I wish he hadn't talked about Kelly's son," said a source close to the administration who noted that the whole purpose of Monday's press conference was to present Trump and Senate Majority Leader Mitch McConnell as a unified front. "If you don't talk about it, the story would go away."
"The notion that Trump is some unfeeling soulless jerk isn't remotely the guy I know," the source added.