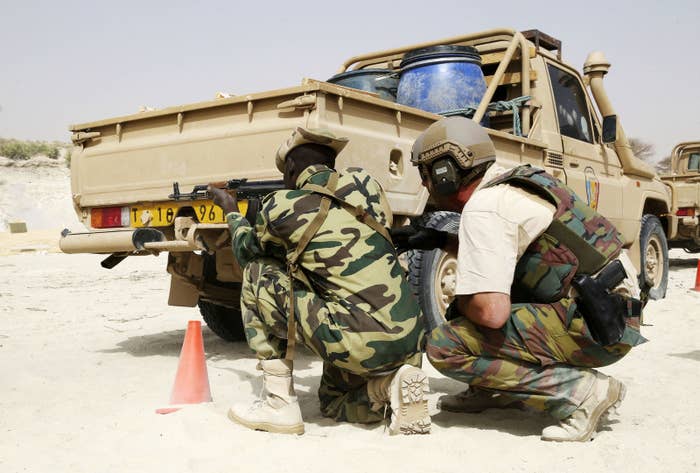 WASHINGTON — No one seems to know why the Trump administration's new travel ban includes Chad, a key counterterrorism partner of the US military. Including Chad.
In a move that baffled former State Department officials and Africa security experts, the White House on Sunday extended its travel ban to include the central African nation, a crucial partner to the US and France in fighting extremist groups in the region.
Analysts noted that other impoverished countries in the region that weren't banned face the same sort of security issues.
"It makes no sense whatsoever. In fact I wonder if there wasn't some sort of mistake made," John Campbell, a former US ambassador to Nigeria, told BuzzFeed News. "It's an insult. What really gets to me is the apparent sheer stupidity of it."
On Monday Chad's government said it was "astonished" and "baffled" to find its citizens blacklisted by Trump. Local press reported that the US ambassador was summoned to meet with the prime minister on Monday.
In a statement to local media, Chad's government said it "invites president Donald Trump to reconsider this decision, which severely tarnishes the image of Chad, and the strong relationship between the two countries, particularly in the fight against terrorism."
The surprising move raised concerns that the ban could impact the country's close working relationship with the Pentagon. Chad has been a key US ally in an often-volatile neighborhood that's bordered by Nigeria, Libya, Niger, Central African Republic, and Sudan — the last of which was on Trump's previous travel ban list but was removed from this one.
Chad, which is home to a US military facility, just hosted an annual 20-nation military exercise with US Africa Command to strengthen local forces to fight extremist insurgents.

It also hosts the multinational task force that is fighting the terrorist group Boko Haram and has been praised for being willing and able to provide its own troops to fight in the region. The US Army, Navy, and Marines have all trained Chadian forces, which have fought extremists in Mali and Nigeria.
The country also has a long relationship with US oil giant Exxon Mobil Corp., which owns a petroleum exploration permit in Chad that expires in 2050. Secretary of State Rex Tillerson was Exxon's number-two when the deal was signed. Last year, a court in Chad fined Exxon a record $74 billion over tax payments, although the dispute has since been resolved.
Campbell, like many former State Department officials and Africa analysts on Monday, said the Trump administration's stated reasons for singling out Chad didn't hold up. On Sunday the administration cited the country's failure to "adequately share public-safety and terrorism-related information."

"What does that mean? Chad is desperately poor. ... It has a tough army but limited bureaucratic capacity," Campbell said. "I tend to doubt that there was a decision made not to share information with the Americans."
The Trump administration also cited a "significant" terrorist presence within the country, including Boko Haram, al-Qaeda in the Islamic Maghreb, and a group it referred to as "ISIS-West Africa." That is not unique to Chad, analysts say, saying that description could also apply to Niger, Mali, and Nigeria.
"It's in a bad neighborhood, no doubt there are bad guys, but there are a number of other countries with the same issue that don't have this strong military relationship with the US and France," said Jennifer Cooke, director of the Africa Program at the Center for Strategic and International Studies in Washington. "I assume that Chadians find this gesture deeply insulting, to be singled out in this way when they're providing troops in the fight against extremism and participating in these partnerships."
Chad has taken a leadership role in the US-funded Trans-Saharan Counterterrorism Partnership. It provided the only African force, trained by the US, to take part in the French-led offensive to clear Islamist and separatist rebels from northern Mali in early 2013. Its desert-hardened soldiers spearheaded a largely successful pushback against Boko Haram militants beginning in 2014 in Nigeria, where the sect was long headquartered. Meanwhile, soldiers from Chad have played an important role in UN peacekeeping in Mali fending off attacks from al-Qaeda in the Islamic Maghreb.
"I think this ban fulfills a campaign promise and uses a country where (the administration) thinks it's not going to get a lot of blowback," Cooke said. "They're using a country that they think nobody is really going to care about, but if they talk to AFRICOM or to people who are concerned about extremism in the region Chad is obviously very important."
Former State Department officials in the region also wondered whether French officials had been consulted. Chad hosts Operation Barkhane, the French-led anti-insurgency campaign in the region. Camps in eastern Chad are also home to some 310,000 refugees from Darfur, according to the United Nations High Commission for Refugees.

According to Trump's proclamation announcing the ban, US officials determined earlier this year that 16 countries had failed to meet their baseline information-sharing requirements. They were given 50 days to improve, but the Homeland Security Department determined that seven, including Chad, remained "inadequate."
At the same time, on Sunday the Trump administration lifted travel restrictions on Sudanese nationals, who were covered under the previous ban. An administration official said that Sudanese officials were cooperating with the US, and their "robust" counterterrorism efforts had contributed to its being taken off the list. This further mystified Africa watchers, as the Sudanese government is still designated a state sponsor of terrorism by the US government and has been implicated in genocide during conflicts in the Darfur region.
"I bet the ambassadors and AFRICOM are losing their minds right now, this goes against literally everything we've heard for the last three years of engaging with Chad," said Brandon Kendhammer, a West Africa expert and assistant professor of political science at Ohio University. "It's totally nuts. ... This morning we were all like, 'what the hell is going on?'"
He pointed out that despite Chad's authoritarian regime, it is regularly cited as a strong military partner, especially compared to its more reluctant neighbors.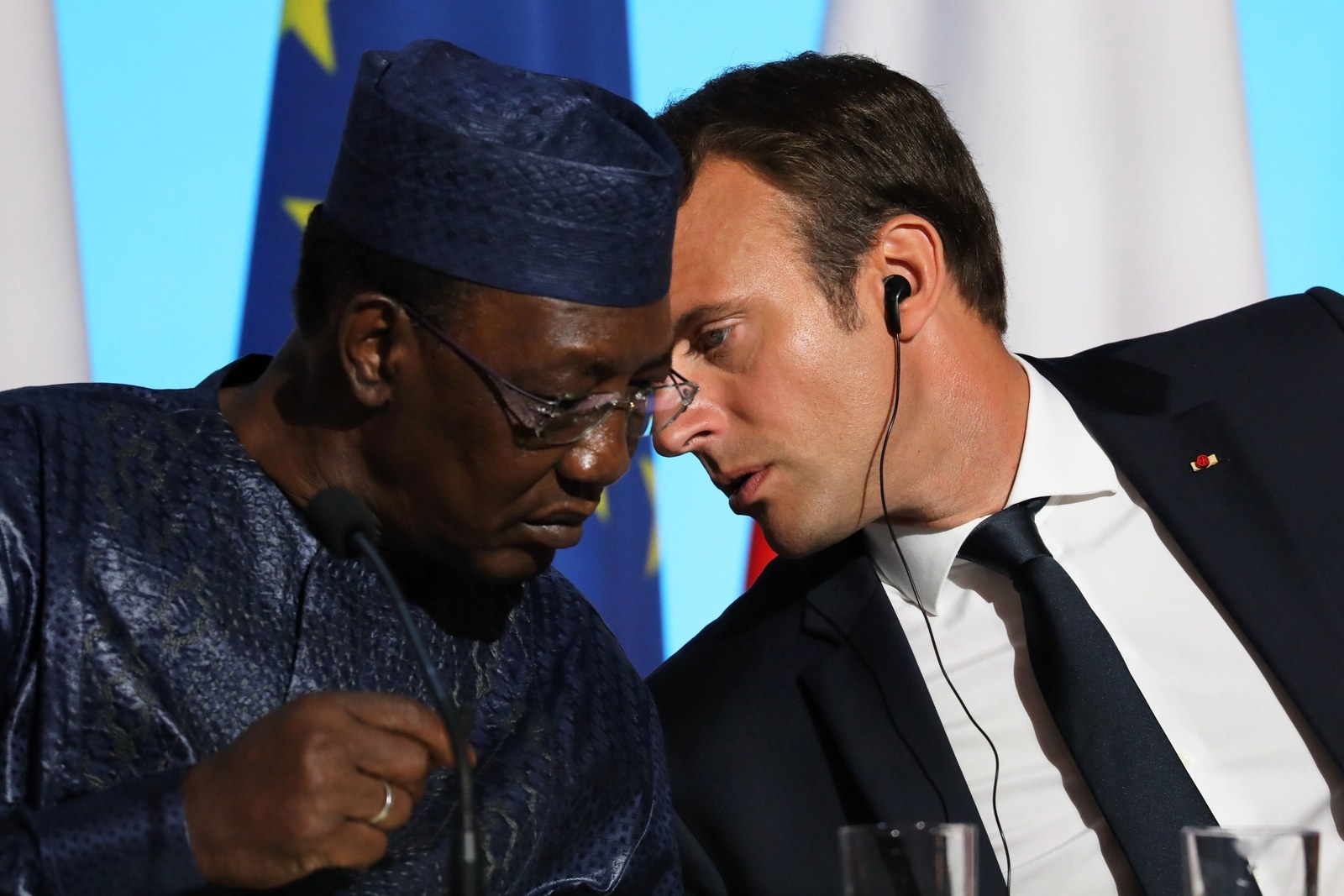 President Idriss Déby, who came to power in a 1990 coup, has been criticized for leveraging the security threats to forge strong partnerships with France and the US. However, given Chad's reliance on the funds and perks of their military relationship with American forces, they are in a "tough position," Kendhammer said.
"Even though Chad's going to be pissed off, (the administration) will get away with it, though it's so shortsighted to do this to the country with some of your most reliable troops," he said. "It wouldn't surprise me if in three months they quietly take Chad off the list again."
The announcement comes a week before the annual Trans-Saharan Counterterrorism Partnership conference organized by the State and Defense Departments in Washington, DC. While Chadian partners are invited and expected to participate, as they have in previous years, it could be rather awkward this time around. Citizens of Chad will be restricted from entering the United States starting on Oct. 18.
The Department of Homeland Security and the White House did not respond to questions on how the decision to include Chad in the travel ban was reached. Experts on Monday pointed to the still-empty positions at the State Department and the Pentagon, where political appointees with expertise in the region would usually weigh in.
The State Department so far has 24 confirmed appointees out of 148 key positions. Eighty of them, including Assistant Secretary for African Affairs, have no nominee. The Pentagon has 15 confirmed posts out of 54.
Mark reported from Dakar, Senegal.
CORRECTION
The fine levied against ExxonMobile in a dispute over tax payments was $74 billion. An earlier version of this post misstated the figure.