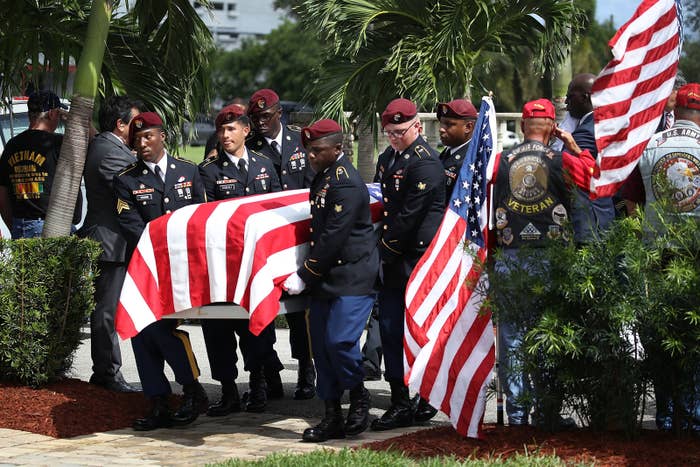 WASHINGTON – The US military's assertion that a patrol that ended in the death of four US soldiers in an ambush in Niger was low-risk, with combat considered unlikely, appears to be contradicted by what was known to be happening in the region before the patrol was attacked on Oct. 4.
US and Nigerien troops had been sent to a village known to be sympathetic to local ISIS affiliates, according to local officials. The region where the village is located has been under a state of emergency for months. A spate of violent attacks already had left dozens of Nigerien soldiers dead.
"What was the strategy? Why were we surprised?" Arizona Sen. John McCain asked on Thursday as he left a closed-door briefing on the Niger attack. "There are a hundred questions that need to be answered."
According to local officials, US and Nigerien forces were set up by residents of a village that was known to be sympathetic to regional ISIS affiliates. There was no surveillance to pick up the preparations, or nearby air support in place to respond to an attack or evacuate the wounded. When help arrived, in the form of French Mirage fighter bombers, the patrol had been engaged in an intense firefight for two hours.
The US forces on patrol were operating in an area that was not thought to be dangerous when they were attacked by 50 ISIS-linked fighters, Joint Chiefs Chairman Gen. Joseph Dunford told reporters at the Pentagon earlier this week. Under the military's rules, US troops in Niger can only accompany local forces on missions when "the chances of enemy contact are unlikely."
It was deemed a low-risk operation, given that US and Nigerien forces had done 29 similar patrols in the previous six months without incident, according to Pentagon officials.
But the United Nations, in a list it called "non-exhaustive," had tracked at least 46 attacks by armed groups since February 2016 in the region where the US troops were ambushed. Many of those attacks, which have been attributed to terrorist groups, targeted Nigerien military and security forces.
The attacks catalogued by the UN Office for the Coordination of Humanitarian Affairs in a report provided to BuzzFeed News by its Senegal office occurred in the Tahoua and Tillaberi administrative districts. Tongo Tongo, the site of the ambush, is located in Tillaberi.
Seven departments in those regions have been under a state of emergency since March; their emergency status was renewed just two weeks before the US troops were ambushed.
An attack on a Nigerien military patrol by an armed terrorist group killed 15 soldiers in February along the Mali border, according to news reports. The previous summer, Nigerien forces suffered even heavier losses in an attack that left 22 soldiers dead. An American missionary, Jeffery Woodke, was kidnapped at gunpoint by armed fighters from his home in Abalak, in the same region of Tahoua, last October. He is still missing.
And two weeks after the Oct. 4 attack that killed the US soldiers, 12 Nigerien paramilitary police were killed by militants in Ayorou, only 60 miles from where the Americans were attacked. That same police station had come under attack in May, although no one was killed.
The new state of emergency and resulting security measures have led to the closure of 16 markets, and affected some health and educational facilities as well, according to the UN. It also restricts the movement of vehicles and motorcycles between 8 p.m. and 6:30 a.m., according to the report.
In an effort to reestablish security after a spate of deadly attacks, the Nigerien military set up "Operation Dongo" – lightning in the Zarma language – in June. The operation trained and equipped 245 men to beef up security along the border with Mali threatened by terrorist factions, according to the country's defense ministry.
Last week, Nigerien Interior Minister Mohamed Bazoum called the attack by ISIS-linked fighters "a failure of human intelligence."
US and Nigerien troops "weren't being very careful and were not operating as they would have on a mission where they expected to deal with an attack," he told Radio France Internationale. "This is an area where there are more of them (jihadists) than us, and they have been able to inspire fear, and they certainly have some resources that give them very accurate information."
The Pentagon so far has not admitted that any lapses in intelligence resulted in an inaccurate risk assessment.
"Experienced (special forces) operators and supporters will continue to do their assigned missions as directed until they assess the risk is too high," Brig. Gen. Donald Bolduc, who led US special operations in Africa until this summer, laid out in an evaluation of AFRICOM in May. "Further complicating this environment is the fact that the United States is not at war in Africa, but the partners we support are at war."
As part of its investigation, US Africa Command is determining whether US forces went beyond the scope of what Dunford, and others, have repeatedly insisted "was planned as a reconnaissance mission."
Any mission to capture or kill a target would have to be given the green light by the White House, Bolduc told Stars and Stripes in an interview published Wednesday.
Trump was asked on Wednesday whether he had authorized the Niger mission.
"No, I didn't. Not specifically," he said. "But I have generals that are great generals…I gave them the authority to do what's right so that we win. That's the authority they have."
He also said that when ISIS fighters leave the Middle East for parts of Africa, "when they get here, we meet them. It's a dangerous business."
Some lawmakers briefed by the military on Thursday said they were satisfied with the Pentagon's answers. Texas Sen. Ted Cruz, a Republican, said he was "encouraged" that the military's initial assessment of what happened shows "there were not significant steps that could have been taken to prevent this assault."
Several others pointed to a March assessment by the US Africa Command chief, warning Congress that only 20% to 30% of US Africa Command's intelligence, surveillance, and reconnaissance, or ISR, requirements were being met. It also said that US Africa Command lacked the resources for medical evacuations, which were contracted out, and personnel recovery if something went wrong.
"That shortfall has not changed and the tragic outcome of this incident, in my view, can be attributed to lack of support in intelligence and other resources," Connecticut Sen. Richard Blumenthal, a Democrat, told reporters on Thursday.
The deaths of the four US soldiers have put a spotlight on a region where most Americans – including some lawmakers – were unaware that the US has been expanding its presence for years. The US has 800 military personnel in Niger, and 6,000 soldiers throughout the continent.
The chief of staff to the commander of US Africa Command, Major Gen. Roger Cloutier Jr., is leading the formal investigation into the ambush. Senators said the investigation is expected to take between 30 and 60 days.
Emma Loop contributed.