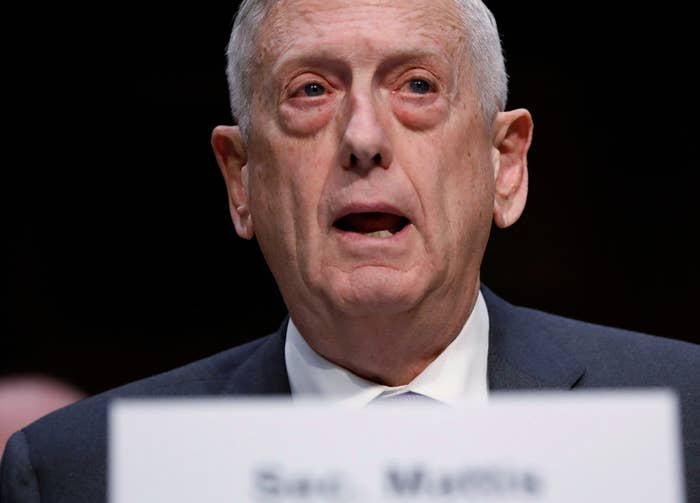 Forty-nine senators, including one Republican, sent a letter to Defense Secretary James Mattis on Thursday accusing him of establishing a new "don't ask, don't tell" policy for transgender service members that is not supported by the Pentagon's own data.
"The recommendations and report break faith with the men and women serving in our military by establishing a new 'Don't Ask, Don't Tell' for transgender service members, permitting them to serve only if they are willing to forego any chance of living as their true selves," the senators wrote in the letter, which was spearheaded by Kirsten Gillibrand, a New York Democrat, referring to the policy that for 17 years required LGBTQ troops to keep their sexuality secret. The policy was repealed in 2010.
"Just as our mistaken policy regarding lesbian, gay and bisexual service members harmed readiness and ultimately was repealed, the implementation of your recommendations will also harm our nation's military," they wrote.
Alaska Sen. Lisa Murkowski was the lone Republican who signed the letter, which slammed the Pentagon chief for recommending to the White House that most transgender individuals be banned from serving in the US military. Only one Democratic senator, Joe Manchin of West Virginia, did not sign it.
The letter to Mattis comes after all four service chiefs told Congress this month that they are not aware of any negative effects that would result from transgender personnel being allowed to serve openly in the US military. Air Force Chief of Staff Gen. David Goldfein, the last of the four to testify, said on Tuesday that he was not aware of any issues with transgender service members in the Air Force.
"I'm concerned about that and want to make sure that they are treated with dignity and respect," Army Chief of Staff Gen. Mark Milley told Congress on April 12. "And no, I have received precisely zero reports of issues of cohesion, discipline, morale, and all those sorts of things."
In his own testimony on April 19, Marine Commandant Gen. Robert Neller said that 27 Marines had come forward as transgender, and he was "not aware of any issues in those areas."
Last month, President Donald Trump signed a memo banning most transgender individuals from serving in the US military and deferred the implementation to the Pentagon and Homeland Security Department, which oversees the Coast Guard. This came after Mattis assigned a panel of experts to study the issue and sent the White House recommendations that would bar almost any individual who has a history or diagnosis of gender dysphoria, as well as anyone who has undergone sex reassignment surgery. Gender dysphoria is defined as a condition where a person is uncomfortable with their biological sex.
But despite Trump's intention to ban transgender people from serving, no policy has been established on transgender service, and courts have issued preliminary injunctions that require the Defense Department to continue allowing transgender soldiers to serve until lawsuits challenging the ban have worked their way through the courts.
In a tense exchange on Tuesday, Gillibrand pushed hard for Mattis and Gen. Joseph Dunford, the chair of the Joint Chiefs, to defend their policy. She cited a new study, whose authors include three former military surgeons, that shows the Pentagon's own data contradict the notion that transgender service members would impact cohesion and readiness.
"I think you need to do a lot more work on this topic to inform yourselves," she said.
According to the report by the Palm Center, which focuses on sexuality and the military, 40% of the 994 service members diagnosed with gender dysphoria in 2016 and the first half of 2017 deployed to Iraq and Afghanistan "and only one had an issue during that deployment."
Mattis countered that it was "impossible" for the four service chiefs to answer her question accurately.
"The reason is that under the Carter policy the reporting is opaque. We cannot report that problems emanated from a transgender [person]," Mattis said, referring to the Obama-era policy that lifted the ban on transgender service members. "So, the questions you've asked the service chiefs and the chairman are ones that right now the Carter policy prohibited that very information from coming up because it is private information."
The ACLU on Thursday called the Pentagon's recommendations "nothing more than transphobia masquerading as policy."
"This letter makes clear that transgender people in our military deserve more from their government than a policy that coerces them into choosing between their humanity and their country and that tells them that they are not welcome," said Ian Thompson, the group's legislative representative.
Other advocacy groups also released statements of support on Thursday, noting that the rationale behind Trump's sudden announcement on Twitter last summer that transgender troops were banned from serving "in any capacity" has since been refuted by current and former military leaders, medical experts, and federal courts.
Lawmakers are "rightly concerned that the Pentagon is taking aim at its own troops, and doing so on the basis of false and misleading claims about the research that shows that inclusion promotes readiness, and that transgender troops are as medically fit as their peers," Aaron Belkin, the director of the Palm Center, said in a statement.