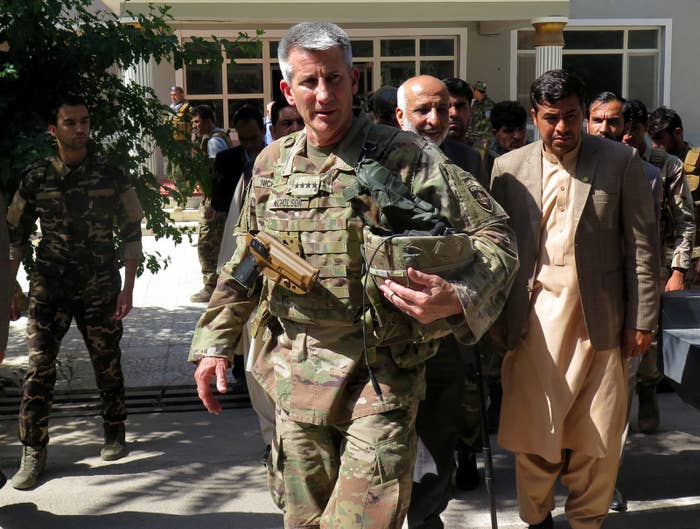 A year after President Donald Trump announced his new Afghanistan strategy in a televised address to the nation, the outgoing US commander on Wednesday insisted that it is working — if one looks beyond the usual way the military measures such progress.

Trump's strategy signaled an open-ended US commitment, including dispatching 4,000 more troops. But the Pentagon has struggled since to present any clear military advances in America's longest war. That's left the president reluctant to commit more US resources and musing about other solutions, such as sending in private military contractors.
On Wednesday, Army Gen. John Nicholson, who steps down next month as the commander of US troops in Afghanistan, said the normal markers of military progress, such as how much territory the Taliban control, ignore other factors. Then, after just a half hour, in the middle of being asked how the Taliban had managed to gain ground, he was abruptly cut off. An aide explained that Nicholson had a "hard stop" and had to go.
Earlier in the briefing, he'd conceded that the conflict appeared to be at a stalemate, but that focusing on that misses the larger picture.
"Yes, it is a bit of an impasse, but despite that we're seeing progress toward reconciliation," he said. "So, what I would say is focus on the 'talking' part of this … given that the traditional metrics of 'fighting' are not explaining why the Taliban are willing to talk now."
He pointed to a brief ceasefire in June, and the Afghan government's offer of a second one — which has actually been met with attacks, ambushes, and abductions — as well as face-to-face peace talks between the US and Taliban representatives that occurred in July in a change to long-standing US policy.
US officials' insistence that the Trump administration's new strategy has been a "game changer" has been difficult to substantiate. The military has cut way back on opportunities for journalists and other outsiders to question officials or embed with US troops, and reduced the amount of information it makes available on US actions in Afghanistan.
The government's watchdog of the war in Afghanistan raised concerns in January that the Pentagon had stopped providing some key data about the conflict, resulting in the delayed release of figures showing the insurgency was gaining strength in some areas.
The "traditional metrics" Nicholson referred to, such as the percentage of districts under Taliban control or influence, have been bleak. A new report by the lead inspector general found that the "Afghan government made no significant progress." Up to a third of Afghans still live in areas under Taliban control or influence, or in contested areas, the inspector general reported.
Despite a multibillion-dollar US training program, the Afghan security forces "have suffered a sharp decline in strength" due to high casualty rates and desertions, another report in June said. US troops continue to suffer higher casualties than in recent years, and the capital has been shaken by a violent wave of suicide bombings. In April, two explosions killed at least 35 people in Kabul, including 10 journalists.
In recent weeks, the Taliban launched a new wave of attacks that killed hundreds, including on the provincial capital of Ghazni, where Afghan forces proved unable to push them back without US air support.
Nicholson said the attacks were an attempt by the Taliban "to increase their leverage in the negotiation and to maintain their cohesion." He and other US officials have played down the uptick in deadly attacks, calling this phase of the war "talking and fighting."
"I think we are seeing the strategy is fundamentally working in advancement toward reconciliation, even though it may not be playing out the way we anticipated," said Nicholson, who leaves his post as the top US and NATO commander in Afghanistan next month.
Those statements rang hollow to many who have been watching and covering the conflict cycle for 17 years.
Two months after Trump unveiled the new plan, Nicholson praised the strategy as a "real game changer." US officials repeated what has become almost a cliché, that the US had "turned a corner," when it seemed just to be stuck on an endless loop. Military reports cited senior officers talking about "breathtaking" progress against the Taliban as a result of the new strategy. Pentagon spokesperson Dana White said insurgents were "desperate" because they were "losing ground," another trope familiar to military reporters.
After a wave of violent attacks in April, Defense Secretary Jim Mattis seemed to temper the US military's previous claims.
"I don't know that that's been the message from this building," he said when he was asked how he reconciled the positive outlook from the Pentagon with the reality on the ground. "We knew there would be tough fighting going forward."
At Nicholson's briefing Wednesday, he seemed to take a long view of the war, saying he firmly believed the US presence would "prevent another 9/11."
Pentagon reporters pressed him on whether he would stand by previous, rosy assessments.
"In retrospect, have US political leaders and US military been too optimistic over the last decade in saying we've turned the corner, only to see the situation deteriorate and credibility lost for claims of progress?" asked one reporter.
"We are protecting the homeland," Nicholson responded. He said the Afghan conflict had to be seen through the lens of keeping pressure on 19 terrorist groups including al-Qaeda and ISIS.
Nicholson reiterated that the reconciliation process was at a stage it had never been before.
"It's not something we've traditionally looked at in past years, but it's significant, and it's a result of the strategy."
In the middle of the next question, he abruptly cut off.
As Pentagon reporters pointed out on social media, it seemed odd that Nicholson — who always signed off thanking the press corps for their coverage and inviting them to report from the region — would end what was likely his final press briefing so suddenly.
His replacement, Army Lt. Gen. Austin Miller, warned senators at his confirmation hearing in June against talking about "turning points" in the war.
"It's generational," he'd said. Then, he referred to his son, who was sitting behind him. "This young guy sitting behind me, I never anticipated that his cohort would be in a position to deploy as I sat there in 2001 and looked at this. So I…I acknowledge that. I can't guarantee you a timeline or an end date."
More than 2,400 US military and civilian personnel have died in the conflict, and more than 20,000 have been wounded.
CORRECTION
Army Lt. Gen. Austin Miller's name was misstated in an earlier version of this post.