Today, for the first time in history, a young American can enlist to fight in a US war that started before he or she was born.

As the war in Afghanistan enters its 18th year and the US Army falls thousands short of its recruiting goals, the Pentagon is recognizing it has to do something different to recruit an age group that does not remember 9/11 and for whom the "war on terror" has been background noise their entire lives. This includes rethinking some of its traditional military PR, which has unintentionally turned the corner from inspiring to morbid by highlighting that some of the young people enlisting today are taking over the same tasks in the very same places their parents fought almost a generation ago.
This has led to a strangely poignant overlap between real military press releases and the brutal satire of The Onion. A story this summer titled "History Repeats: Son Follows Father's Footsteps Into Army Service" celebrated a recruit who was joining the same unit his father had previously been assigned to in Afghanistan. A few months earlier, a widely shared satirical article had been titled "Soldier Excited to Take Over Father's Old Afghanistan Patrol Route."
The grim reality was not lost on the military.
"There's a New 'Father and Son Served in Afghanistan' Puff Piece, and Boy Is It Depressing," read the headline on Task & Purpose, a news site run by military veterans.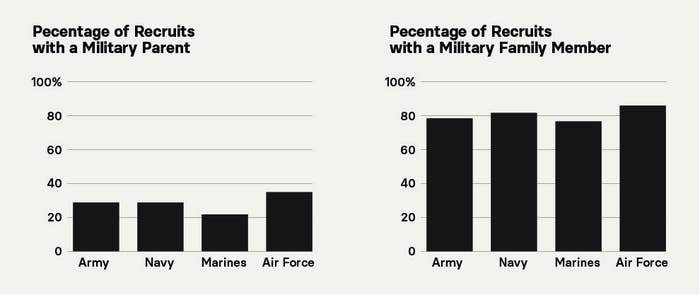 But this underscores a very real concern for military leaders — that the cost of the US "war on terror" is being borne by an increasingly smaller number of families, isolated and unnoticed by the rest of the country. At the same time, the US military footprint across the globe has expanded rapidly since former president George W. Bush ordered US troops into Afghanistan in Operation Enduring Freedom on Oct. 7, 2001. The US still has 15,000 troops in Afghanistan, but last year Americans also died in combat in places like Yemen, Niger, Syria, and Somalia, where most people back home — including some members of Congress — were not even aware the US was fighting.
"Most Americans are only vaguely aware that we're still fighting overseas, and the reason for that is that they don't have any skin in the game," retired Army Lt. Gen. David Barno, a former US commander in Afghanistan, told BuzzFeed News. "That's not a very healthy thing for a society, if it becomes the same 1% doing this from generation to generation while the rest is relatively oblivious."
Seven US service members have died in combat in Afghanistan this year, part of more than 2,300 Americans who have been killed there since October 2001. Nearly 21,000 have been wounded.
A "family business"
There's a reason that the US Army itself promotes service as a "family business." Having a relative who served in the military has long been a key indicator of whether young people will consider enlisting. Roughly 83% of young Americans who enlisted in 2015 had a family member who served in the military, and more than a third had a parent who did so, according to Defense Department data.
And that group is shrinking. More than three-quarters of adults over the age of 50 said they had an immediate family member who had served in the military, according to a Pew Research Center survey from 2011. Only a third of those ages 18–29 did.
The same pattern also influences who gets to positions of leadership. A 2009 analysis of Defense Department data showed that 65% of white officers had a father who served in the military.
It's not unusual for children to follow in their parents' footsteps — the children of doctors and lawyers also are more likely to enter those professions — but it's different when that "war has become the family business," said Amy Schafer, who wrote a report on the issue at the Center for a New American Security.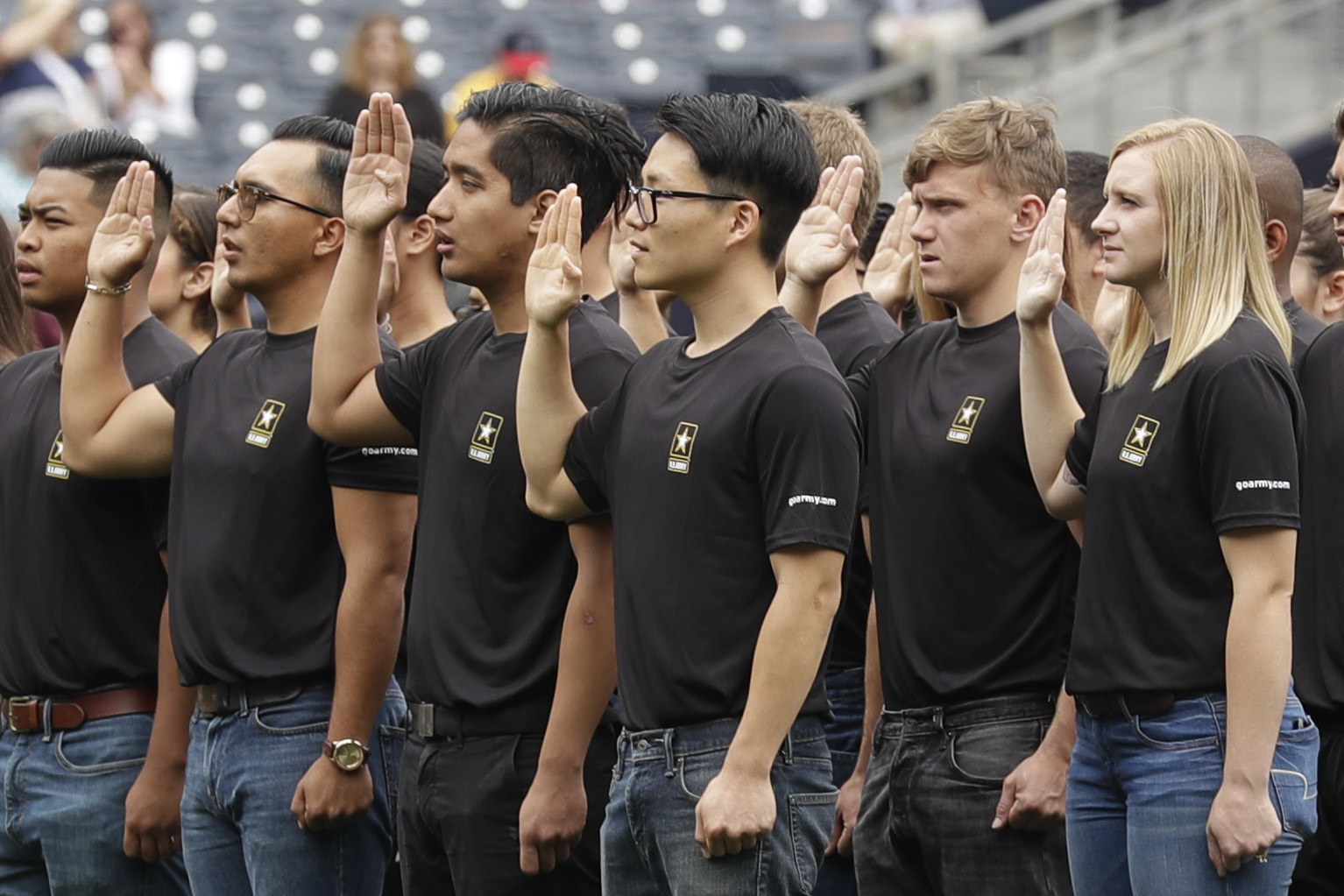 "What is different here is that this professional inheritance has created a warrior caste, which is wielding force on behalf of a democracy while the rest of the country isn't involved," she told BuzzFeed News.

Young Americans now becoming eligible to enlist have seen primarily two portrayals of military service in their lives — either the heroics of Navy SEALs taking out high-profile terrorists or soldiers coming back with post-traumatic stress disorder in films such as American Sniper or The Hurt Locker, she said. One makes all military service seem unrealistic for most, the other a terrifying ordeal that ruins lives. This increases the likelihood that those who do enlist come from families and communities where they have been exposed to a more realistic image, and the range of options, she said.
"There is this huge respect and admiration for the military [in the US public], and very little real understanding," she said.
"A looming crisis"
Since the US eliminated the military draft in 1973, the military has worked hard to maintain the all-volunteer force, upping enlistment and reenlistment bonuses and offering shorter contracts. But the new generation presents unprecedented challenges.
Last month, the US Army announced that it had missed its recruiting goals for the first time since 2005 despite pouring an additional $200 million into incentives, such as bonuses, and waiving some mental health and other requirements. It fell short 6,500 soldiers of the 76,500 new active-duty recruits it was seeking to grow the force after years of downsizing.
More than 70% of young Americans between 17 and 24 — the Army's prime recruiting demographic — are ineligible to serve due to not meeting fitness standards; having medical, mental health, or substance abuse issues, substance abuse, or a criminal history. Of the 1.7 million left, US Army Recruiting Command estimates that only roughly 136,000 would be interested, partly due to the booming economy. For most of those who don't have family ties, recruiters say it's a struggle to get them to consider the military as a top choice for their future, not a last resort.
This year's shortfall of 6,500 was just the "canary in the coal mine of a looming crisis," said Thomas Spoehr, a retired Army three-star general who is the director for national defense at the conservative Heritage Foundation.
"That initial rush of patriotism after 9/11 is over, and polls show that many US citizens don't really perceive serious threats to America — so they think, 'maybe the need for me is not that great, maybe my country doesn't need me,'" he said. Even those with family connections may be put off joining "a super long war to do the same thing your dad did," he said.
Since many recruits tend to prefer the Marine Corps and Air Force over the Army, they have mainly been shielded from the Army's recruitment problems for now, he said.
"Something for other people to do"
Military leaders have been warning for more than a decade that there would be a recruiting impact from the limitation of military service to a relatively small group of Americans.
"Even after 9/11, in the absence of a draft, for a growing number of Americans, service in the military, no matter how laudable, has become something for other people to do," then-defense secretary Robert Gates said in a well-known speech about the widening gap between the military and civilians at Duke University in 2010.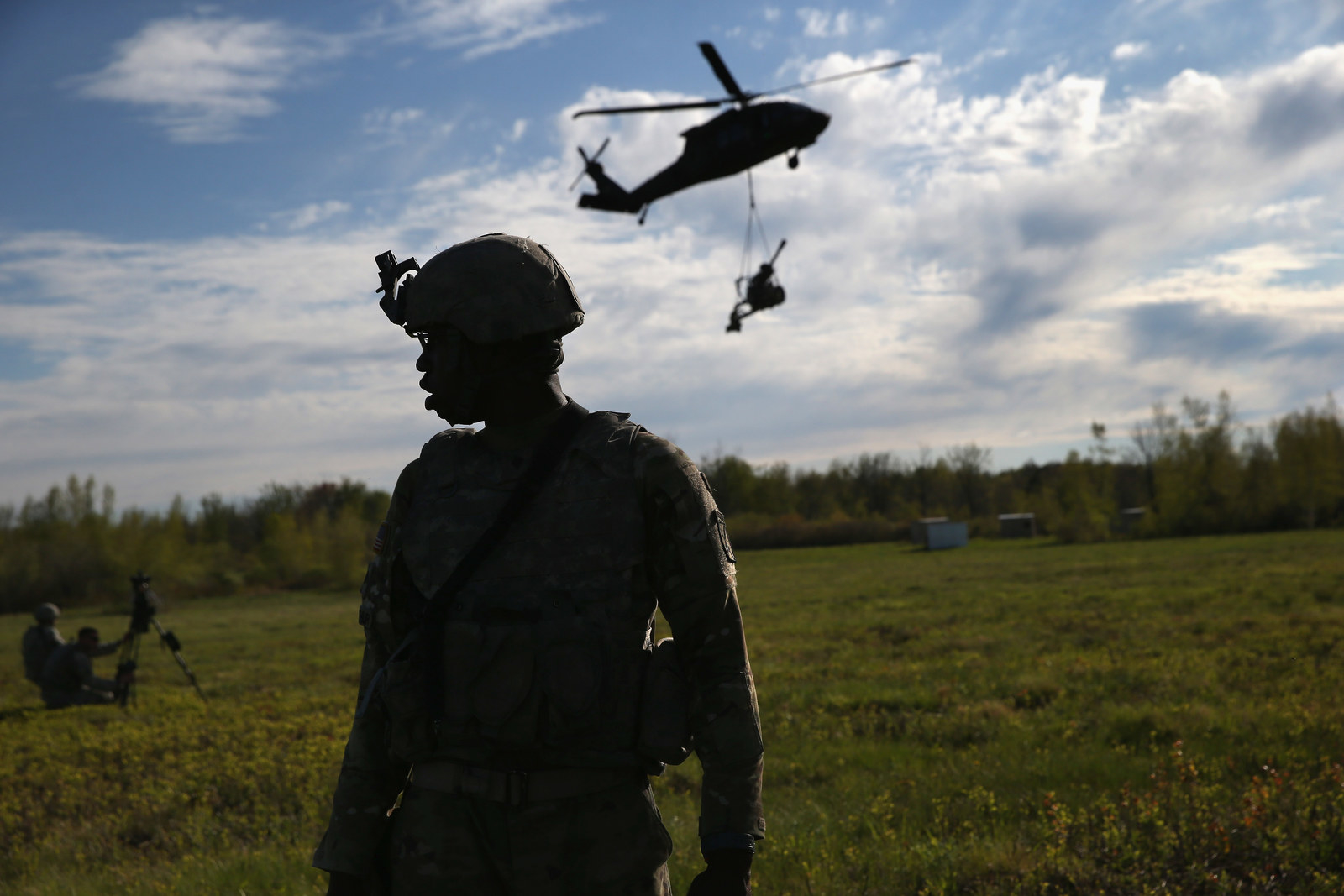 Those "other people" disproportionately come from only some regions of the US. What the military measures as "propensity to serve" is more heavily concentrated in the South and Mountain West, while major cities, the Northeast, and the West Coast are desert zones for military recruiters. About 44% of 18- to 24-year-olds who enlisted in 2016 came from the South, according to a Defense Department–commissioned report.

While being careful to note that a family tradition of military service is a positive thing, it's the continued recruiting from the same parts of the country — and the same families — that military leaders and analysts worry will become a problem for the all-volunteer force.
"You get to a point where you have such a rift between the military and the rest of the American people that you now have in this country a US public not even aware of the sacrifice that is being made," Sen. Tammy Duckworth, a Democrat from Illinois and combat veteran who lost both her legs in the Iraq War, told BuzzFeed News. She said that rift came into sharp relief for her when some of her fellow lawmakers weren't even aware of a recent combat death, surprised as it was mentioned in passing.
"We've had more discussions about people kneeling during the national anthem than we have about when the war in Afghanistan is going to end," Duckworth told an audience at an event in Washington last month titled "A Generation at War."
"These decades have changed the psychology of American citizens"
Military analysts who study recruitment say the impact of endless counterterrorism wars on who enlists and why remains to be seen, but it's clear that family service will continue to be a main motivator.
Last year, all three of Anne Wilson's children reported to basic training within weeks of each other. Her 18-year-old daughter, Cadi, and her twin 22-year-old sons, Dominic and Maveric, all enlisted in the US Navy after their stepfather, a US Army veteran, encouraged them to take advantage of the educational benefits and travel that would enable them to leave their construction jobs in the small town. They were 2 and 5 years old, respectively, on 9/11.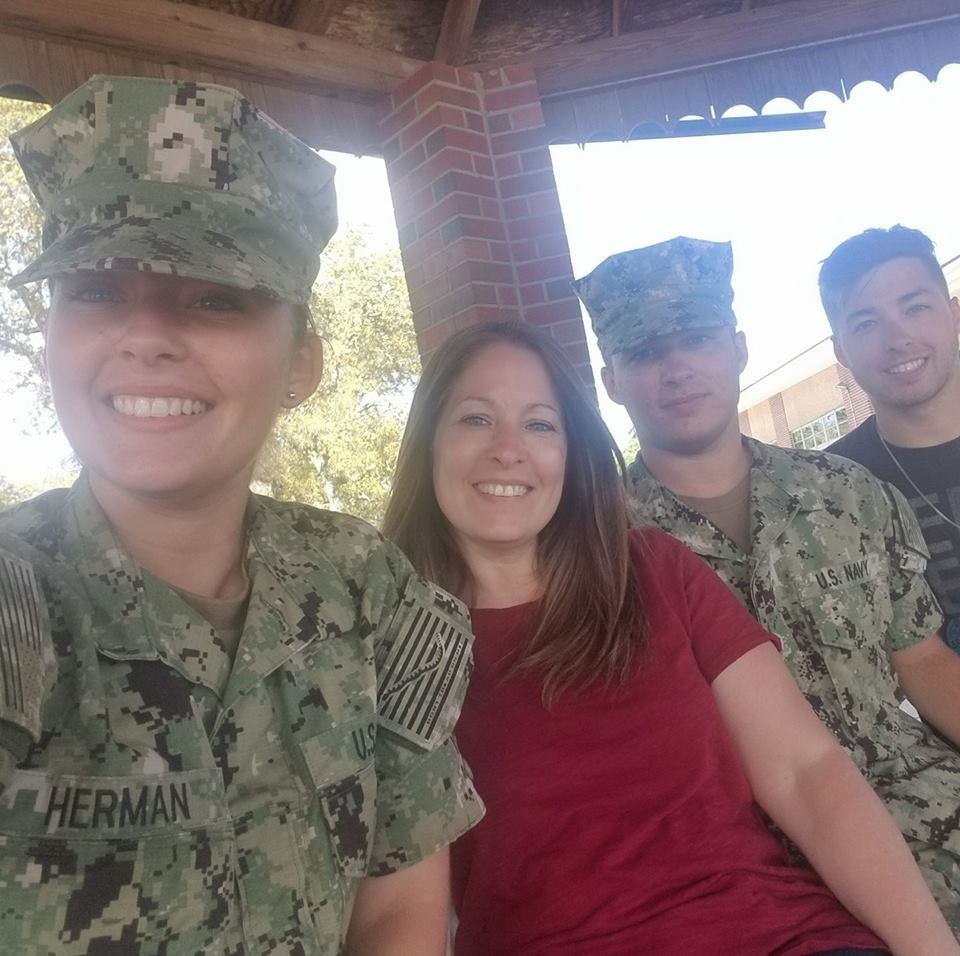 "There's nothing where we live, there are no good jobs," said Anne, who also wanted to enlist when she was young but was stopped by her father, a veteran, who worried about the treatment of women in the military.
"He said you sign those papers, you won't be breathing anymore," she remembered, laughing. "So I get to live it through my kids, which is really nice. Their grandfathers, who both served in the Army, are proud as peacocks."
But she acknowledged that without their family ties it would have been extremely unlikely that they would have been exposed to military service as an option. None of their friends in East Bethany, New York, were in the military. After all three of her children enlisted, and one of them deployed abroad, many of Wilson's friends and neighbors in the small town told her they would be "worried sick" if their children joined the military.
However, the deepening split between generations of military families and the rest of the country is unlikely to be resolved soon. Most of the half dozen current and former military officials interviewed by BuzzFeed News said they did not see it changing unless the US enters another major conflict that requires the return of the draft.
"These decades have changed the psychology of American citizens," Barno said. "If suddenly they were expected to enlist, it would send shock waves through the American public. They now basically assume that they can rely on these people who want to volunteer, but that it's not a responsibility of citizenship to do so."