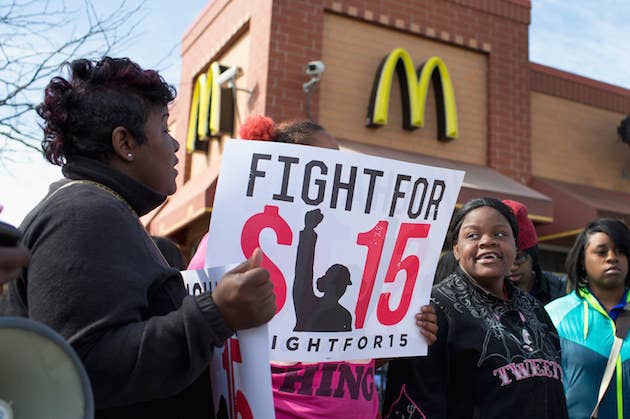 Fast food companies have built their empires by paying workers the least that is legally required, often with an aim to keep their prices low. Now, around the country, the cost of doing business for these employers looks set to rise as lawmakers seriously consider minimum wages increases.
What began as a small movement in New York in 2012 now has executives seriously considering how to manage higher pay.
"We will work very, very aggressively with our franchisees to mitigate minimum wage" increases, Dunkin' Brands CEO Nigel Travis told investors on an earnings call last week. "And we will continue to work with them to implement the best programs we can."
Broadly, there are a few options: increasing prices, increasing sales, reducing other costs, or — the most unpopular of them all — letting some workers go. Meanwhile, the proliferation of efficiency-boosting technologies, such as self-service ordering by kiosk or app, is offering stores a viable way to reduce the amount of human labor needed in a store.
Anyone who still doubts the years-long fight for a higher minimum wage is finally gaining traction might want to reconsider.
Nationally, the issue is heating up six years after the federal minimum wage last increased to $7.25 an hour in 2009. Wages have not kept up with inflation. At 50 hours a week, the rate earns someone just $18,850 in a year. President Obama has repeatedly called on Congress for a raise to $10.10, so far unsuccessfully, and candidates in the upcoming presidential election are weighing in on the issue.
With a Republican-controlled Congress, President Obama is unlikely to secure any federal increase, but changes already are being passed at the state and local levels. In Los Angeles, Seattle, and San Francisco, increases to $15 for all workers have already been approved. In New York State, a wage increase for fast food workers is widely expected after a state wage board passed an industry-specific recommendation to increase wages to $15 an hour, which is now pending approval by the labor commissioner.
As a point of reference, at 50 hours a week, $15 would earn a worker $39,000 in a year.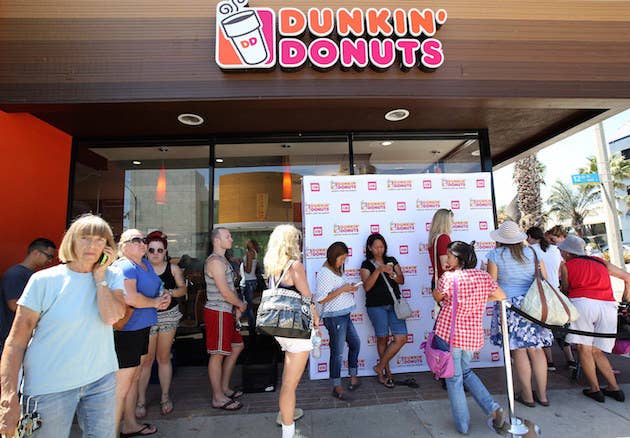 It's indisputable that many of the country's lowest-paid workers cannot afford to live on their wages alone, but there's disagreement about whose problem that is.
Discussion about the minimum wage has provoked strong reactions, and people are divided by their views on income equality and fairness, or the value of certain kinds of work.
Travis, the Dunkin' Brands CEO, said it is unfair that New York is targeting fast food in the recent wage recommendation, telling investors "the fast-food industry was singled out for this increase" while other low-wage employers will not be affected. He told CNN that while he supports increases for "living wage," a $15 minimum wage for fast-food workers is "absolutely outrageous."
Dunkin' Donuts is not the only fast food company talking about wages. Other restaurant chains have preemptively announced wage increases ahead of any changes to the minimum wage.
McDonald's chief financial officer Kevin Ozan told investors this past week: "In the U.S., labor costs increased primarily due to planned minimum wage increases in several states." As McDonald's already planned to increase wages and provide paid time-off and educational assistance for employees at company operated restaurants, it raised prices by 2%.
Starbucks' has also increased prices to offset higher expenses, including labor costs, and Chipotle increased prices in San Francisco, in part to offset higher labor costs in the city, where the minimum wage rose to $12.25 an hour in May.