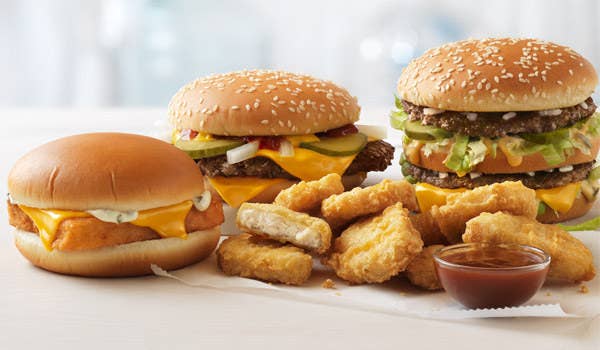 The country's largest fast food chains have been showering customers with deals after years of losing out to newer, higher-end chains. And now, in a battle for customers who remain loyal to old-school fast food, the big chains are engaged in a brutal price war.
Fast food companies have always targeted lower-income consumers. What's different now is that these customers are expected to benefit from lower gas prices, falling unemployment, and rising minimum wages, according to research by investment bank Cowen and Company. And as low-income consumers find more money in their wallets, commodity prices are no longer shooting upward as they did in recent years.
As "forecasts for key restaurant commodities including beef, chicken, pork, dairy and wheat are in-line to below long term averages," restaurants are particularly eager now to take advantage of the lower costs to boost traffic to stores, said Cowen's report.
McDonald's announced that starting Feb. 29, customers could pick two of four "iconic menu items" — a Big Mac, a 10-piece order of Chicken McNuggets, Filet-O-Fish or a Quarter Pounder with Cheese — for $5. This deal replaces the even lower-priced McPick 2 deal launched in January, in which customers could get two items — McChicken, McDouble, mozzarella sticks, or small french fries — for $2.

Meanwhile, Wendy's has been offering a four for $4 deal. Value monger Burger King has an even cheaper five for $4 promotion, as well as an ongoing two for $5 sandwich deal, and 10 chicken nuggets for $1.49. Even Pizza Hut has a $5 "flavor menu."
"All the major chains have jumped on the dollar pricing in an effort to maintain share against competitors," said Darren Tristano, president at restaurant consultancy Technomic.

Dollar-menu pricing is all about the fight within the fast food business, and is unlikely to bring back significant numbers of customers lost to fast casual chains like Chipotle or Shake Shack.
"Although it likely will steal some from fast casual, these are not the quality competitive products that will shift fast casual customers to fast food," said Tristano.