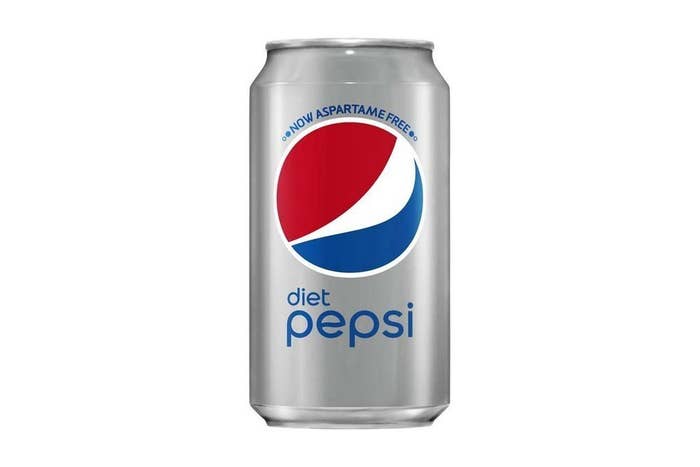 There's a reformulated Diet Pepsi in stores now that contains a new artificial sweetener: a blend of sucralose and acesulfame K.
Sales of Diet Pepsi, traditionally sweetened with aspartame, have fallen by roughly 35% over the past decade, the Washington Post reported. The problem, PepsiCo believes, was the aspartame.
Approved by the FDA in 1981 and widely regarded as safe by food safety agencies, aspartame has been stigmatized since a 1996 report linked it to an increased rate of brain tumors in the 1980s. Companies have been searching for a new zero-calorie sugar alternative as consumers have been avoiding aspartame in larger numbers.
"Diet cola drinkers in the U.S. told us they wanted aspartame-free Diet Pepsi," said Seth Kaufman, senior vice president of Pepsi and Flavors Portfolio, PepsiCo North America Beverages, in a press release. The brand hopes switching to sucralose will help win back customers, many of whom are already familiar with sucralose via Splenda, a well-known artificial sweetener.
Old Diet Pepsi also contained the artificial sweetener acesulfame K (Ace-K). As consumer concerns mainly surrounded aspartame, the new formulation will continue to use Ace-K.
So what do we know about Pepsi's new artificial sweetener?
Meet the sucralose molecule.
You can call it C12H19Cl3O8. It is not found in nature, and must be synthetically produced. It is extremely sweet (about 600 times as sweet as sugar) so only small amounts are required, and since the body cannot digest sucralose, it does not contribute calories to the diet.
Because of its extreme taste, it's known as a "high-intensity sweetener," a category that also includes saccharin, aspartame, Ace-K, neotame, and advantame.
Researchers discovered it while trying to create an insecticide.
Like other artificial sweeteners, sucralose was discovered accidentally. A graduate student at King's College London in 1975 was working on an insecticide. Misunderstanding instructions from his head researcher to "test" some compounds, he thought he was asked to "taste" them, according to The New Yorker. Oops. But it was a sweet error. The researchers worked with British agribusiness company Tate & Lyle to develop and patent the sweetener in 1976.
Today, Splenda is the best-known brand of sucralose.
Sucralose is approved for use in 80 countries, according to Splenda. Canada was the first country to approve the use of sucralose, in 1991. Australia permitted its use in 1993, and New Zealand in 1996.
Sucralose has been available in the U.S. for just 17 years. In 1998, the FDA approved it as a tabletop sweetener, and then as a general purpose sweetener in 1999. The U.K. later approved it in 2002, followed by the EU in 2004.
The switch to sucralose from aspartame has been going on for years.
Splenda quickly became the leading artificial sweetener brand in the U.S. The maker of aspartame brand Equal sued the company, saying Splenda's tagline "Made from sugar, so it tastes like sugar" was misleading since it was not a natural product. The parties settled the case in 2007. Splenda now uses the tagline "Experience the joy of sugar without all the calories."
It's already used in thousands of other foods and beverages.
Diet Pepsi may be getting a lot of attention for switching to sucralose, but it's far from the first drink to use it. It can be found in an estimated 4,500 food and beverage products, according to a 2012 report.
The recently departed Pepsi One was reformulated with sucralose before it was discontinued last year, and it's still in other Pepsi products like Tropicana Twister Light drinks and Propel flavored water.
It's also used in Campbell's Diet V8 Splash and Hansen's Natural diet sodas.
In food, sucralose can be found in products like Breyers No Sugar Added ice creams, and sugar-free Klondike bars. Splenda also sells a sucralose-sugar blend for use in baked goods.
Can sucralose revive Diet Pepsi sales?
We'll see. The problem with any beverage reformulation is that loyal consumers expect a product to have a certain taste, which is extremely difficult to re-create when switching ingredients. Kaufman told the Associated Press that people recognized the flavor of the new Diet Pepsi during testing, but noted that it might have a "slightly different mouthfeel."
As for the research on the effects of sucralose on health, the FDA reviewed more than 110 safety studies before approving it, but medicinenet.com points out that there is "a lack of long-term studies on humans."
For now, the FDA limits safe consumption of sucralose to the equivalent of 23 packets of Splenda daily for a 132-pound person.
Farewell, aspartame Pepsi. See you in another drink.