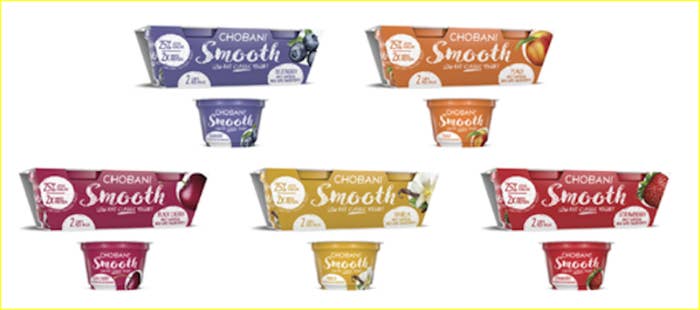 Is the Greek yogurt craze beginning to fade? If ever there was a sign of it, here it is: Chobani is launching a regular yogurt.
It was just a decade ago that Chobani changed the yogurt game, teaching a whole generation to replace the regular yogurt in its fridges with thick, tart, protein-heavy Greek yogurt. But now enter Chobani Smooth — which the company describes as its "first foray into non-Greek, classic yogurt."
Chobani spokesperson Michael Gonda said the company sees an opportunity to revive sales of traditional yogurt, which fell out of 1.8 million households last year. Yet the launch could also be seen as another symptom of the Greek slowdown. Sales of Greek yogurt fell by 4.6% in the last 52 weeks according to Nielsen data, a far more dramatic drop than the 1.2% decline in non-Greek yogurt sales.
By 2016, "Greek yogurt had largely achieved mainstream status," according to market researcher Euromonitor. Last year, Chobani also launched a drinkable yogurt.

Yet "Greek has not peaked," Gonda maintains. "We feel language suggesting yogurt and Greek yogurt is a fad is unrealistic and not supported by fact," he said. He attributed the industry's recent sales decline to heightened levels of Greek yogurt discounting, adding that Chobani maintained prices and continued to see double-digit sales growth last year.
Chobani's announcement comes just days after Yoplait announced it was launching "French yogurt," an entirely made-up category of yogurt packaged in glass jars, as an upscale addition to today's largely Greek-ruled yogurt aisle.
There's no shortage of classic yogurts that Chobani Smooth will compete against, but the company hopes its claim that Smooth has 25% less sugar than, and twice as much protein as, most other yogurts — and no artificial sweeteners or flavors — will make it a more appealing option.