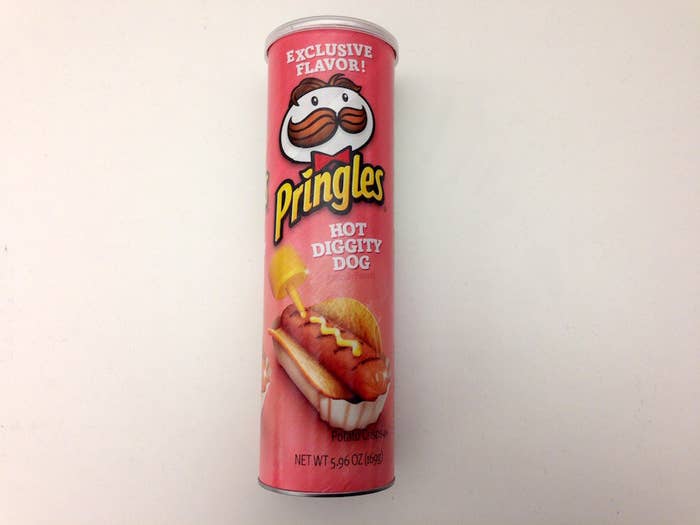 You may have never thought you wanted a hot dog-flavored chip, but Pringles is betting you're either curious enough or powerless enough to give it a try. Early last month, the "Hot Diggity Dog" went on sale, available exclusively at Walgreens.
The new limited-time chip tastes less like a hot dog and more a medley of smoke and mustard. In the words of Pringles Marketing Director Mark Miller, it delivers "on that great taste and complex taste that comes back from a hot dog, between the mustard and spices, on the iconic asset of the Pringles chip."
So why can you only get it at a Walgreens?
This isn't the first time a weird Pringle has been sold exclusively in one place. Cheeseburger-flavored Pringles hit Walmart in 2012, Philly Cheesesteak ones went to Dollar General in 2014, and Bourbon BBQ Chicken Pringles were in Target last year.
Miller told BuzzFeed News that programs like the exclusive flavor deals it strikes with retailers "are the reason that Pringles is a growing business."

The point of all these limited-time launches is to bait consumers into trying something new, even if they weren't looking to buy Pringles at all. In return for the exclusive, a retailer like Walgreeens will create a display of the new flavor somewhere prominent but separate from the regular snack aisle (for example near the register), hoping consumers will throw in a can as an impulse purchase, as they might do with candy or lip balm.
It's a bit like the Pringle equivalent of the clickbait headlines you see all over the internet — an attention-grabber, carefully calibrated to be irresistible to the passer-by, even if the underlying product may not be one for the ages.
Delicious, irresistible clickbait:
"It's like, hey, I'm just walking into a store, didn't plan on buying Pringles and clearly didn't plan on buying Pringles Hot Diggity Dog, but boy this looks really interesting and at a pretty cool price of less than $2 I can pick up something and try something new at a very low entry price point," explained Miller.

By making it exclusive to the retailer, the hope is the product will have a bigger impact on that particular chain's sales than if it were available everywhere.
Pringles have been a bright spot for owner Kellogg, which acquired the brand from Procter & Gamble in 2012. Americans have been eating less cereal, a trend that has been dragging down Kellogg's overall sales. Yet the company said in its 2014 annual report that it saw "good performance from the Pringles brand in 2014, both in the U.S. and around the world."
In Kellogg's earnings call last week, it said Pringles "delivered another strong year of growth across the globe" in 2015. Kellogg's overall net sales decreased by 7.2% in 2015 to $13.5 billion.

According to data from IRI, a Chicago-based market research firm, dollar sales of Pringles in U.S. supermarkets, drugstores, convenience stores, select club and dollar chains, and other retailers increased by nearly 1.5% last year to more than $844.2 million. In 2014, sales had grown by 5.2%.
The odd flavors come from something Pringles calls its "Flavor Bank," a catalog of more than 100 flavors that its salesforce takes to clients. It contains categories like meaty blends (this would include Hot Diggity Dog and bacon flavored Pringles), hot and spicy, and sweet and salty. Miller called the Flavor Bank "a source of competitive advantage" for the company.

Pringles went to Walgreeens with a variety of potential exclusive flavors it could make for the retailer, and they settled on the mustardy hot dog option. "They were absolutely blown away by it," Miller said.