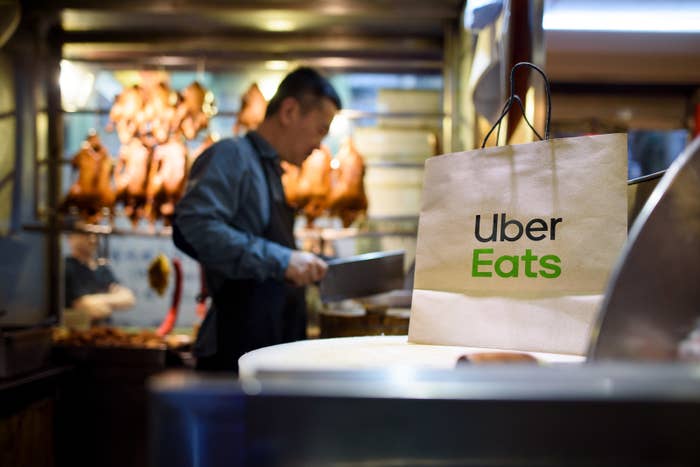 As Uber prepares to go public in 2019, it's making food delivery a bigger part of its core business. Uber Eats has rapidly expanded over the last year and now delivers food from more than 160,000 restaurants worldwide, up from 80,000 at the start of the year, the company said in an interview with BuzzFeed News.
"We've seen tremendous growth in the last 8 to 10 months," said Liz Meyerdirk, global head of business development for Uber Eats. The company said that 40% of new Uber Eats users are also new to Uber, and their read on that data is that food delivery is helping to grow the platform beyond ride-hailing, especially in suburban markets where the need for take-out is stronger than the need for a car service. For example, since January 2018, 50% of Eats trips in France were made outside of Paris, in suburban markets.
One strategy helping Eats grow its base of restaurants is signing up large restaurant chains, such as McDonald's, which has called delivery "an entirely new growth driver." Eats also delivers from select locations of chains like Starbucks, Subway, Sonic, Popeye's, Church's Chicken, Jersey Mike's, and Denny's, although it says three-fourths of the restaurants it delivers from are still small businesses.

Tensions are also high between Uber and the contractors who make the deliveries. Recently, Eats couriers in the UK protested after the platform cut their minimum delivery payout. Couriers are paid a fixed rate upon pickup and delivery of an order, plus an amount based on distance traveled. The company responded by offering temporary "minimum payment guarantee" of £9 to £11 from Sept. 19 to Nov. 4 in Birmingham, London, and Manchester, according to a Wired report.
One day, Uber may be able to rely on robots instead of humans to make these deliveries: The company — which is also developing self-driving cars — wants to launch food delivery by drone by 2021, according to a job ad spotted by the Wall Street Journal.