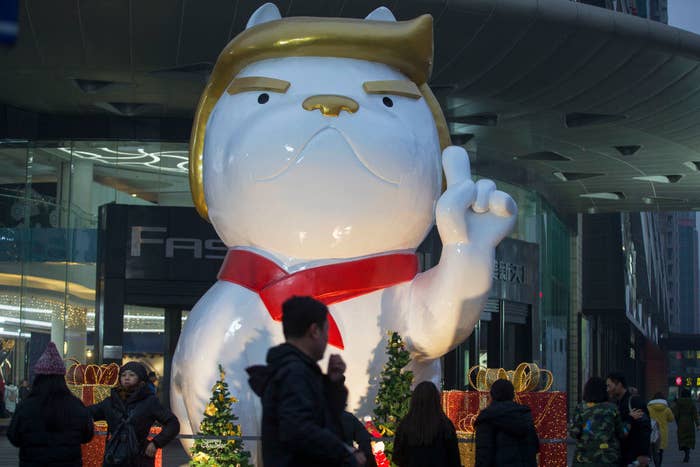 After President Donald Trump tweeted Tuesday morning about important trade discussions the US is having with China, US markets plunged.
In his tweets, Trump dubbed himself a "Tariff Man" in reference to his use of tariffs as a negotiating tactic with the country's largest trade partner. "It will always be the best way to max out our economic power. We are right now taking in $billions in Tariffs. MAKE AMERICA RICH AGAIN," Trump said on Twitter.
Investors on Wall Street had been optimistic that the US and China were making progress in avoiding a prolonged trade war when the two countries agreed to a 90-day halt to tariffs during the G20 summit.
But after Trump began tweeting Tuesday, the Dow fell 3.1% and the S&P 500 fell 3.2%.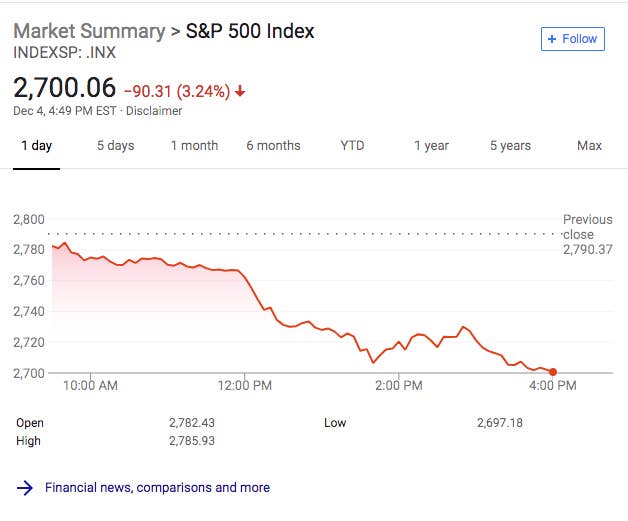 Now, ICYMI, here's what Trump had to say about the trade situation (there are a few tweets here, so brace yourself).
Okay, now let's back up and consider what a tariff even is.
It's a tax a country imposes on an imported good or service, making them less attractive to consumers and reducing consumption of those imports, often with the aim of making domestic alternatives more appealing. Basically, it's a protectionist tool and deters trade. Trump is threatening high tariffs on Chinese imports to get China to increase its imports of US goods and reduce the trade deficit.
Trump, who has been renegotiating with major US trade partners, imposed hefty tariffs on Chinese imports earlier this year.
Back when Trump announced the tariffs back in March, US markets also fell. Investors do not want a trade war, as it dampens consumption in the short term and makes it harder for them to make long-term bets (companies have already announced layoffs due to the tariffs). China responded by placing its own tariffs on 128 US products in April. This set off a series of tit-for-tat tariff announcements from the two countries involving thousands of products.
Notably, American farmers were hit severely when China stopped importing their soybeans — soybeans were America's top export to China last year, and China bought about 60% of US soybeans.
In a survey by the University of Chicago earlier this year, not one economist said Americans would be better off as a result of the tariffs.

Here's a timeline of how the trade war has played out.
When Trump said in his tweet, "We are right now taking in $billions in Tariffs. MAKE AMERICA RICH AGAIN," he overstated the benefit of the tariffs so far.
The claim is technically true. The US has made more than $4.4 billion on the China tariffs this year, based on US Customs and Border Protection calculations in October. So, yes, it's billions, but it's hardly making America rich again. Consider for example that the US exported $12.4 billion of soybeans alone to China last year, and China has stopped buying US soybeans as a result of the trade dispute.
The tariff issue has surfaced again because Trump's tariff on $200 billion of Chinese goods was scheduled to increase from 10% to 25% on Jan. 1 — but Trump and Chinese President Xi Jinping agreed over the weekend to hold off on implementing new tariffs for 90 days.
Investors had been hoping for a significant truce on rising tariffs, but Trump and Xi only managed to agree to a short-term halt, a Band-Aid at best. And as more information came out, investors decreasingly felt that this was a promising outcome.
First, Trump's chief economic adviser Larry Kudlow said that the 90-day truce would start on Jan. 1, but the White House later corrected him, saying it started on Dec. 1, meaning the 90-day deadline was approaching even quicker than investors had expected.
Then details emerged about what China was claiming to have offered the US, which was more modest than Trump had suggested.
The White House said: "China will agree to purchase a not yet agreed upon, but very substantial, amount of agricultural, energy, industrial, and other product from the United States to reduce the trade imbalance between our two countries. China has agreed to start purchasing agricultural product from our farmers immediately."

The phrase in question here is "very substantial." Chinese media reports following the meeting made no mention of such a concession by President Xi, saying only that the two sides would work together to gradually reduce the trade deficit.
So while Trump tweeted Monday that "farmers will be a very BIG and FAST beneficiary of our deal with China," in reality, this is not so clear.


Kudlow also suggested that China would reduce its auto tariffs to zero, but again, the Chinese have yet to confirm this, as the Washington Post noted.
And while soybeans and agricultural exports are an important part of the equation, there are also questions about whether China will agree to import more high-value goods from the US, such as electric cars, aerospace, and bio-medicine (as the Financial Times points out) if it also is trying to develop those industries domestically.
The big picture issue is that investors' skepticism is growing over Trump's ability to negotiate a deal with China that is beneficial to US companies or US consumers, and it looks more and more likely that we're headed toward an ongoing trade war.
This, along with rising interest rates in the US, has economists predicting an economic slowdown next year, despite indications otherwise from the Trump White House.