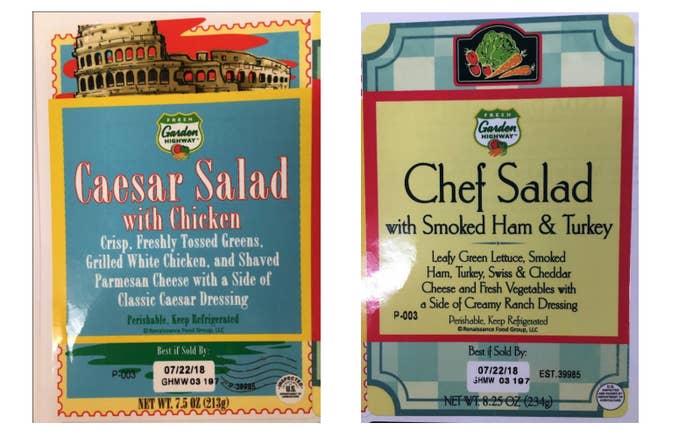 You might call it the great parasite of 2018. A diarrhea-causing bug, called the cyclospora parasite, has now been found in certain prepackaged salads and wraps sold in Trader Joe's, Walgreens, and Kroger, according to a public health alert from the US Department of Agriculture this week.

The good news is that no one has gotten sick from the germ, and the recalled products are no longer on store shelves.

Cyclospora was the same parasite that contaminated McDonald's salads and Del Monte vegetable trays, which prompted their recall in recent weeks.

The new USDA alert applies to salads and wraps that contain beef, pork, or chicken, which were distributed by Indianapolis-based company Caito Foods. The ingredient of concern was romaine lettuce, which was provided by lettuce supplier Fresh Express and used in the salads and wraps now being recalled. (Romaine lettuce from a different supplier, if you recall, was also involved in an outbreak of E. coli earlier this year.)
Here's the full list of affected products.
"The health alert was issued out of an abundance of caution. There's no confirmation the products were contaminated, the products listed are no longer on store shelves in the states impacted and there have been no reports of any illnesses," a representative for Trader Joe's said in an email to BuzzFeed News.
Walgreens said, "This product was available in a limited number of our stores in Illinois only. Upon learning of the recall, we notified these stores to immediately pull and dispose of any product on store shelves."

Kroger did not immediately reply to a request for comment.

Cyclospora can cause an illness called cyclosporiasis, which typically causes "watery diarrhea, with frequent, sometimes explosive, bowel movements," according to the Food and Drug Administration.

Symptoms generally start about seven days after ingesting contaminated food and water, although they can happen anywhere from 2 to more than 14 days later.

Cyclosporiasis outbreaks can happen anytime or anywhere, but peak months are May, June, and July, according to the Centers for Disease Control and Prevention.

Cyclospora can last for a long time in food and the USDA is "concerned that some product may be in consumers' refrigerators and that consumers may be at risk due to the length of the Cyclospora incubation period." So check your fridge.

"Consumers who have purchased these products are urged not to consume them," the agency said. "These products should be thrown away or returned to the place of purchase."
So there you have it. Nothing is good in 2018.