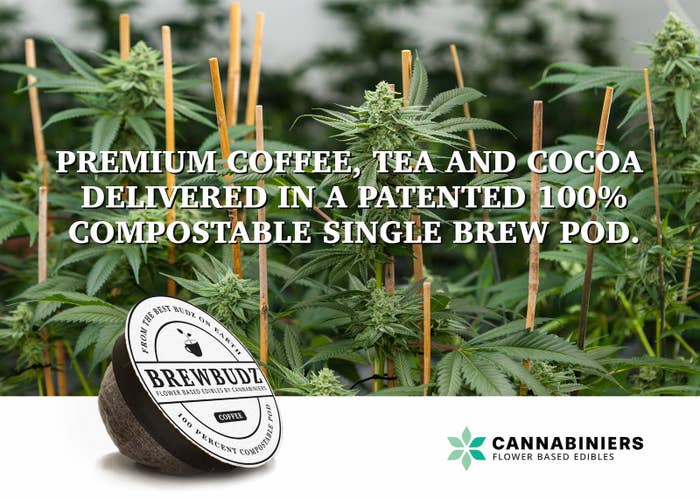 Finally, everyone can stop eating and smoking marijuana like savages. A new (compostable!) marijuana single-serving coffee pod called Brewbudz is available in Nevada dispensaries starting today, and it works with regular Keurig machines. Each pod costs $7, about as much as a cheap glass of wine.
"Brewbudz offers various dosage options to fit every lifestyle," the producer, Cannabiniers, said in a press release. The pods are filled with weed-infused coffee, cocoa, or tea in 10-milligram, 25-milligram, and 50-milligram doses of tetrahydrocannabinol, aka THC, aka the chemical that gets you high. The company claims that uplifting sativa-dominant varieties will be used in the caffeinated pods, while relaxing indica-heavy ones will be used in decaf.
For context, a serving of THC under Colorado law is 10 milligrams. "Some inexperienced consumers and people with smaller body types have found 10 milligrams to be too powerful, so those using it for the first time should strongly consider starting with 5 milligrams," according to consumeresponsibly.org, a consumer education site by the advocacy group Marijuana Policy Project. Symptoms of overconsumption include "an increase in heart rate, dryness of the mouth, and/or feelings of paranoia or anxiety," according to Consume Responsibly.
In defense of Brewbudz's potency, a spokesperson said, "There are edibles in the market that offer 500 to 1,000 milligrams of THC. ...The 10-milligram product is a good starting point for a new user/the occasional user whereas the higher dosing strengths are intended more for the medical user/frequent recreational user."
Despite a patchwork of legal cannabis access, and the potential that the federal government could crack down on the growing industry, Cannabiniers sees a huge market for marijuana coffee pods, as "Americans consume over 600 million cups of coffee daily" and "there are limited product offerings available in the cannabis industry to meet this demand."
After rolling out in Nevada, Brewbudz also plans to launch in Colorado and California.
CORRECTION
Dude, we totally spaced. Brewbudz are Keurig-compatible single-serving coffee pods. But because they aren't licensed by Keurig, they are not officially called K-Cups, as a previous version of this post referred to them.