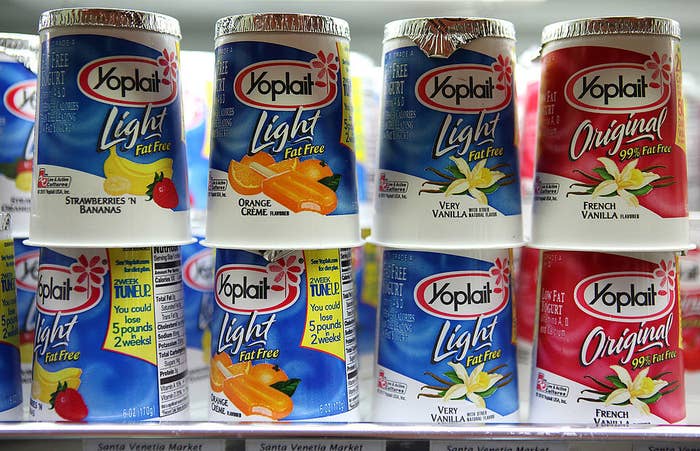 Yoplait was America's biggest yogurt brand in 2011, when it was purchased by the giant food company General Mills. But the brand has recently suffered a steep decline, as Chobani and the Greek-style yogurts that followed took over the market.
General Mills says its yogurt sales fell 20% in recent months, with sales of light yogurts falling even more as consumers opted for richer, fattier products. Yoplait is now the third largest after Dannon and Chobani.
"We have work to do to reposition our US yogurt portfolio and to faster growing, more premium yogurt segments," General Mills President Jeff Harmening told investors in an earnings call on Tuesday.
The company paid almost $1.2 billion to buy a 51% stake in Yoplait back in 2011, but now it's confronting a hard truth: the yogurt game has changed. "We're starting to see consumers looking for more simple, better tasting yogurts that feel more artisanal," said Harmening.
The problem is that regular, old-fashioned yogurt, like Yoplait, has been brutally commoditized. It's ordinary, and many consumers primarily value it for being cheaper than other options.
All the opportunities for growth, and higher prices, is in premium varieties, including Greek yogurt, which is now about one-third of the entire market.
Yoplait removed the aspartame from its light yogurts a few years ago, but the change didn't appeal to some customers.
Others take issue with their flavors.
And other consumers complain that Yoplait flavors all taste the same.
The company has reformulated Yoplait Greek 100, to give it "more protein, less sugar and significantly improved texture and taste," Harmening said. To capitalize on an "increased consumer interest in snacking," the company launched Yoplait Dippers, Yoplait custard, and a yogurt drink.