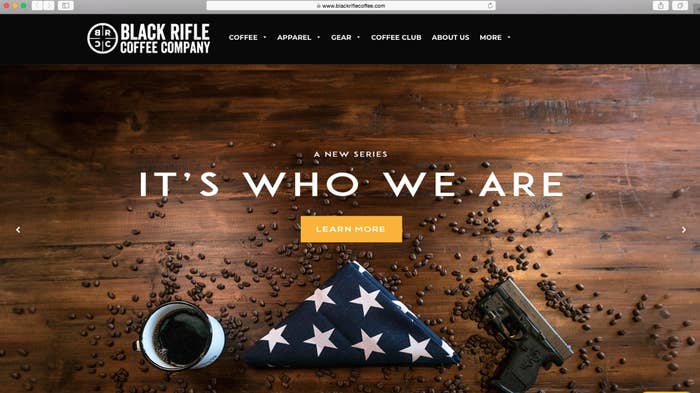 The right has a new preferred coffee: Black Rifle, a military-themed brand based in Salt Lake City that says it aims to "serve as the premier coffee company to the conservative customer."
After Keurig pulled its advertising from Sean Hannity's show on Fox News over the weekend over his coverage of alleged sexual conduct by Alabama Republican Senate candidate Roy Moore, members of the right in turn took a stand against the coffee company, which is known as much for its brewing machines as for its single-cup pods. Hannity supporters posted videos of people smashing Keurig machines on social media with the hashtag #BoycottKeurig.
With Keurig clearly out as the coffee industry's right wing icon, a gap was left to be filled. Enter Black Rifle Coffee, which is owned by Evan Hafer, a veteran of Iraq and Afghanistan who says on his website that he started the company "to provide a high-quality, roast-to-order coffee to the pro-2A and veteran communities."
The company's tagline on Facebook is: "Because hipsters didn't invent coffee." It's clearly a dig at the strong liberal streak that defines Starbucks and many other coffee brands today.
On Sunday, this MAGA crusader urged followers on Twitter to "Make Coffee Great Again!" and buy Black Rifle Coffee to #StandWithHannity. As the heavily armed video shows, the Black Rifle brand is a blend of coffee meets Mad Max: Fury Road.
Here's a line from the video: "People ask us why we have so many guns. I just tell them, how about over 200 years of freedom, bitch." Another: "Instead of worrying about micro-aggressions and what bathroom I'm going to use, I believe it's important to support the people that actually serve our country."
Black Rifle coffee varieties include "Sniper's Hide Blend," "Silencer Smooth Blend," "AK-47 Blend," and "Freedom Blend." (Ironically, Black Rifle coffee also comes in Keurig-compatible pods.)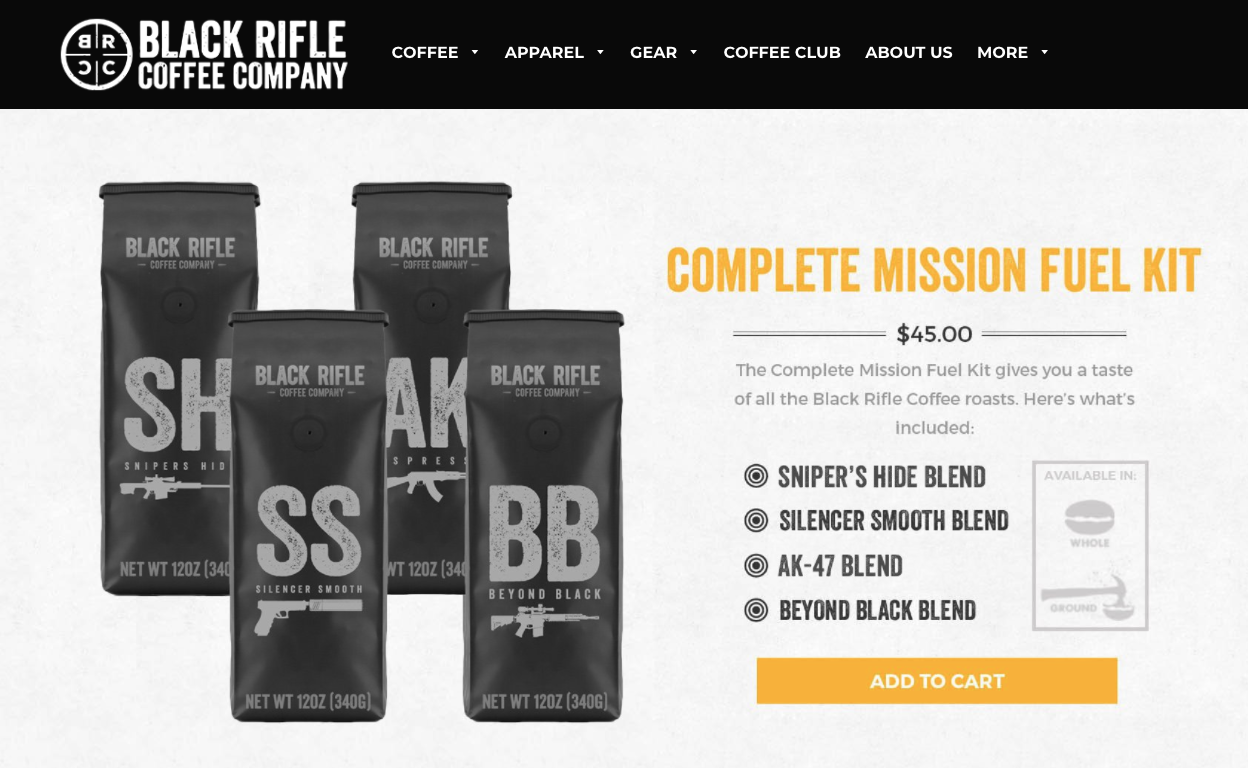 The description for AK-47 espresso blend goes, "Whether in rain, snow, mud, desert, or mountainous terrain, the AK-47 never fails to deliver a reliable dose of wake the hell up. This blend will have you pushing hot on all 30 rounds of energy. We've put together a blend so fine even Kalashnikov would be proud."

Black Rifle Coffee did not immediately respond to an interview request from BuzzFeed News.
Later that day, the tweet crossed the Twitter feed of Sean Hannity himself, who quoted it and said, "Omg. I'm so so buying this coffee!!!!!"
By Monday morning, Donald Trump Jr. liked the tweet.
Trump Jr. went as far as to follow Black Rifle on Twitter.
Black Rifle has been clear about its disdain for mainstream coffee culture before. Earlier this year, Hafer told Vice's food website, Munchies:
"The hipster culture, in reference to coffee, I think they feel like they have some kind of monopoly on it....A hipster is somebody that is conforming to an urban subculture, specifically around a style. And that style is the urban environment around a specific product: bicycles or coffee or other specific products. The funny thing is that we're the same over here. We understand that. We have our own uniforms and our own way to look and feel. We're really similar, we just like different things."
Hannity allies are voicing their support for Black Rifle as an alternative brand now.
Keurig did not immediately respond to a request for comment, but this letter the company's CEO sent to employees says the tweet about its advertising on Hannity's show was unauthorized, and suggests it doesn't want to publicly take sides.