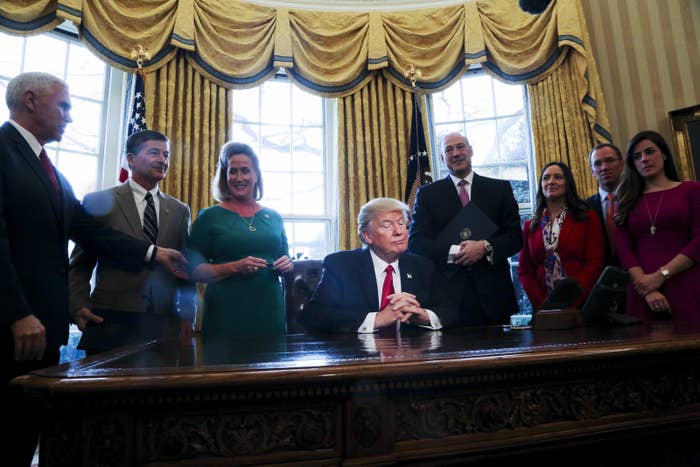 Donald Trump has made clear that he wants his presidency to be about jobs — more specifically, his "bold plan to create 25 million new American jobs in the next decade" and "bring good-paying jobs to our shores and support American manufacturing, the backbone of our economy."

Nobody knows exactly how that will work — and many believe part of it is simply not going to happen. "The idea that somehow there will be this big employment surge in manufacturing is a myth," economist Jeffrey Sachs told BuzzFeed News. The claim that manufacturing is still the backbone of the US economy is wrong, he said — it only employs about 8% of the workforce.
Could it employ more Americans? As the Trump administration pushes to bring factories back to the US, many of the manufacturing jobs overseas are currently being replaced by machines — meaning bringing them home won't do much for workers.
In his new book Building the New American Economy, Sachs lays out his argument for where new jobs will come from, and whether they can sustain a good quality of life for American workers. Here's an edited version of his interview with BuzzFeed News.
On the jobs that aren't coming back to America
"Most of the manufacturing jobs we exported are being automated away very quickly, even in China. American manufacturing isn't doing bad, it just doesn't employ that many people.
"What Trump has done is basically sold a lie to these American workers. It's a convenient lie because it takes the attention away from our domestic situation, which is we have income inequality run wild. All of this is the continued inability of the United States to talk about taxes, income redistribution, basic minimum income, and other kinds of policy that are rather natural in other countries. The solutions being proposed aren't real solutions."
The robots are coming, and that's not a bad thing
"We can have more productivity, and more leisure time, and a higher quality of life, so we should look forward to automation. This is not some dire disaster. This is exciting and promising — machines that can do things that humans used to do.
"We've been at that for two centuries and we've had a big improvement of quality of life, of life expectancy, of leisure time, of retirement possibilities throughout that period, and this is another phase of that."
There will still be jobs, but far from the factory floor
"Lots of jobs are being created in home care, personal care, care for the elderly. One could imagine lots of jobs being created in helping young kids, sports, entertainment. We are a luxury economy in one sense. We have a lot of leisure, a lot of elderly who can retire, and a lot of demand for personal services.
"Those jobs will continue, but they won't be high-paying jobs. The issue isn't the number of jobs, it's the wages those jobs will command."
The gig economy isn't going away
"I am a fan of Uber. I think there are some labor issues, but the idea of a shared driving service is a great idea, and the need for individual car ownership, especially for young people living in cities, should diminish. Airbnb, the same thing. The idea of moving to a shared economy is a good one.
"The thing is, these companies don't provide a social safety net for their workforce, but that would be okay if society did. If we had a government that did what a government should do, then we wouldn't feel like Uber is somehow exploiting its workers.
"The problem in part is the government isn't doing the basics, so we look to the companies, but the companies are not set up to do that either. ... Right now, we end up with no safety nets and this kind of casual employment relationship. That's not satisfactory.
"I am not keen on the absence of responsible government, and having these incredibly winning companies that don't pay taxes."
The need for a social safety net
"Every time we've had new machines, some part of society pays a price for that. People are unemployed, they find their jobs completely eliminated, and the decent part of our politics should be to make sure that no one gets badly hurt in this and everyone is able in the end to be a beneficiary of these big improvements.
"There will always be new jobs and new skills needed, so we need to make sure that retraining, re-skilling, change in education takes place. It's just smart anyway, but it also makes sure that the losing side is kept to a minimum.
"The other thing is income redistribution, to make sure that when winners win big, part of those winnings are shared broadly. We do that through social security, or Medicare and Medicaid, and other kinds of public policies, but in the Unites States, we don't do it as much as other countries do.
"I think that's one of the biggest failings of our society, that the rich have basically taken income redistribution out of the political discourse for the last 40 years and some people aren't aware of how normal it is. For almost four decades, the rich have run the show, never more vulgarly than in this new government."
Should everyone get a guaranteed minimum income?
"The better way to do it is social democracy, like in northern Europe. What that means in a sense is there is a 'minimum' in terms of health, education, infrastructure, education, maternity leave, child care. Everyone gets that. After that you're on your own, but you're never completely on your own. People are expected to work but there is some margin of difference. The guaranteed minimum comes in the form of services that people need, not a check handed to you."