Dunkin' Donuts will happily tell you that it is the number one seller of flavored hot and iced coffee in America.
"People think of us for flavor innovation," Jeff Miller, Dunkin' Brands' executive chef, told BuzzFeed News. "It's definitely one of our strengths."
Flavors come in two varieties: First, there's its regular line of unsweetened flavored coffees — stuff like hazelnut and French vanilla. Then, more importantly, there's what it calls "swirls" — syrupy pumps in flavors like Oreo, butter pecan, and cookie dough, which customers can add to any coffee drink.
According to Miller, the focus now is all on swirls — particularly those that taste like confectioneries, which isn't all too shocking considering Dunkin' is a doughnut chain, and its sister company is Baskin-Robbins.
This might lead one to ask: When did it become clear that we want our coffee to taste like candy?
Dunkin' Brands CEO Nigel Travis told investors last month that the chain intends to focus "on our coffee credentials and beverage innovation." He named "flavor innovation" as one of the things contributing to sales growth in the first three months of the year.

"The flavor leadership piece has been all around swirl flavors because they really deliver the experience you're looking for and you can get more variety through that delivery method," Miller told BuzzFeed.

Two new swirls will join the fray this summer, Dunkin' announced today, as part of deal with candy maker Hershey: Almond Joy and Heath. They will be available through August.

Dunkin's "big four" swirls are hazelnut, French vanilla, mocha, and caramel. The average Dunkin' Donuts keeps this quartet of flavor pumps these on hand, plus the rotating seasonal options like the two new Hershey's flavors.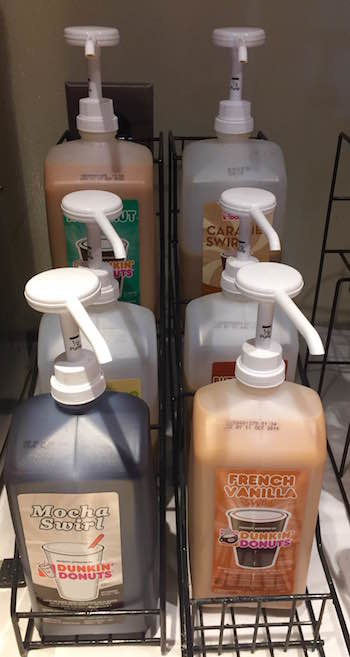 It's not just Dunkin' that's obsessed with these saccharine flavors: The Starbucks Frappuccino line now includes candied options like caramel waffle cone and s'mores. "It's what naturally goes well with roasted coffee," Miller said.

It makes sense for Dunkin': Most of its customers take their coffee or espresso sweet and milky. Dunkin' Donuts even named one of its grocery store creamers "Extra Extra," in reference to the extra sweet, extra creamy taste favored by loyal fans. Focusing on presweetened swirls gets the company one step closer to how most people order their coffee.
As for all those unsweetened flavors on the menu — for example, regular hazelnut or French vanilla coffee — Dunkin' doesn't actually brew a pot of each flavor.
Instead, the kitchens use a machine that dispenses a preset shot of flavor extract into each cup to which regular coffee is added. But Miller said it's been years since they've added any flavors that weren't sugary swirls.

Still, the chef continues to look at other kinds of innovation beyond flavors, including coffee roast levels, bean origin, and brewing technique (Dunkin' has been testing cold brew in Maine and Massachusetts). He notes that two of the chain's most successful product launches of all time were dark-roast coffee and espresso macchiato.
Still, he said, "We're always looking at flavor trends."