Pre-Chopped Fruits And Veggies Are The Newest Food Trend
More shoppers are waking up to the joy of a pre-chopped squash, and sales are on a rampage.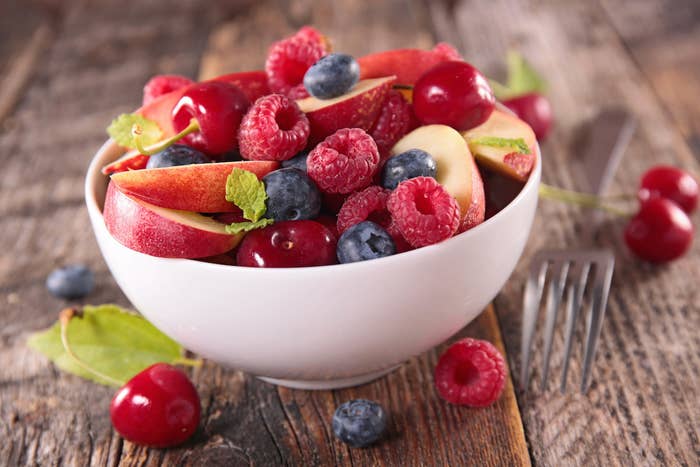 Grocers have tapped into one of the detested activities among home cooks: chopping fruits and vegetables. The pre-chopped fruit and veg business is booming.
"Consumer lifestyles continue to get busier and in turn, demand more convenient meal solutions," according to consumer research firm Nielsen. Prepared produce also helps consumers eat fresh, healthier food with less effort.
Sales of washed, chopped, or bagged fresh produce have been growing at a faster clip than old-school whole fruits and vegetables. According to Nielsen, dollar sales of so-called "value-added" fruits (which only includes fresh products, not frozen and canned) grew at a compound annual growth rate of 7.1% from 2011 to 2015, and "value-added" vegetables by 8.7% per year, compared to just 2.9% for all produce during the period. Not only are prices of chopped produce rising, consumers are also adding higher-priced items to their shopping carts.
Overall, "sales growth of value-added fruits and vegetables are twice that of regular produce," reported Supermarket News.
The trend is led by families with children and empty nesters, who show an interest in smaller package sizes, according to Nielsen.

Because, really, who has time for chopping these days?
Not to mention all the unnecessary danger we expose ourselves to.
Chopped produce has taken over the country. "It's nationwide, and also across a lot of different types of retailers," Jana Micky, director on the Nielsen's Perishables Group, said to BuzzFeed News. "It's not just in really high-end stores."

The benefit for grocers, Micky says, is chopped products come with bigger profits. This should be apparent from the higher prices.
Consumers are willing to pay a lot more for "the convenience."
In one supermarket in Brooklyn, N.Y., for example, asparagus — probably the most undemanding vegetable in terms of prep work — cost $4.99 per pound when packaged, 2.5-times as much as the regular bundled asparagus, which was $1.99 per pound.

Chopped peppers cost $2.99 for six ounces. The equivalent weight in unchopped peppers was a mere $0.75, only one-fourth the cost.
And cubed butternut squash cost $2.99 for 12 ounces, versus just $0.99 for 16 ounces of the whole squash.

Here are some of the packaged fruits and vegetables that are growing the fastest, according to dollar sales data for the 12-month period ending in February from Nielsen.
Packaged asparagus sales surged 17.8%.