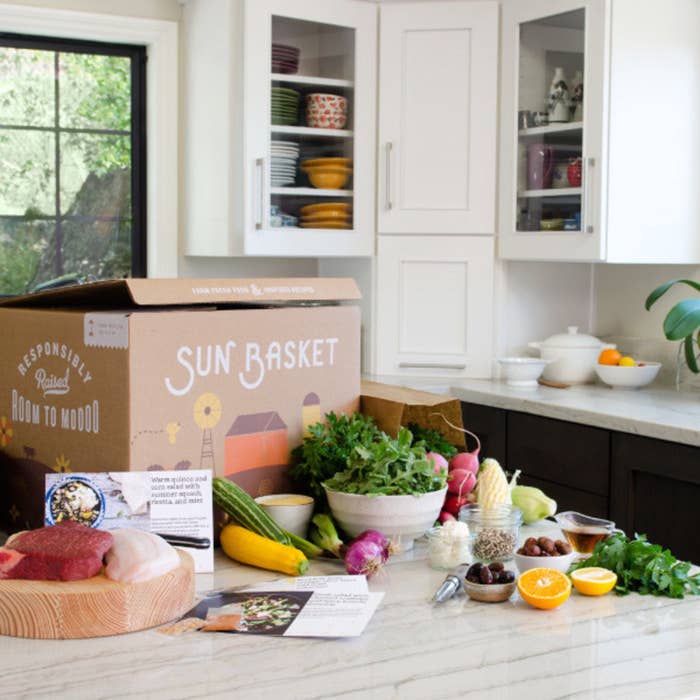 Do you know exactly what ingredients get packed into a meal kit? A complaint filed with the Electronic Retailing Self-Regulation Program alleges that the popular San Francisco–based meal kit service Sun Basket markets its meals as organic even though they include nonorganic ingredients.
The complaint, filed by an anonymous challenger in mid-2017, alleges that Sun Basket — the third largest online meal kit company — makes inaccurate claims about its products. At the time, Sun Basket's website prominently displayed the USDA Organic logo with a description that read, "Organic and non-GMO ingredients & delicious recipes delivered weekly."
Yet none of the meat, despite being antibiotic and hormone-free, was organic. And some of Sun Basket's produce and other ingredients weren't organic either.

The challenger said the implication of the company's branding was "that all of Sun Basket's meal kits and all individual meals/ingredients included within them are organic." But after analyzing five meal meal kit orders, they found "the total organic ingredients by net weight to be 35% on average."

"All organic ingredients are clearly labeled upon delivery," the company said on its website. But if an ingredient is not labeled organic when you get a Sun Basket meal kit, don't assume that it's organic.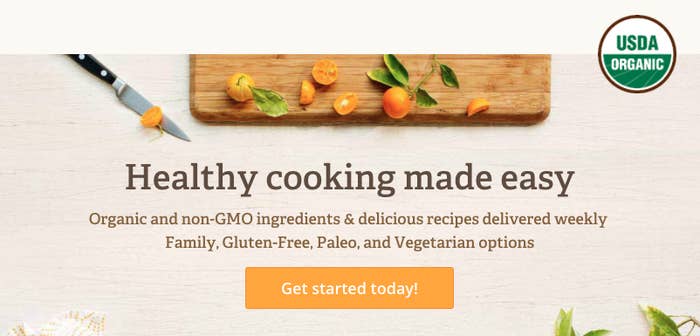 Organic food has become a big draw for consumers: Sales of organic products grew by 8.4% in 2016, according to the Organic Trade Association. Organic products can be found everywhere now, from shampoos to clothing.
Linda Bean, a spokesperson for the ERSP, told BuzzFeed News, "We do take careful note of 'green' claims, including claims that products are organic, natural, compostable, biodegradable, etc. because it is very difficult for consumers to determine on their own the composition of a product and many consumers carefully consider those attributes before purchasing."
The ERSP — a program managed by the Advertising Self-Regulatory Council and administered by the Council of Better Business Bureaus — investigates consumers' and competitors' inquiries about companies' questionable marketing claims, and it tries to resolve them before the complaints make their way to federal regulators.
Even before the ERSP received the complaint about Sun Basket's misleading marketing, some of the company's customers had started complaining about inconsistencies with Sun Basket's claims and its products.
"They are not 100% organic as their guarantee states," wrote one reviewer on Yelp last February. "I specifically chose them because of their organic claims. ... Poor integrity leaving one to wonder about their product claims and truth in advertising."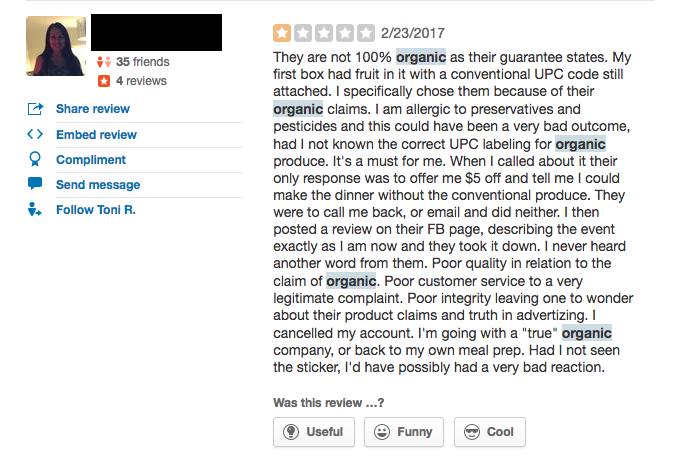 "A lot of their produce is NOT organic and I find it misleading that they have a big USDA Organic stamp on their website," wrote another Yelp reviewer in 2016. "When I emailed them to address this I was told if you 'hover over' the stamp, it states they source organic when they can. It just seems a little sketchy to me because how many people are going to know to hover over it? And I've noticed a lot of the reviews here rave about the fact everything is organic, when it's not."

A representative for Sun Basket replied on Yelp, saying, "We strive to provide organic ingredients whenever possible. ... Your feedback regarding our wording and quality has been passed to the rest of our team so it can be addressed appropriately."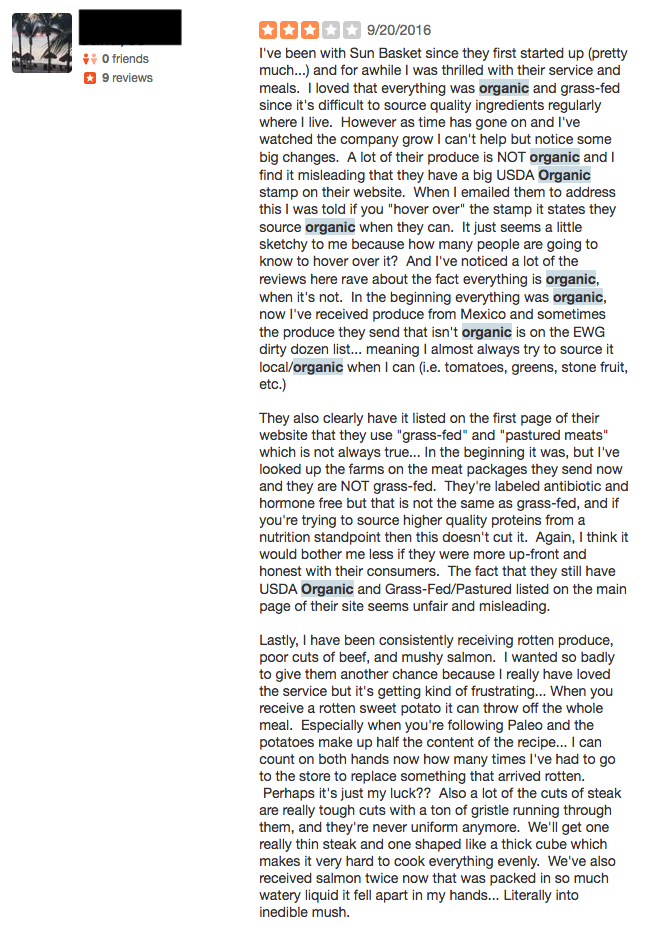 Sun Basket CEO Adam Zbar thinks the company is ahead of its competitors in terms of transparency. "We're saying exactly what we are, and we're really sticking to a brand standard that's much higher than any of the other players," he told BuzzFeed News. He said the company's language and use of the USDA seal were approved by the organic certifying agency CCOF.

Still, Sun Basket worked with the ERSP last year to address some of the challenger's complaints. Sun Basket moved the USDA organic logo from the top of its homepage to a spot where it describes just its produce. It stopped using phrases like, "try Sun Basket organic meals," "healthy organic meal delivery," and "leading organic meal kit company."
It also changed the language on its marketing from "organic and non-GMO" to say "organic and sustainable," in an attempt to "convey that Sun Basket meals include organic ingredients and also include ingredients that are sustainable," according to a decision ERSP issued regarding the complaint.
Zbar said, "We thought the clearest thing we could put on our website is 'organic and sustainable ingredients.'" While the company considered saying "organic or sustainable," Zbar said company research found that the word "or" created confusion.
Even after Sun Basket voluntarily updated its marketing, in December ERSP determined that the changes "were still inadequate in clearly communicating to consumers that Sun Basket meals feature organic ingredients wherever possible," but not always.
Other changes have rolled out. After the complaint was filed, Sun Basket began in late 2017 to offer the option to upgrade the meat in a kit to a premium option, such as organic, which costs an extra $1 to $9 (Zbar said this option had long been in the works and was unrelated to ERSP). But even then, there's no standard for organic seafood, so you can't upgrade to, say, organic salmon.

"Frankly, a lot of people don't even know what organic means."
Sun Basket's produce is "99.9% organic" at this point, Zbar told BuzzFeed News. When the company can't find an organic fruit or vegetable for a kit, it will either substitute in a different organic ingredient or it will provide the conventionally grown alternative. This year, it started including a note disclosing any ingredient substitution.
"We've tried exceedingly hard to be very transparent," Zbar said. But in the end, he said, "Sometimes smart people can have disagreements about an area that is slightly murky."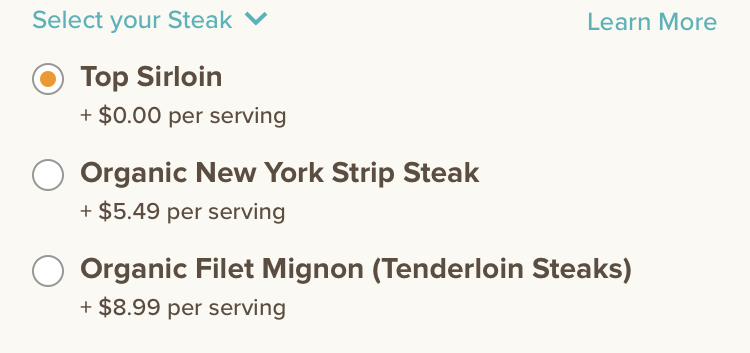 Now that organic food has become so widespread, more consumers are starting to question if they're really getting what they expect: Lawsuits have been filed against Walmart over its organic eggs, Babyganics over its baby care products, and a maker of organic agave nectar.
Last year, the US Department of Agriculture's inspector general's office reported weaknesses in the oversight of imported organic produce. These products may be fumigated at the port of entry to manage pests, but will still be sold as organic, for instance.
Then there are inconsistencies between actual organic standards and what people think "organic" means. For instance, while many consumers surveyed by Consumer Reports think that organic eggs come from hens who can stretch their wings in the great outdoors, the USDA only requires that they be given access to enclosed porches, which raises questions about the industry's animal welfare standards.
"Sun Basket is riding a wave of consumer desire for health-focused diets," said Natan Reddy, intelligence analyst at CB Insights. "Sun Basket has differentiated itself from the larger meal kit space, reporting both strong revenue growth and customer retention. These defining factors most likely gave Sun Basket a leg up when raising its most recent round of funding."

Last month, the company announced $57.8 million in new funding (bringing its total funding to more than $100 million); it claims to have "up to three times the retention rate of major competitors." Zbar declined to disclose how many subscribers Sun Basket has, or what its retention rate is.
As competitors like Blue Apron — which earned the dubious honor of being the worst tech IPO of 2017 — stumble, keeping Sun Basket's organic-minded customers happy may be essential for the company's success.


But what happens when the thing that distinguishes a company turns out to be complex — even "slightly murky"? "As Sun Basket's health-focused meal kit offerings are the linchpin of its brand, any controversy or uncertainty surrounding nutritional value could pose a threat to further growth," Reddy said.
ERSP believes Sun Basket should disclose that it uses organic ingredients "wherever possible" to be clearer, but the company argued that consumers do "not understand the use of the phrase 'organic and sustainable' to mean that a company offers solely organic ingredients," the ERSP decision explained.
"To some extent, it's splitting hairs," Zbar said. "We're not perfect but we're really striving to provide a high-quality kit that's transparent. ... Frankly, a lot of people don't even know what organic means."