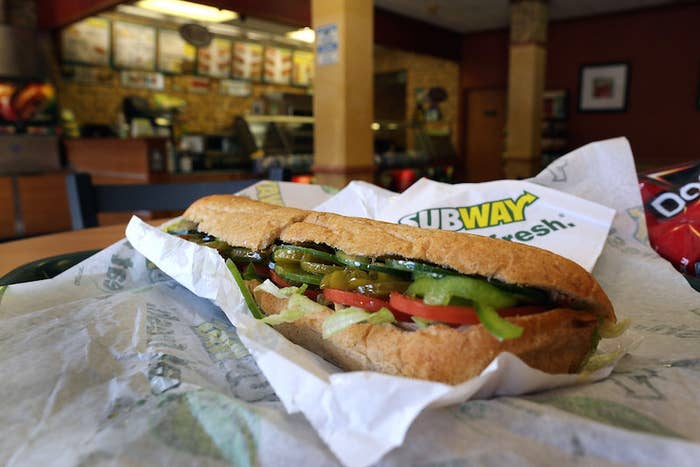 Subway's U.S. sales declined for another year in 2015, despite the sandwich chain adding new stores, according to new data from restaurant consultancy Technomic.
The firm told BuzzFeed News that despite a small increase in domestic store count to 27,103, Subway's U.S. sales declined by 3.4% year-on-year to $11.5 billion. In 2014, domestic sales fell by 3.3%.
Subway, which is America's largest fast food company in terms of store count — faced a number of setbacks in 2015.It ended its partnership with longtime spokesman Jared Fogle after he became involved in a child pornography investigation. In November, Fogle pleaded guilty to having sex with minors and distributing child pornography. He was sentenced to more than 15 years in prison.
Yet Subway has largely recovered from the incident, according to YouGov BrandIndex, which surveys 4,500 people each weekday about their perception of brands. The company told BuzzFeed News its most recent research shows consumer sentiment on Subway is now just slightly ahead of where it was before the Fogle scandal.
But other factors are challenging Subway. Technomic President Darren Tristano also blamed the decline on higher sandwich prices, a move away from $5 footlongs, and increased competition from sandwich chains such as Jimmy John's, Firehouse Subs, and Jersey Mike's, which have expanded and rapidly grown sales.
In addition to competition, consumers have criticized the chain. Subway spent 2015 in the midst of a long-running class action lawsuit about its famous "footlong" sandwiches not actually being 12" long. In a settlement reached last month, the company agreed to pay legal costs for the suit and gave $500 to each of the 10 people who represented the class. It now will also require franchisees to "use a tool to measure bread in its restaurants and ensure that sandwiches are either six or 12 inches," reported Nation's Restaurant News.
In 2014, Subway was the subject of criticism by blogger Vani Hari, of Foodbabe.com, for using the dough conditioner azodicarbonamide in its bread. The chain said it was already in the process of phasing out the ingredient and went completely "azo-free" by April 2014.
In a move to make its sandwiches more appealing, the nutrition-focused chain has committed to switching to antibiotic-free chicken by the end of 2016, antibiotic-free turkey by 2019, and antibiotic-free pork and beef by 2025. It also is continuing to simplify the ingredients in its food. A Subway spokesperson said in an emailed statement: "The outlook for 2016 is more optimistic based on the terrific feedback we received from our guests about our culinary improvements and exciting new menu offerings."