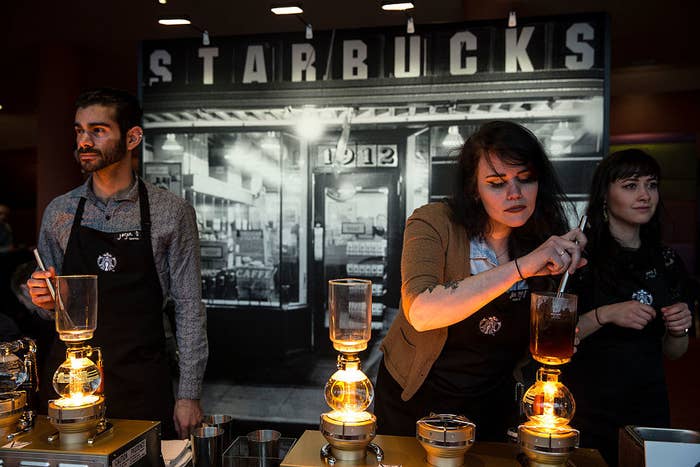 Starbucks baristas and store managers in the U.S. will see their base pay rise by at least 5% starting Oct. 3., in a move announced just weeks after a petition about declining worker morale at coffee chain attracted more than 12,000 signatures.
The raise will only apply to employees of company-owned stores, which account for about 60% of all U.S. Starbucks outlets. A Starbucks spokesperson said in an email to BuzzFeed News that the changes "will expedite merit increases from early 2017 to October of this year." It was not clear whether there is still a raise planned for early 2017.
"The range of increase will be determined by geographic and market factors," Starbucks CEO Howard Schultz explained in an open letter. As some baristas have complained about scheduling problems, including not getting enough hours to qualify for company benefits, Schultz said "field leaders are committed to make every effort to help you meet your specific scheduling needs, especially when it comes to ensuring your benefits eligibility going forward."
And in a move to boost retention, Starbucks also will increase the stock benefit offered to hourly workers who have been with the company for at least two years.
The company estimates these changes together will boost compensation by 5-15% for all workers at its company stores in the U.S. These changes come days after Starbucks confirmed that menu price increases would be rolled out this month.
While some partners expressed their gratitude for the changes on social media, others say the upcoming raise fail to address core problems at the cafes.
Jaime Prater, who launched the petition on Coworker.org in June, said in an interview with BuzzFeed News, "This isn't enough....It doesn't acknowledge that there's a crisis in stores now."

Prater said while workers will appreciate a 5% increase in pay, the raises don't address the problems behind the counter caused by recent labor cuts. "This is not the solution. What you're saying is we're still going to be doing the work of two to three people."

In a letter sent to supporters of his petition on Monday, Prater wrote:
Partners are experiencing intense amount of stress and anxiety as they struggle to successfully give legendary service to all of our precious customers who come through our doors. This crisis wasn't acknowledged in Howard's letter. What I read was akin to a quick fix. This petition and the movement behind it was never about higher wages.