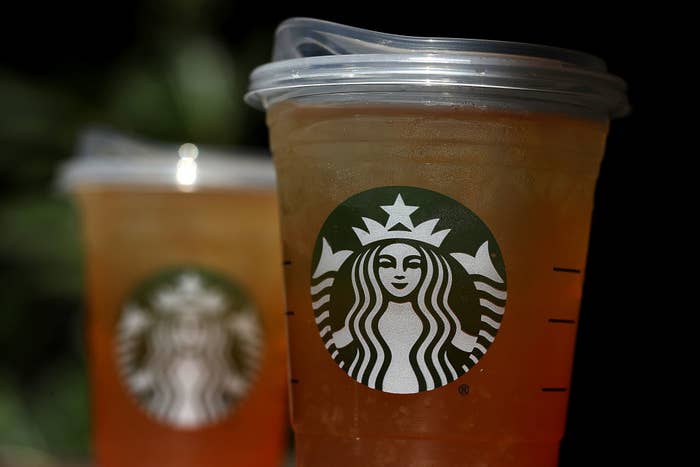 Starbucks has hit a wall — the coffee chain hasn't managed to grow its number of transactions in the US for more than a year now. The company reported on Thursday afternoon that domestic stores experienced a 3% decline in transactions in the last three months.
It's a problem Starbucks is well aware of. While it blamed a similar decline in 2016 to a change in its loyalty program that began rewarding customers based on dollars spent rather than number of transactions (leading some people to stop splitting up their orders, which artificially inflated the chain's transaction count), that is no longer the case today.
Despite the decline in transactions, Starbucks' US sales are still up because the average check has gotten more expensive.

Starbucks executives told investors the delayed launch of a marketing campaign and weak business at stores in the afternoon have contributed to the transaction slump.

"We recognize the work we need to do to deliver transaction growth in the US," the company's Chief Operating Officer Rosalind Brewer told investors on Thursday. She said Starbucks "is reinforcing its commitment to improving current transaction trends by focusing on three priorities for growth: improving customers' in-store experience, delivering beverage innovation, and driving digital relationship."

To improve service, the company plans to "utilize technology to help make our partners more effective, more efficient and ... improve their experience at Starbucks as well," CEO Kevin Johnson said last month. The company also plans to continue targeting Starbucks app users with marketing efforts based on their ordering habits.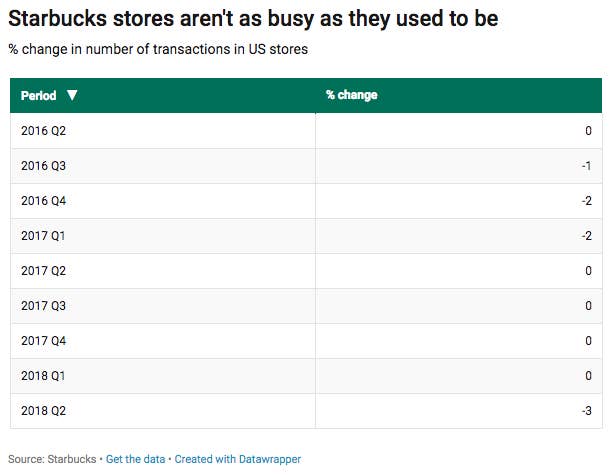 Starbucks has endured a difficult year — it closed all US stores for part of the day on May 29 for racial bias training after a store manager called police on two black men waiting for a business meeting in a Philadelphia location.
Johnson said today, "Certainly, the situation in Philadelphia, the fact that we closed all our stores for an afternoon, that had an impact."
As for other pressures, the company faces increased competition from McCafe, which recently launched a cold brew beverage. And more generally, all retailers are experiencing a decrease in foot traffic as consumers shop and spend more time online.