Will Starbucks Become The Fast Food You're Not Ashamed To Feed Your Kids?
The generation that embraced organic food and specialty coffee are becoming parents. That means there's a lot of kid's meals waiting to be sold.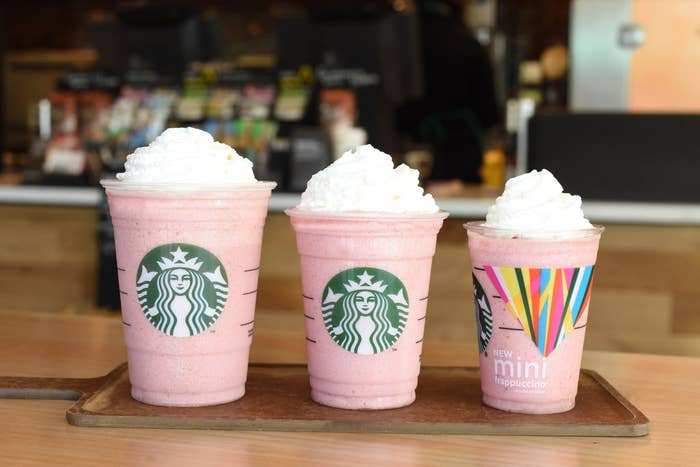 When Starbucks' new Mini Frappuccino — a shrunken 10-ounce version of the popular sweet, icy drink — launched on Monday, it seemed to some to be a clear attempt by the coffee chain to reach a new, smaller consumer: kids.
Members of the generation born from the early '80s to mid-'90s are now having kids, and that means there's a whole new series of ways to make money from them. A new report by Goldman Sachs, "Millennial Moms," names Starbucks as one company well-positioned to benefit from this new wave of parents.
It's no secret that this crowd loves good coffee and fresher, higher-quality adaptations of fast food. It also accounted for almost 90% of the 1.5 million new mothers last year, according to the report.
Starbucks has a big opportunity in front of it, because it's essentially the only giant national fast-food chain selling a product these mothers "would not feel guilty/embarrassed to feed to their kids," Goldman's report points out. It has invested significantly in rolling out a range of "real food" (think yogurt, smoothies, and fruit snacks) and heavily promoting it, unlike some other fast-food restaurants.
Young consumers are, according to QSR magazine, in search of "an upscale fast-casual restaurant," and with McDonald's grip on young consumers slipping, competitors are moving in to market to this demographic.
Goldman also described Starbucks' high share of cafes with drive-thrus as an advantage for busy parents seeking convenience. Kid-friendly McDonald's, for example, does more than 60% of its business from drive-thrus.
The official word from Starbucks is the kid-size Mini Frap isn't for kids, but generally for all those customers "who are looking for a smaller serving size," spokeswoman Sanja Gould said in an email to BuzzFeed News. That might mean people who want to sample a new flavor, or who are looking for a slightly less filling, slightly cheaper (it saves about $0.30), or slightly less caloric (it cuts out roughly 50 calories) drink.
"Our goal is to offer a variety of high quality products that are appropriate for all of our customers, including families," Gould said. The limited-time Mini Frap is just one item that might—perhaps unintentionally—appeal to all those parents who are showing up at the cafes with their children now.
Starbucks doesn't offer a line of products specifically focused on children, and it may never kill the Happy Meal, but it is increasingly competing for McDonald's customers. With about 12,000 U.S. cafes, its footprint rivals the Golden Arches' 14,300 restaurants. The cafe chain — which does the bulk of its business during the morning rush — has been trying to expand its reach by selling more food, including breakfast and lunch sandwiches, and has been rolling out beer and wine to menus in the evenings. Last quarter, its U.S. food sales grew 16% year on year.