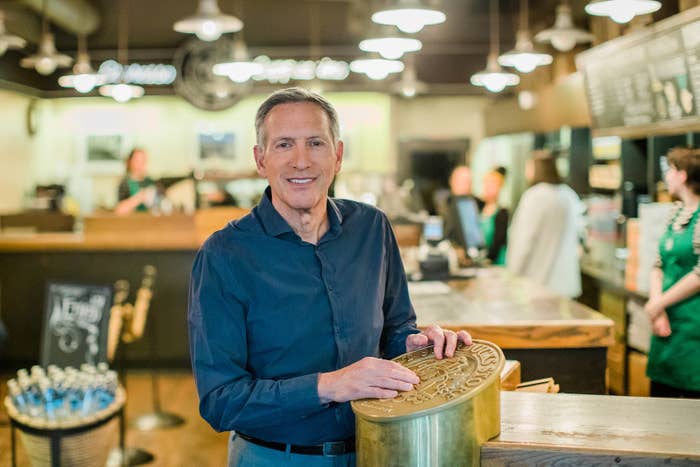 Howard Schultz, Starbucks's executive chair and former CEO, announced on Monday that he would be leaving the company on June 26 to think "about a range of options for myself, from philanthropy to public service, but I'm a long way from knowing what the future holds."
There has been speculation that Schultz, who is often outspoken about political issues, is eyeing a presidential run. He was reportedly Hillary Clinton's pick for labor secretary. In his letter published today, Schultz referenced affordable health care, education, refugees, parental leave, and pay equity. He also promoted his website, howardschultz.com.
Schultz, who led the growth of the company from 11 stores in 1987 to more than 28,000 stores in 77 countries today, transformed the Seattle coffeehouse into a global chain. Analysts at Cowen, a financial services firm, called Schultz "one of the most iconic and visionary CEOs in the history of the restaurant industry" in a note Monday afternoon.

Asked if Schultz was planning a run for public office, a Starbucks spokesperson told BuzzFeed News, "As stated in his letter, Howard's immediate focus will be on spending time with his family this summer and he will be working on a book about Starbucks' social impact work and the way it redefined the role and responsibility of a public company."

Still, speculation about Schultz's political ambitions quickly spread on Twitter.
Schultz originally had planned to announce his departure in May. But according to the New York Times, following the controversial arrests of two black men at a Philadelphia store in April, he held off until after last week's racial bias training, which involved closing about 8,000 stores for an afternoon. He told the paper, "For some time now, I have been deeply concerned about our country — the growing division at home and our standing in the world."
Here's Schultz's letter to Starbucks employees:

Dear Starbucks partners—past and present,

I write to you today enjoying a French Press of my favorite coffee, aged Sumatra, and feeling so many emotions. Pride. Nostalgia. A heavy heart. But mostly, I sit here feeling a tremendous sense of gratitude. For years I've had a dream to build a different kind of company, one that has the potential to enhance lives and endure long after I was gone. Thanks to you, my dream has come true.

On June 26, 2018, I will officially leave Starbucks and become chairman emeritus.

It seems like yesterday that I first walked into the Pike Place store, stepped across the threshold, and was swept into a world of coffee and community. That moment began the journey of a lifetime. Not just for me, but for so many of us.

Who could have imagined how far we would travel together, from 11 stores in 1987 to more than 28,000 stores in 77 countries. But these numbers are not the true measures of our success. Starbucks changed the way millions of people drink coffee, this is true, but we also changed people's lives in communities around the world for the better.

When I think about what Starbucks stands for, I think about how our mission, values, and guiding principles have come to life: access to healthcare benefits for full- and part-time employees, more than 20 years before the Affordable Care Act. Bean Stock starting in 1991, which turned employees into partners who could share in the company's success. Our ethical sourcing (C.A.F.E.) practices that have helped support farmers and nurture the land. Our years of community service and the C.U.P. Fund for partners in need. Our volunteer efforts in New Orleans and our annual Global Month of Service. Free college tuition through the College Achievement Plan. Our commitments to hire veterans, Opportunity Youth, and refugees. Policies like parental leave and pay equity. And our partners' countless acts of kindness that occur in our stores, offices, roasting plants, and distribution centers every single day.

Many of you also know that I set out to build a company that my father, a blue-collar worker and World War II veteran, never had a chance to work for. Together we've done that, and so much more, by balancing profitability and social conscience, compassion and rigor, and love and responsibility. Because of your creativity, your hard work, and the love that you have poured into the company, Starbucks today is widely embraced and respected.

As I prepare to step away, I'd like to humbly remind you not to lose sight of what matters most: your fellow partners and our customers. During all my years at Starbucks, in every weekly leadership meeting and quarterly board meeting, I always imagined two empty chairs in the room. One was for a partner and one for a customer. When I had to make a decision, I asked myself if the choice would make both proud. Today, I ask that you continue this tradition, and let the answer guide you. I promise the two chairs will serve you and the company well.

A few more thoughts I'd like to share…

Please remember, Starbucks is at its best when our stores and offices are welcoming places for everyone. So stay true to our reason for being: inspiring and nurturing the human spirit through a sense of community and human connection. As you adhere to our core purpose, do not forget to innovate around it. Never embrace the status quo. Instead, have the curiosity to look around corners and the courage to push for reinvention. Change is inevitable, and the world has become a more fragile place since we first opened our doors. Amid the chaos, try to listen with empathy, respond with kindness, and do your best to perform through the lens of humanity. Do not be a bystander. Instead, choose to be responsible for what you see and hear. No person or company is ever perfect, so learn from mistakes and be forgiving of yourself and others. And when goals are achieved, remember: success is always best when shared. And yet… success is not an entitlement; it must be earned every day through hard work and teamwork. If you strive to be the best version of yourself and bring out the best in others, your dreams will come true again and again, and Starbucks mission, values, and guiding principles will endure.

These values are as important as our coffee. Sourcing and roasting the highest quality arabica coffee will always be our heritage. Never stop reaffirming Starbucks leadership position in all things coffee. I can think of no better expression of this than our Reserve stores, and the magnificent Roasteries that we have built in Seattle and Shanghai, as well as the ones we will open in Tokyo, Chicago, New York City, and Milan. Bringing Roasteries to life with an incredible design team has been among the great joys of my career, and I'll proudly host the openings of the Milan and New York Roasteries in a few months. In those cities, the course of my life changed years ago. So it seems fitting that they are where my time with the company I love so deeply will come to a close.

Kevin Johnson is a true servant leader, and he will lead Starbucks as this great company enters its next journey. It's our duty as leaders to constantly reimagine Starbucks. I am honored to call Kevin my friend and partner. And Starbucks is fortunate to have him. This leadership team is extraordinarily capable. They, too, believe that Starbucks has a responsibility to use our scale for good.

I still feel like a kid from Brooklyn who grew up in public housing. I am living the American Dream. And I still have dreams for the company, and for you. It's been my honor to be in service to our partners. I hope I've made you proud to work at Starbucks, and proud to wear the cloth of the company—the green apron.

All this is why I'll never say goodbye to you. Just thank you…

Thank you to all the partners I've never met, and to those I've had the pleasure of knowing during my travels. Not a day goes by that I have not appreciated your heroic work. Thank you to Starbucks international and JV-licensed partners, who live our values in so many countries. Thank you to the thousands of partners I have collaborated with over the years, and to past and present members of the leadership team and members of the board. You have all been my teachers and helped me to become a better version of myself.

Most of all, thank you to my family. Sheri, my amazing wife, has been by my side throughout this incredible journey. My children, too, have supported and sacrificed throughout the years. Starbucks would not be the company it is today without their influence and love.

This will be an emotional transition, but I'm looking forward to spending time with my family this summer. I'm also writing a book about Starbucks social impact work and our efforts to redefine the role and responsibility of a public company in an ever-changing society. It's a journey that has prompted me to consider the many ways that each of us, as citizens, can give back to our communities. I'll be thinking about a range of options for myself, from philanthropy to public service, but I'm a long way from knowing what the future holds.

As I transition and my e-mail address changes, I still want to stay in touch. Please visit howardschultz.com to stay connected with me.

I believe in my heart that Starbucks partners will continue what was started decades ago. Great coffee and our stores will always be catalysts for community. Now more than ever the world needs places to come together with compassion and with love. Providing the world with a warm and welcoming third place may just be our most important role and responsibility, today and always.

Onward with love,

Howard