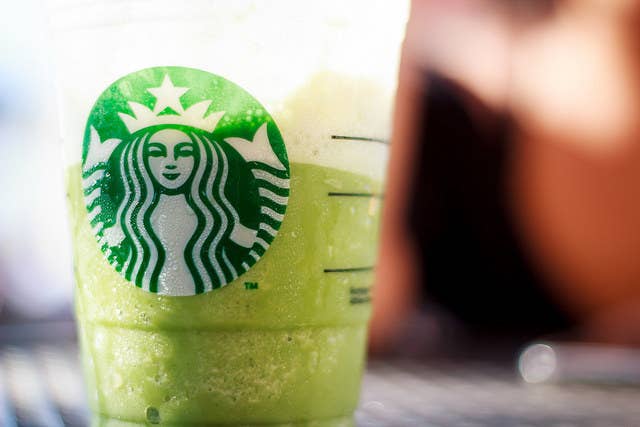 Starbucks, which has been criticized by some staff for cutting back on worker hours in recent months, told employees Tuesday it will take a closer look at their scheduling and hours.
Baristas and managers at the chain told BuzzFeed News last week that labor cutbacks in recent months have resulted in long lines, messy stores and declining service. A software system determines the number of hours a Starbucks manager can give to their staff in any given week, and since May, some managers have noticed the system giving out fewer worker hours than normal.
"Someone seemingly flipped a switch on the labor model," one manager told BuzzFeed News. The company has denied this, and says there has been no company-wide change in its approach to hours and scheduling.
"We heard from some of you that you are concerned about reduction in partner hours – both real and perceived – over the past few months," wrote Cos LaPorta, the company's Executive Vice President of U.S. Retail Store Operations, in a letter to staff on Tuesday.
LaPorta said his team investigated every individual complaint of reduced hours that it received. Only in a "small percentage" of cases were the workers involved actually getting fewer hours, he wrote. "In most situations, partners had a consistent level."
The company declined to provide additional details to BuzzFeed News about what share of stores they found were experiencing a labor deficit, and why. In its email to staff, Starbucks said business is expected to pick up heading into fall — also known as Pumpkin Spice Latte season — and it expects "peak periods and increased transactions during this time."
In the company's internal communications portal, some staff expressed disappointment about how the "real and perceived" problems were addressed.

One comment reads, "'real or perceived'? Are you serious? Small number of cases? All of my baristas are hungry for hours, it's at almost every store. This is how you address the very real labor crisis? I'm disappointed."
Another said, "@Cos LaPorta, Once again you have failed to perceive and address the real problem. The problem is in the labor apportioned to stores. How many times is Starbucks Leadership Team going to hear the same complaints and respond with (in a very politely worded missive) 'I'm sorry, but you are lying.' Well, we are not lying. The labor cuts are real. Sure, they weren't cuts, just 'reevaluation' of the formula and a very noticeable mis-understanding on calculating labor on the new summer drinks which require much more prep than we are getting labor for. Compounding all this is the fact that due to the harsh working conditions at Starbucks, we aren't training people fast enough to cover for the ones that quit. So not only are we short on labor to start with, but we are constantly counting untrained (20 hours and no practice time = untrained) baristas as labor when, in fact, they take up more time than they earn with coaching, fixing errors and just plain newbie slowness. Pink hair doesn't fix the issue. Everybody has all the hours they want at my store because we can't keep staff. I have worked for Starbucks for 14 years, 3 states and 5 stores, now. So I promise you when I say the issue exists, I'm not lying."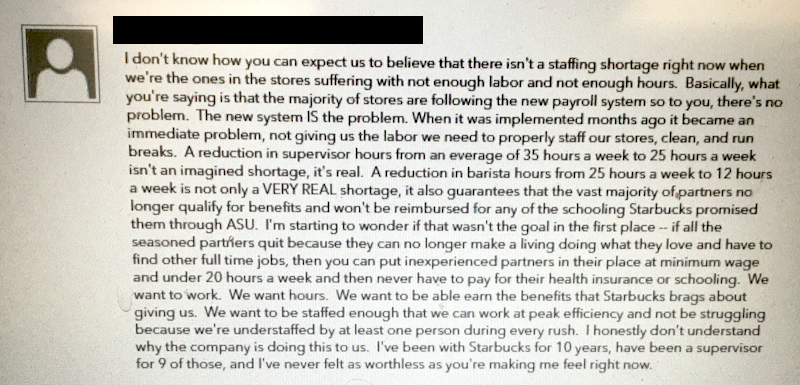 "I don't know how you can expect us to believe that there isn't a staffing shortage right now when we're the ones in the stores suffering with not enough labor and not enough hours," wrote another worker. "Basically what you're saying is that the majority of stores are following the new payroll system so to you, there's no problem. The new system IS the problem. When it was implemented months ago it became an immediate problem, not giving us the labor we need to properly staff our stores, clean, and run breaks. A reduction in supervisor hours from an average of 35 hours a week to 25 hours a week isn't an imagined shortage, it's real. A reduction in barista hours from 25 hours a week to 12 hours a week is not only a VERY REAL shortage, it also guarantees that the vast majority of partners no longer qualify for benefits and won't be reimbursed for any of the schooling Starbucks promised them through ASU. I'm starting to wonder if that wasn't the goal in the first place — if all the seasoned partners quit because they can no longer make a living doing what they love and have to find other full time jobs, then you can put inexperienced partners in their place at minimum wage and under 20 hours a week and then never have to pay for their health insurance or schooling. We want to work. We want hours. We want to be able to earn the benefits that Starbucks brags about giving us. We want to be staffed enough that we can work at peak efficiency and not be struggling because we're understaffed by at least one person during every rush. I honestly don't understand why the company is doing this to us. I've been with Starbucks for 10 years, have been a supervisor for 9 of those, and I've never felt as worthless as you're making me feel right now."
Other workers spoke in the coffee company's defense.

One employee commented, "The partner complaints, I've got to tell you before you write these negative feedbacks do you ever take a step back and see where we are as a WHOLE company. We grow yearly, yes down a tad this past quarter but I'm telling look around. We all chose this industry and Sbux is not touched as far as industry standards. You all need to turn your negative feedback to something more........nurturing! If corporate has our need in mind, have there back its very obvious they have yours. before any negatives come my way i've been here 18 months or so i've been around this industry for 34 years. WE ARE SECOND TO NONE. PERIOD!!!"
LaPorta responded to workers through the portal on Wednesday morning, saying "we will continue to review every aspect of labor to ensure our stores have the adequate hours."

"Thank you for your open and honest feedback," LaPorta wrote. "I particularly want to thank those of you that provided constructive positive suggestions and solutions. Your partnership is a real example of living our mission and values everyday. You have my commitment that we will continue to review every aspect of labor to ensure our stores have the adequate hours. I will also have the team review your individual stores this week to ensure we are not leaving any partner or store behind."
Here's the full letter from Starbucks:

Dear store managers and partners,

As we transition from Summer to Fall, we historically experience week-over-week transactions that begin to build and/or shift. As we anticipate peak periods and increased transactions during this time, it's critical that we address deployment plans and the recent feedback that we've received from you about your hours and scheduling experience.

We heard from some of you that you are concerned about reduction in partner hours – both real and perceived – over the past few months. As a team, we have looked into every one of the situations that have been brought to our attention and here is what we found: In most situations, partners had a consistent level of hours, according to the payroll system, that they had been working. In a small percentage of cases we found a deficit, and we have addressed that directly with the store to ensure we don't unintentionally impact these partners and our customers.

Our goal has always been and will always be to staff our stores and schedule our partners in a way that delivers on our commitments - to you, our customers and in a way that appropriately meets the business in each store. We need to continue to work together to make this happen.

Here is what my team is doing:

​I am committing to have my team work closely with any store manager or field leader who needs help researching whether their store has the hours necessary to meet their partner, customer and business needs.
We have asked our DMs to follow up this week with each store to ensure its staffed to achieve our partner, customer and business commitments and that they are staying close to the experiences of our partners.


Our Ask of Store Managers:

​Help us deliver on our commitment to provide consistent and reliable schedules to your partners.
Discuss your store scheduling needs directly with your DM, RD or RVP in cases where you believe we are falling short regarding your partner, customer or sales expectations.
Continue to work hard with our partners on a disciplined, on-going dialogue around their store experience and scheduling preference.
Confirm each of your eligible partners has received their cash bonus in their most recent pay period.


Our Ask of Store Partners:

​Please talk to your store manager or district manager if you need help with your schedule, have questions, or have any concerns. Please take time to make sure they are aware of your schedule availability and amount of hours you would like to work.
You can also reach out to the PRSC scheduling hotline for assistance.


I am incredibly proud of all of you and appreciate all that you are contributing on behalf of the company. I am committed to supporting you and recognize that there are still areas of opportunity. Please let me know personally how things are going and know that as your partner, I have your back.

With respect and thanks,

Cos
If you have information or tips, you can contact this reporter via email at venessa.wong@buzzfeed.com