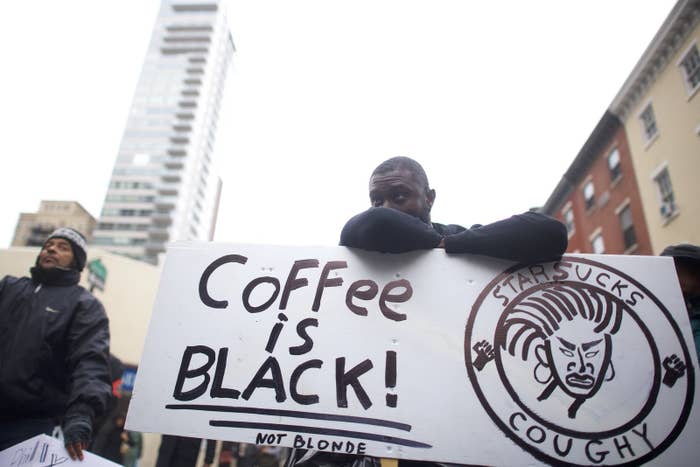 Starbucks will close 8,000 US stores on Tuesday starting at 2 p.m. in each time zone to engage 175,000 employees in a "conversation and learning session on race, bias, and the building of a diverse welcoming company," according to the company. They will remain closed for the rest of the evening. The store closures follow the controversial April 12 arrests of two black men who were waiting for a business meeting in a Philadelphia Starbucks store, which drew national attention and sparked protests.
"May 29 isn't a solution, it's a first step," wrote Starbucks' executive vice president for US retail, Rossann Williams, in a note to all employees. "By educating ourselves on understanding bias and how it affects our lives and the lives of the people we encounter and serve, we renew our commitment to making the third place welcoming and safe for everyone." The "third place" is a central concept at the company about how Starbucks serves as a place that is not work or home where you connect with people.

The incident has damaged Starbucks' brand reputation and consumer perception in the following weeks, according to survey data from YouGov BrandIndex.
In response, Starbucks is sending stores "tool kits" on Tuesday to facilitate discussions in small, self-guided groups about "understanding racial bias and the history of public accommodations in the United States, with future trainings addressing all aspects of bias and experiences," according to the company. It recently has also clarified its guest policy to allow people who haven't purchased anything to use the bathroom, although it has added that the stores are not to be used for sleeping, smoking, or drug use.

While Starbucks' 7,000 licensed stores (the ones found in hotels, universities, and airports, for example) will remain open on Tuesday, they will receive the training materials at a later point.
The event comes less than two months after two 23-year-old black men — Donte Robinson and Rashon Nelson — were arrested in a Philadelphia store where they were waiting for a business meeting. They had asked to use the bathroom but were denied because they hadn't bought anything. When they did not leave at a manager's request, an employee called 911, saying, "I have two gentlemen in my cafe that are refusing to make a purchase or leave."
Police arrived shortly after and arrested Robinson and Nelson. Video of the arrest uploaded by a witness went viral on Twitter. Andrew Yaffe, the business partner they were waiting for, can be seen in the video demanding an explanation.
Here's the video, shared by novelist Melissa DePino, who said she "didn't expect it to get much attention at all." It has been viewed more than 11 million times.
Starbucks did not respond to a request for comment about how the incident has affected its business so far.
Last month, Starbucks chair and former CEO Howard Schultz told CBS, "I'm embarrassed, ashamed. I think what occurred was reprehensible at every single level."
Robinson and Nelson settled with the city for $1 each and a pledge from officials to establish a $200,000 young entrepreneurs fund for public high school students. They also reached a confidential financial settlement with Starbucks.

DePino, along with another woman who witnessed the arrest, Michelle Saahene, has started a campaign called From Privilege to Progress, which "calls on white allies to #showup against racism and social injustice by understanding and using their privilege to speak out, share and amplify the voices of people of color."

Here's Starbucks' overview of what it will address during today's meeting.
Starbucks