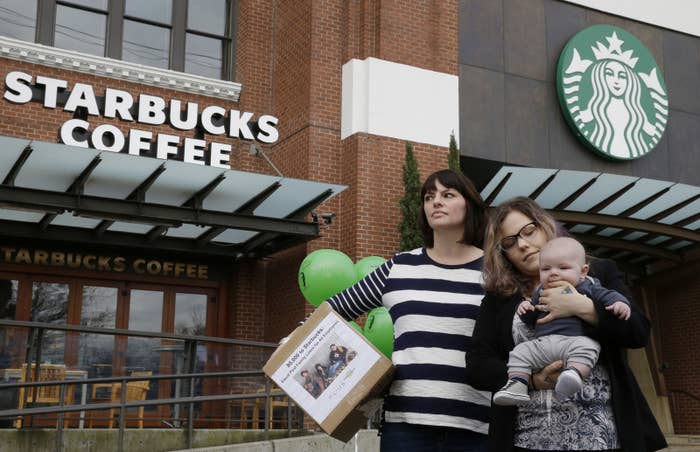 Starbucks baristas on Sunday became eligible for six weeks of 100% paid maternity leave, but that's still far less than the 18 weeks corporate employees get, prompting some shareholders to ask if the policy could be discriminatory.
The gap between store and corporate employees is the subject of a new resolution brought by a group of shareholders on Monday, led by Zevin Asset Management, requesting that Starbucks' board prepare a report that evaluates "the risk of employment discrimination based on gender, race, ethnicity, LGBTQ status, parental status, and/or work status" that may result from the company's approach to paid family leave. Lawyers, activists, and the government currently disagree over whether the Civil Rights Act extends to some of these classes.
The resolution pointed out that spouses who work in the cafes are excluded from paid leave benefits (they can take 12 weeks unpaid), calling it "a particularly unequal approach."
"For Starbucks, or any company like Starbucks where you have store-level and corporate-level workers, I don't understand the distinction with paid leave. There is a distinction with the type of job and the pay, but this is time with a baby," Starbucks barista Jess Svabenik, a mother of four whose youngest is now two months old, told BuzzFeed News. "I don't understand why a barista's time with their child is less important than a corporate employee's time with their child."
She noted that six weeks is just long enough for most mothers to stop bleeding.

Starbucks spokeswoman Jaime Riley, however, said the new parental leave benefit "will be exceptional within the retail industry, not only because of the paid-time off component, but also because it's offered to those who work just 20+ hours or more a week" and have been with the company for 90 days.

"I truly believe you will not find another company that has pioneered more innovative benefits for full- and part-time employees," she said in an email.

Here are the details of Starbucks' new benefits, effective as of Oct. 1. (Note: The paid leave benefits for adoptive parents, which were finalized after the company's announcement about parental leave in January, were listed in an update.)
- All benefits-eligible birth mothers (store and non-store) working at least 20 hours a week are eligible for six weeks of leave for medical recovery, paid at 100% of their average pay.

- All benefits-eligible store partners who welcome a new child by adoption are eligible for our adoption allowance plan which provides pay while a partner is on an approved parental leave. Adoption allowance is paid at 100% of their average pay for up to 6 weeks.

- In addition, all benefits-eligible store partner new parents working part-time or more who welcome a new child, by birth, foster or adoption, are eligible to take 12 weeks of unpaid leave without needing to meet Family Medical Leave (FMLA) eligibility requirements.

- Further, any benefits-eligible non-store partner new parents – including spouses and domestic partners – who welcome a new child, by birth, foster or by adoption, will be eligible to take 12 weeks of leave paid at 100% of average pay- allowing us to remain competitive in our efforts to seek and retain non-store talent.

Until this month, Starbucks baristas received 67% of average pay for six weeks during their leave.

"It was really hard," said Lindsay Ratcliffe, a longtime Starbucks employee who remembers being on partial pay when her daughter was born nearly seven years ago. "It was just gas money to drive to doctor's appointments, but not enough to buy groceries or pay the bills."
Now, with the pay raised to 100% during the leave period, parents who earn a living at Starbucks cafes have shifted their focus to issues surrounding equality.
"Children are a great equalizer," Svabenik said. "If it's someone who makes $100,000, or my husband and I who make $50,000 a year, when we kiss our babies, and change the diaper, and get up in the middle of the night, it's the same. The love our children need is the same, regardless of our paycheck. Nothing about my baby makes my going back to work easier. My child has the same needs as a corporate employee's baby."
In July, the coffee chain tapped its general counsel Lucy Helm for the newly created role of Chief Partner Officer.
"To work with Lucy is to understand her profound passion for partner advocacy," wrote CEO Kevin Johnson in announcing the appointment.