One In Six American Adults Got A Starbucks Gift Card For The Holidays
The company's U.S. business is exceeding expectations, but overseas, things look shaky.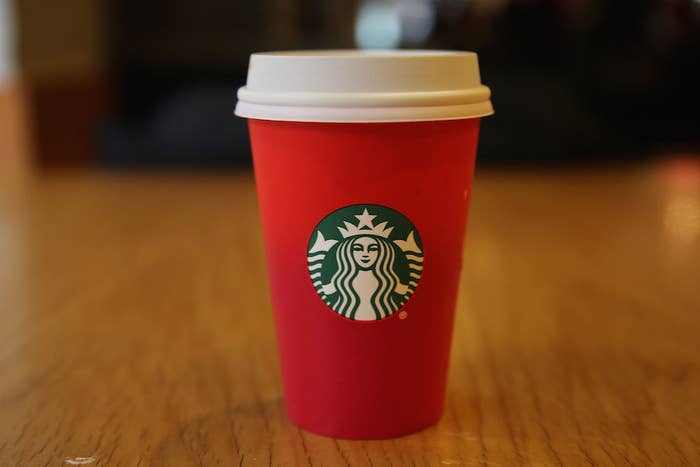 It may feel at times like Starbucks has hit a frothy peak. Its stores are enviably busy compared to many competitors, and its consumers tend to go often, perhaps daily. And the giant coffee company continues to grow.
A strong holiday season boosted Starbucks sales to another record high, the company reported on Thursday. In the last three months of 2015, the chain made more than $5.3 billion in revenue globally, up 12% over the same period a year earlier.

"We are delivering quarter after quarter of record-breaking financial and operating results despite the shift in consumer behavior away from traditional bricks and mortar retailing," CEO Howard Schultz told investors during an earnings call.
Sales at stores that have been open at least 13 months grew 8% globally, and 9% in the U.S.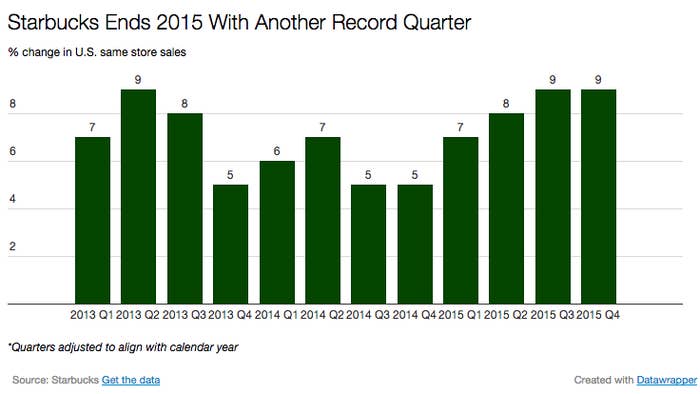 Strong gift card sales helped boost results: One in six American adults received a Starbucks card over the holiday, up from one in seven in in 2014, according to the company. The chain also gained loyalty program members: It now has more than 11 million active members in the U.S.
The chain also started taking mobile orders via app nationwide in September, which boosted sales. Starbucks reported that more than 1 million customers in the U.S. used mobile order in December, and they averaged about five mobile orders that month. Starbucks is now processing over 6 million mobile order transactions monthly.
And food sales continued to grow in the morning, afternoon, and evening, in total rising by 20% over the same period the previous year. Sales of breakfast sandwiches rose by more than 40% year over year, according to the company.
Looking ahead and abroad.
Schultz has high hopes for China, now Starbucks' second largest market with about 2,000 stores. "Starbucks is just getting started in that important country," he said. The company plans to have 3,400 stores in China by 2019.

But this could get tricky. China is a risky market, and its economy has been volatile, with Starbucks' results in the China/Asia Pacific region disappointing investors this quarter. Comparable sales rose by just 5%, less than investors had expected.
The chain's comparable sales growth in Europe, a region that has been shaky both economically and politically, also slowed to 1% last quarter. Despite Starbucks' strong domestic performance, its weaker international sales caused shares to drop late Thursday.