Starbucks, recently a self-declared purveyor of high-end, third-wave coffee, announced on Thursday its contribution to the collapse of American civilization: bottled Pumpkin Spice Latte, which arrives in grocery stores later this month.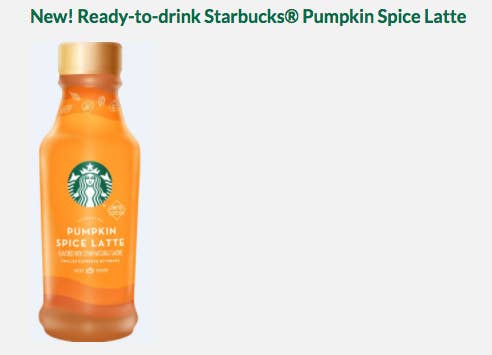 Starbucks' Pumpkin Spice Latte, as we all well know, has a massive fan base. The beverage (that's right, The Beverage) has an official Twitter account with more than 108,000 followers, and devotees look forward to the return of the seasonal drink each fall.
In an ominous development, Starbucks released an "exclusive interview" with the PSL last year about "his" top memories. Here's an actual quote: "I'm everything you want, I'm everywhere you need. No, seriously, everywhere. Want me in a K-Cup? Got you covered. VIA? Boom, done. Bottled? On my way. Having a party? Multi-serve option baby! Tea's more your spice? Teavana's Pumpkin Spice Brulee is nice. #squadgoals"
Of course, a beverage this popular eventually becomes divisive. Pumpkin Spice, critics say, is hella basic. Yet this view has not deterred the hordes of PSL lovers; in fact, it may only strengthen them. It feels like Pumpkin Spice season arrives earlier every year, in ever expanding forms, from K-Cups to refrigerated to-go bottles.
It's still August, for heaven's sake! Can't we free people bask in the glory of summer while it's still 85 degrees outside? Why must Starbucks prematurely foist all forms of gourds and "cinnamon, nutmeg, and clove spices" on us?
It's downright unnatural.
Is it mere coincidence that Pumpkin Spice season, aka autumn, aligns perfectly with the archetypal season for tragedy in literature?
That can't be a good thing. Oh well. It's been fun!