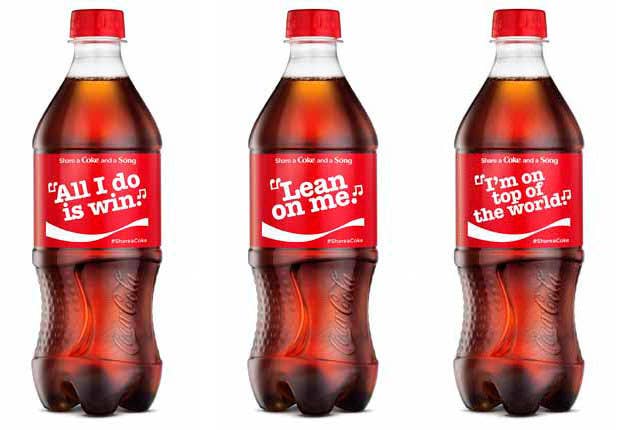 When Coca-Cola first began writing people's names on Coke bottles in Australia in 2011, the company saw it as a way of "speaking to our fans at eye level." But the campaign, which was rolled out in the U.S. in 2014, has become "one of the most successful marketing initiatives in the history of the company," according to Coca-Cola Vice President in North America Racquel Harris Mason — and one that has helped lift sales of the most iconic brand in a declining sugary drinks business.
"The numbers are very, very, very compelling," Harris Mason told BuzzFeed News: An 11% bump in volume sales after the U.S. launch in 2014 and another 4% boost in 2015, she said. The results from the campaign were more than welcome, given that per capita soda consumption in the U.S. reached a 30-year low in 2015. The company's unit case sales of all bubbly drinks in North America still fell by 1% in 2014 and were flat last year.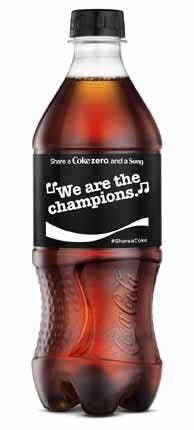 Now, the "Share A Coke" campaign is being rebooted, this time with song lyrics instead of names. More than 70 lyrics will be featured, ranging from 60s classics to current pop and country — plus, of course, Coca-Cola jingles.
Coke shared some examples of what you'll soon be seeing on its bottles and cans: "All I do is win," from DJ Khaled, "Lean on me" from Bill Withers, "I'm on top of the world," from Imagine Dragons, and "We are the champions," from Queen. Different lyrics will show up in different regions, depending on what genres of music are popular, or based on specific words in the lyrics that may resonate in certain areas.
Packaging has become a priority for Coke in more ways than just what's written on labels. One of the company's core strategies for dealing with declining soda consumption has been the sizing down of its servings, targeting consumers who might otherwise abandon soda with treat-sized "mini" cans and bottles. "Share a Coke" plays with the packaging on another level, pushing the idea of sodas as small gifts or novelties, adding to sales of the drink as an everyday product.

For the lyrics campaign, which will launch in April, the company created a spreadsheet of events that happen in people's lives, moments in the day, as well as different relationships, and selected lyrics to address them.
"When you have a lyric on a bottle, you can express so many different sentiments. With 70 different lyrics, there isn't an occasion, a relationship, a moment, a memory that you won't be able to express," said Harris Mason. "The sentiments ranged from falling in love to celebrating a victory to moments of friendship...being motivating, and even patriotism."
Coke has a long history of using music in its marketing, and in recent years has worked with stars like Jason Derulo, Taylor Swift, and Carly Rae Jepsen. It also partnered with Spotify on a music app in 2013.
The new campaign will include television and radio advertising and the "Share a Coke" bottles are expected to be on store shelves from late April through the summer.