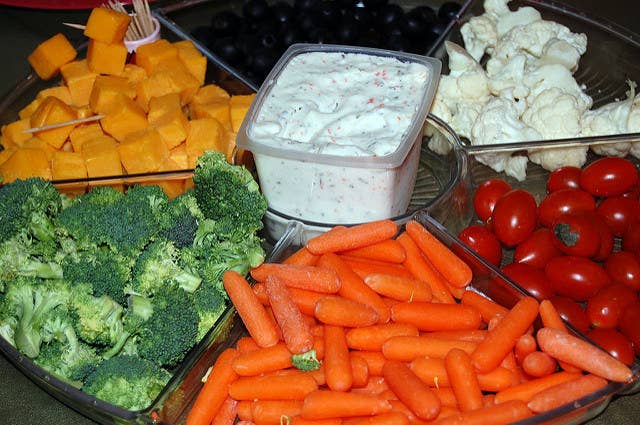 Think twice about picking from that vegetable tray at a summer picnic. The number of people who have gotten sick from eating Del Monte veggie trays has increased to 237 from four states in the Midwest, according to the latest data from the Centers for Disease Control and Prevention.
They contracted cyclosporiasis, the same disease that McDonald's customers recently caught from eating salad. Both outbreaks are being investigated by the CDC and the Food and Drug Administration. It's been a bad year for raw produce: Romaine lettuce was the cause of a deadly E. coli outbreak earlier this year and precut melon was linked to a multistate outbreak of salmonella.
Del Monte's veggie trays have been linked to an ongoing outbreak that led the company to recall its trays of raw broccoli, cauliflower, carrots, and dill dip in mid-June. More cases continued to be associated with the outbreak after the recall. "Most people reported buying the trays at Kwik Trip convenience stores," according to the CDC.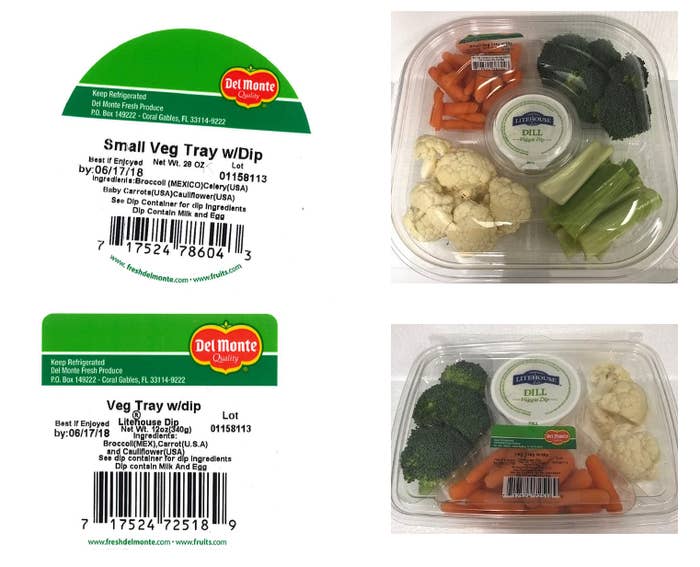 When contacted by BuzzFeed News, Del Monte issued the following statement:
At Del Monte Fresh Produce we take consumer safety very seriously.

On June 15, 2018, Del Monte Fresh Produce N.A., Inc. voluntarily recalled a limited quantity of 6 oz., 12 oz. and 28 oz. vegetable trays with dill dip distributed to: Kwik Trip, Kwik Star, Demond's, Sentry, Potash, Meehan's, Country Market, Food Max Supermarket and Peapod in Illinois, Indiana, Iowa, Michigan, Minnesota and Wisconsin.

The recalled product was removed from the marketplace on or before June 15, 2018 and had a best by date of June 17, 2018 or earlier. Consumers who may still have the recalled product are urged to dispose of it.

Yesterday evening the CDC issued an update on the Multistate Outbreak of Cyclosporiasis Linked to Del Monte Fresh Produce Vegetable Trays. According to the CDC, the median illness onset date among patients is June 1, 2018 (range: May 14 to June 13) and no new onsets were reported after June 13.

Please see the CDC update at: https://www.cdc.gov/parasites/cyclosporiasis/outbreaks/2018/a-062018/index.html

Del Monte Fresh continues to work diligently with the appropriate agencies in responding to this matter.
Cyclosporiasis is an intestinal illness caused by a microscopic parasite. It leads to "watery diarrhea, with frequent, sometimes explosive, bowel movements" and, in some cases, vomiting, according to the CDC.

Outbreaks of cyclosporiasis — which is often spread through imported produce — tend to hit the Midwest in the summer due to produce distribution channels, according to Consumer Reports.

Foodborne diseases are often caused by raw food. And when produce is prechopped, it may come in contact with machinery and people who can spread an infection before it reaches consumers.