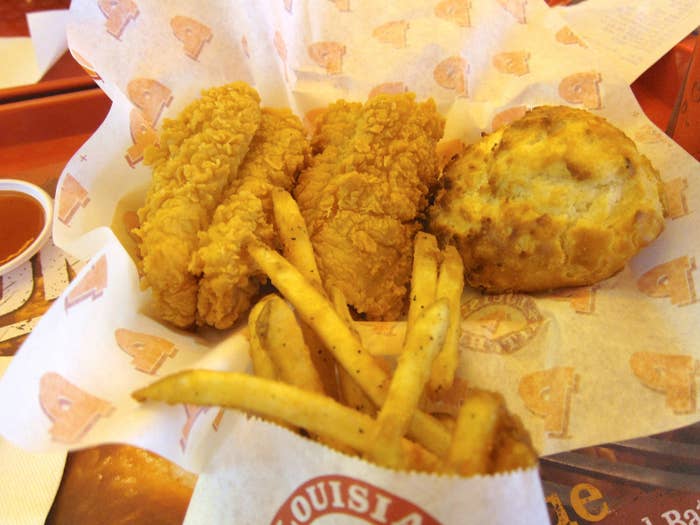 Popeyes is being taken over by the owner of Burger King and Tim Hortons, the companies confirmed Tuesday, with the $1.8 billion deal expected to be completed by April.
The acquisition of Popeyes by Canada-based Restaurant Brands International suggests the fried chicken chain is set to go on an expansion spree. "We look forward to taking an already very strong brand and accelerating its pace of growth and opening new restaurants in the U.S. and around the world," said Daniel Schwartz, the CEO of RBI in a statement.
Popeyes CEO Cheryl Bachelder said the Burger King owner "has observed our success and seen the opportunity for exceptional future unit growth in the US and around the world."
The Popeyes deal is about more than fried chicken: it's part of a wave of mega-takeovers being driven by one of the world's most aggressive investment companies. Restaurant Brands International was created in 2014, when Burger King merged with Tim Hortons. It is majority owned by the Brazilian private equity group 3G Capital, which has been the force behind a number of other giant takeovers in recent years.
Deals backed by 3G have included the $50 billion merger of beer giants Anheuser-Busch and InBev, and the ongoing attempt by that merged company to acquire competitor SAB Miller for a price tag north of $100 billion. 3G also backed the merger of Kraft and Heinz, and the recent, abandoned attempt by Kraft Heinz to buy Unilever for at least $143 billion.
With about 2,000 U.S. locations, Popeyes is the country's second-largest fried chicken chain. KFC is the largest by far with more than 4,100 domestic outlets.
Yet despite a growing appetite for chicken — chains like McDonald's and Shake Shack have launched their own friend chicken sandwiches in recent years — KFC has been struggling, leaving an opportunity for competitors. Popeyes has been one of the beneficiaries of KFC's troubles, with its store count and sales both increasing in recent years.

Popeyes' growth in store count (top) and same store sales (bottom)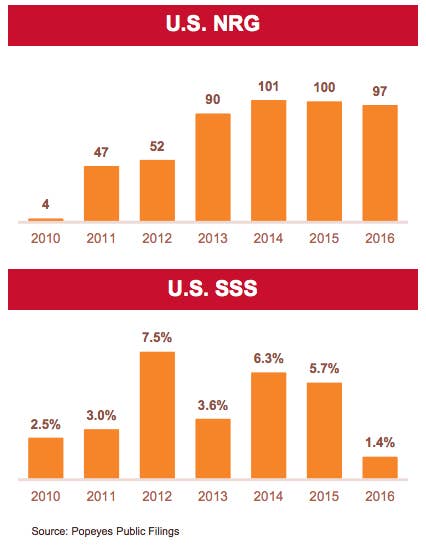 There is also a lot of room to grow overseas too, as Popeyes only has about 600 international locations, mostly in Turkey, Korea, and Canada.
It's unclear how quickly Popeyes will expand following the deal. A Popeyes spokesperson declined to comment on specific plans.
According to an analyst note by Cowen and Co., one of Burger King's biggest strengths "is in establishing master franchise agreements to help grow the brand in international markets."
RBI is only now growing its Tim Hortons chain internationally, with three master franchise development agreements in the Philippines, the UK and Mexico, although "these agreements took longer to strike than investors expected, while no stores have been opened under these agreements as franchisees are building the supply chain," the Cowen analysts wrote. Delays with Tim Horton could signal slower progress for Popeyes as well.
Popeyes has been renovating stores and recently started a program to address service problems at its restaurants. "I can say candidly that our guest experience has not been up to the standard of our food. Our franchisees would agree," Dick Lynch, the company's chief brand officer, told BuzzFeed News last year.