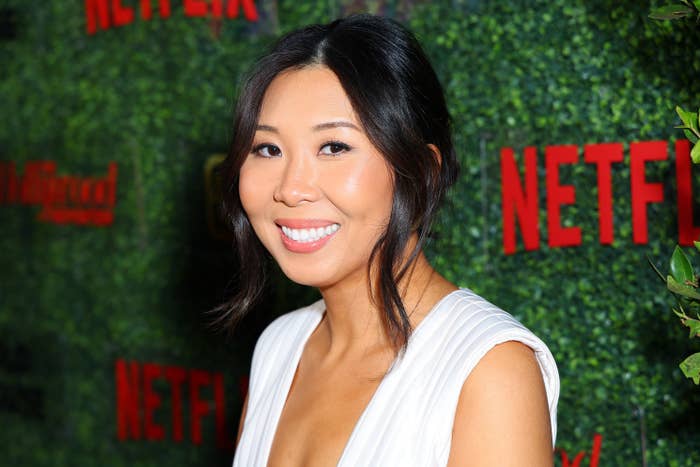 Love Is Blind Season 2 star Natalie Lee said in an Instagram AMA this week that her least favorite thing about participating in the reality show "was the racist messages [she] received (and still receive) on social media."
Lee, who is Korean American, said she hasn't spoken about this publicly before, and while she expected to be the target of some amount of racism, she said, "[I] did not anticipate the amount I would receive." (Lee did not respond to BuzzFeed News' request for comment.)
She shared screenshots of three offensive messages. One said, "Only Asians girls when they MIXED. If not, eyes are too small and face is too pancakey."
The second said, "Of course Netflix had to have a token chinky one for this season."
"You should be very lucky he decided to stay with a chink instead," the third said.
Lee, who got engaged to Shayne Jansen on the show, was "the only East Asian woman on Love Is Blind and the only one in a biracial relationship on [the] season." (Jansen is white). She said she checked the profiles of the people who sent these types of hateful messages and was shocked that some of their bios say "mom of three," "I love Jesus," "be kind," and "grandmother."
Reality shows have been criticized for rarely featuring Asian people in their casts, and mistreating them when they do. Tiffany Moon, an anesthesiologist who is of Chinese descent, faced overt anti-Asian sentiment from the other cast members of The Real Housewives of Dallas two years ago and was compared to a Thai sex worker. A review in the Dallas Observer said the season "​​had a racist undertone throughout" that was directed at Moon.
"It is unfair that society is able to consume (often sexualised) media portrayals of east Asian women, yet these same women can't own their own narrative through popular television," wrote Jo Lee on Refinery29 about the lack of Asian representation on dating shows.
"I do hope there is more East Asian representation on popular reality tv shows moving forward, especially in reality dating shows," Lee said in her post. ●