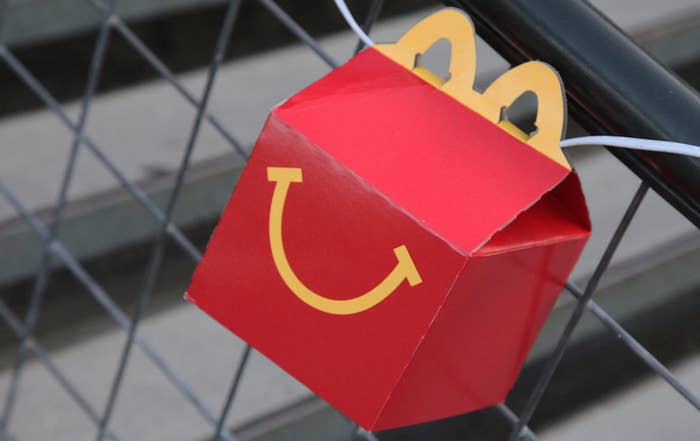 McDonald's finally has some good news to share. Efforts by the Golden Arches to reclaim lost ground are showing early signs of progress.
Sales at the company's U.S. restaurants rose by 0.9% in the most recent quarter, the first quarterly growth reported in two years. The bump in the July - September quarter excludes any impact from the launch of all-day breakfast, which rolled out nationally on Oct. 6.
Instead, the company credited the launch of a new Buttermilk Crispy Chicken sandwich, and the successful switch to "original" ingredients for the Egg McMuffin, like butter. Easterbrook said customers responded well to the new chicken sandwich, which is the latest effort to add premium products to the menu.
A 0.9% bump is just a slight improvement, but it's the first time McDonald's has reported positive quarterly growth since the summer of 2013, marking what the chain hopes is the start of a sustained turnaround.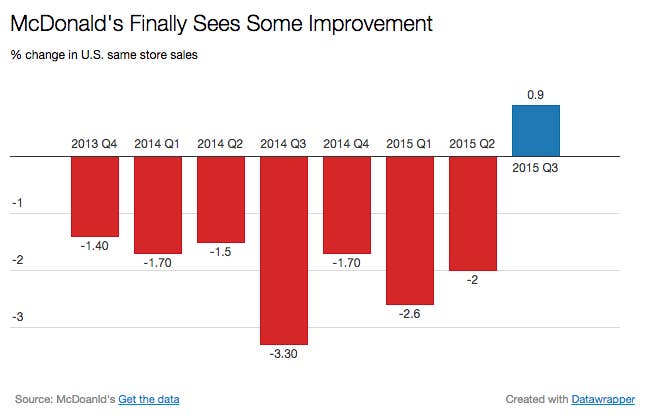 Chief executive Steve Easterbrook, who took over in March, said comparable sales are expected to be positive in the fourth quarter as well. "While still in the early stages, we believe our turnaround plan is starting to generate the change needed to reposition McDonald's as a modern, progressive burger company," he said in a release.
As sales begin to look up, however, the chain also faces rising costs. Increased wages and benefits reduced operating income in the U.S. by 1% last quarter. The chain implemented raises for workers at company-operated restaurant in July, and expects the average hourly wage to exceed $10 by the end of 2016.
Easterbrook said the investment is part of McDonald's long-term plan to improve the experience in restaurants, reduce turnover, and motivate restaurant workers — which will hopefully encourage customers to return even as competing chains like Chipotle and Chick-fil-A expand.