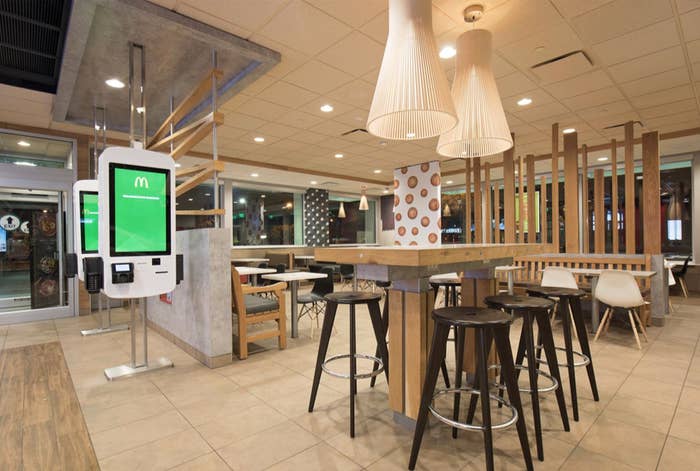 Close your eyes and imagine a McDonald's. You might envision vast swaths of red and yellow; swatches of gray tile under formica tables; chairs bolted to the ground; the steely-white glow of fluorescent lights. This will soon be the McDonald's of the past, if the Oak Brook, Illinois-based company gets its way.
The 60-year-old burger chain and its U.S. franchisees are in the process of updating their restaurants according to several new designs, part of a wider effort to breathe new life into an aging brand. McDonald's is battling a years-long sales slump brought on by growing competition from upscale fast-food chains like Shake Shack as well as newly food-focused companies like Starbucks.
"We've moved away from a cafeteria feel to a more comfortable and, in some ways, more intimate restaurant," Max Carmona, McDonald's senior director of U.S. restaurant design, told BuzzFeed News. Cafeterias aren't stylish, but "it's a legacy," he said.
While families and children remain an important customer group for the Golden Arches, the new styles look far more grown-up. And for a chain with as iconic a "cafeteria feel" as McDonald's, such a dramatic makeover is a risky and costly branding move.
"A lot of the things we're doing now in terms of menu, technology, and customization, I don't think you can do that effectively in a non-modernized restaurant," Carmona said, noting the new in-store kiosks for ordering. "Modernized restaurants are the foundation for all these great ideas and innovations." Plus, McDonald's needs to keep up as competitors like Wendy's and Burger King update their stores too (the newer Wendy's even have fireplaces).
This is McDonald's? Some of the new styles.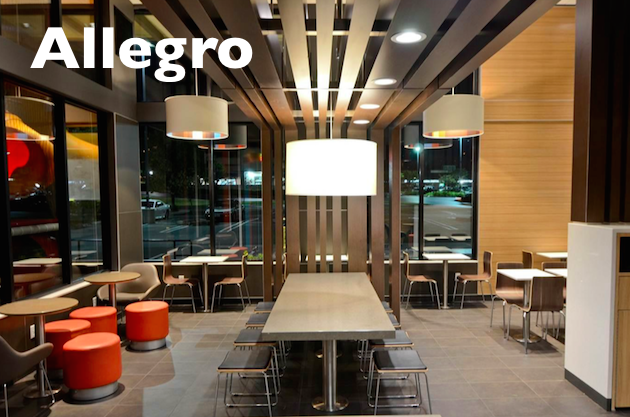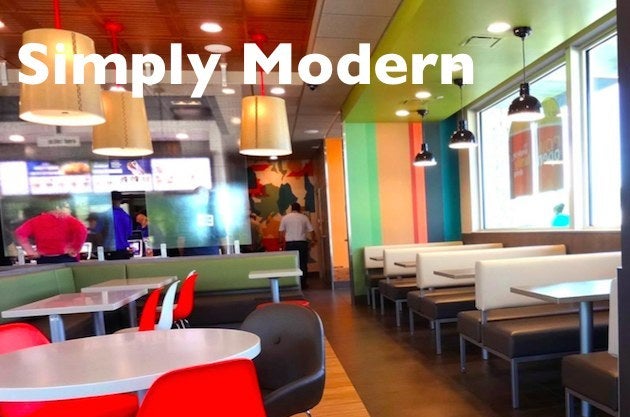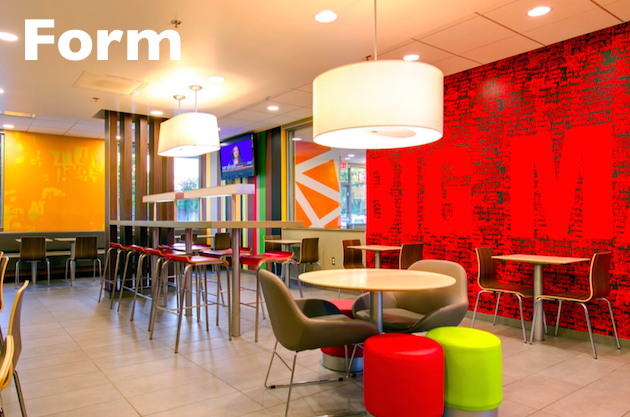 The company's leaders are eager to shed McDonald's old skin to create what they call the "experience of the future." The same chain that was credited for standardizing restaurant operations in its early days is now offering customized burgers and table service at some locations. In-store kiosks have automated some order-taking. Breakfast recently became an all-day affair. It redesigned the boxes, bags, and cups it serves food in this month. It's slowly transitioning to cage-free eggs. It's even serving kale, for god's sake.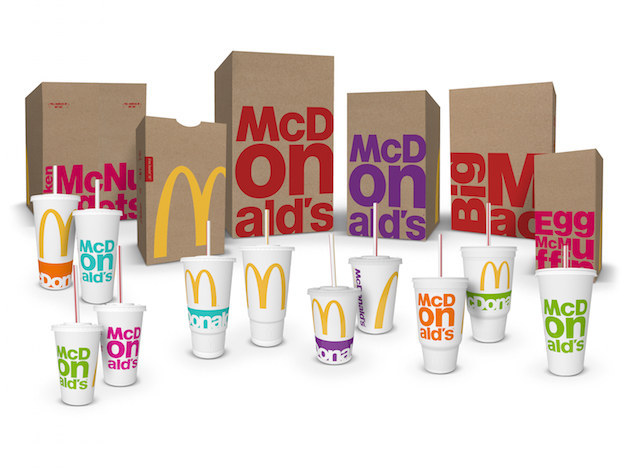 But does the new design work? Restaurant consultant Aaron Allen, for one, said, "They should have gone with something that more communicates speed, convenience, and the brand as an icon" in the redesign.

Indeed, the metamorphosis might upset devoted McDonald's conservationists. This, perhaps, is exactly what CEO Steve Easterbrook and his predecessor Don Thompson meant when they said the chain would become "a modern, progressive burger company."
Design at McDonald's is the work of a 36-person design team, which partners with design and branding firms like Gensler (in the U.S.), UXUS (Netherlands), and Juicy (Australia).
The new designs may appear a bit fancy for a chain with a clown mascot, but the transformation is already well underway overseas. In fact, if these styles look familiar to anyone who has eaten at a McDonald's abroad, it's because some of the looks have been imported from other markets.
The "Form" and "Allegro" styles came from McDonald's Australia, and "Origin" from Canada. The newest import, "Wood + Stone," comes from Europe. "McDonald's in some other parts of the world were a little ahead of this, where interest in design from the average person was different from in the U.S.," Carmona said.
Some of the style guides: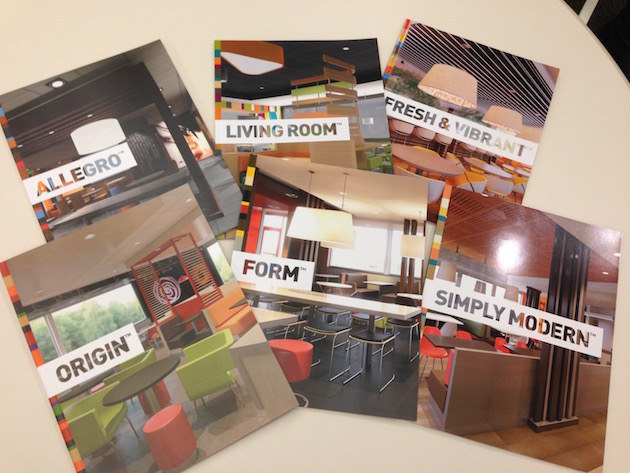 The style books contain a catalog of options for creating each "look," detailing a variety of tabletops, wall patterns, chairs, lighting fixtures, and other touches. "Instead of laminate, they might go to a corian or quartz tabletop," Carmona said. Many of the colors used — red, green, brown — are intended to mirror the colors in the food, and to preserve an element of fun in the design. The children's PlayPlace is still an option.
After franchisees piece together their designs, based on some combination of aesthetics and cost, they order the materials from the company's five seating and decor suppliers.
New seating options at McDonald's:
The challenge for many franchisees is the expense, particularly since most customers never even set foot in the restaurants. About 70% of McDonald's sales come from the drive-thru. Refreshing a restaurant costs hundreds of thousands of dollars — in 2014 the the average cost was $695,000. The corporation picks up part of the cost, roughly 40%, the Los Angeles Times reported — which quickly adds up.

Some U.S. customers have already seen the new designs, which have been rolling out for a few years now. McDonald's had hoped that the vast majority of its restaurants would have been redone by last year, according to media reports. Yet perhaps due to the slowdown in business by late 2015, roughly 3,000 U.S. restaurants — only about 20% of the chain's 14,300 domestic locations — had been remodeled according to the new styles.
Before that, another 3,000 restaurants had been modernized using some elements that eventually made it into the new designs, though the company hadn't yet standardized them. "Reimaging remains a focus and priority for our business," a spokesperson told BuzzFeed News.

The chain's overall comparable sales still slid as these remodeled restaurants opened, and only started to rebound slightly last summer. But the expectation is that this design effort will boost sales — historically by 6% to 7%, according to the company. "Our operations folks are starting to understand that design does matter, and not looking like a cafeteria does matter," Carmona said.
How most of us experience McDonald's: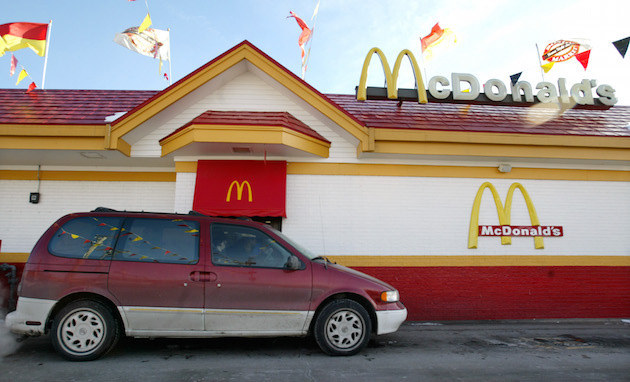 Carmona described McDonald's new aesthetic as "comfortable modern" (as opposed to a minimalistic "ultra-modern" design, or the kind of "traditional modern" aesthetic one might associate with Pottery Barn).

"In a lot of our older restaurants, you'll see anything from a gazillion framed pictures to tchotchkes," he said. "Our lighting typically has been a ceiling full of two-by-four fluorescent light fixtures." The switch to LED lighting means greater energy efficiency, plus "due to the color temperature on the lighting, the food looks better, the people look better. People feel more comfortable."
The new stores don't feel much like McDonald's of days past at all, but perhaps that's precisely the goal.