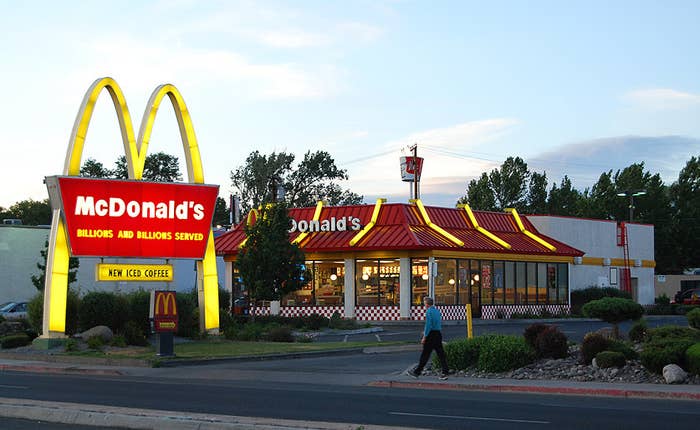 McDonald's has made a tenuous comeback in the U.S. since rolling out a highly anticipated all-day breakfast menu last fall, but the burger chain's resurgence is showing signs of weakening.
From April to June, sales at McDonald's U.S. locations open at least 13 months grew by just 1.8%, slower than the above-5% gains reported in the previous two quarters. "We're not immune from what's happening in the outside world," said CEO Steve Easterbrook on an earnings call, referring to a spending slowdown across consumer segments in response to today's "unsettled world."
Easterbrook once again called all-day breakfast a major contributor to recent sales, and expects another bump from the upcoming expansion of the all-day breakfast menu in September to include McMuffins, biscuits, and McGriddles. Still, the chain needs more than egg sandwiches to sustain a turnaround.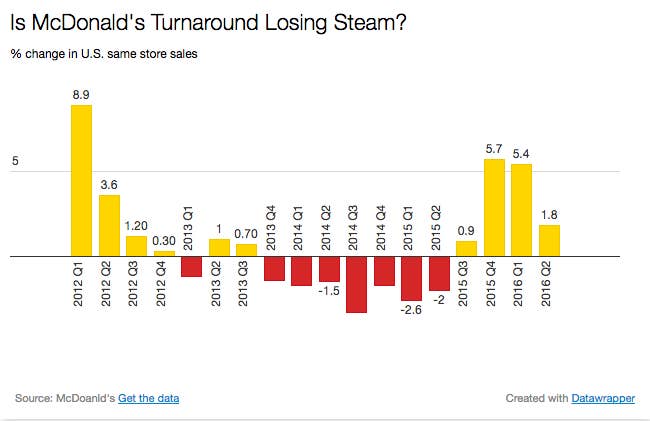 It's already remodeling restaurants with an updated look and is gradually rolling out kiosk ordering and customized burgers.
Easterbrook indicated that upcoming announcements will involve food quality. Already, he noted, McDonald's ranked number one among fast food restaurants in YouGov's survey for improved consumer perception.
Plans include "both investing in the ingredients, the recipes, and the items in the restaurants as well as the perception of better explaining what's in our food, where it comes from," said Easterbrook, citing a new marketing campaign centered on the tagline "the simpler the better."
The company filed to trademark that line earlier this year. "I'm not going to disclose any more about it, but there will be more news to come," he said. "We know it's going to be powerful on the customer and very, very strong for the brands as well."

To improve perceptions about its food, the chain recently switched from margarine to butter during breakfast and is experimenting with fresh, never frozen beef patties in Dallas.
McDonald's had previously committed to start buying "sustainable beef" in 2016, and to use chicken raised "without antibiotics that are important to human medicine" by 2017. Easterbook said it is "breaking ground in the beef industry" in Canada, working "with ranchers and larger producers around the globe to measure and track sustainable beef from farm to fork." By 2025, McDonald's also said it would switch to cage-free eggs.

"Sustainability matters to our customers and it matters to us," he said.