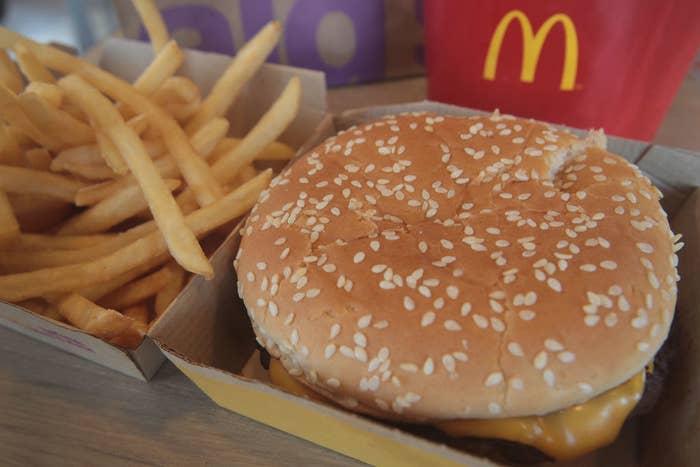 McDonald's spends a lot of time and money rolling out "premium" products like design-your-own burgers and ambitious, leafy wraps. But time and time again, the chain is rewarded most when it goes cheap.
It's a tough reality for a restaurant giant whose CEO loves to share his vision for "a modern, progressive burger company," and invests in store remodeling, digital technology, and ingredient overhauls like upcoming switch from frozen to fresh beef by 2018.
Yet amidst this much hyped transformation, guest numbers have been declining for years. "When value is customer-focused and locally-relevant, it drives guest counts, period," McDonald's CEO Steve Easterbrook recently said on an investor call. Even as the chain tools around with guacamole and artisan grilled chicken sandwiches, it needs to focus on value, he said, "whether customers have a couple of bucks in their pockets or a few more than that."

It raises questions about how far McDonald's can really innovate. The McDonald's "concept succeeds best when leaning into core competencies," analysts at Cowen and Co. wrote in a report in April, such as selling Egg McMuffins all day long, or offering bigger and smaller versions of the Big Mac. Going upscale was not on that list, and few people think of McDonald's when they're craving guacamole. They think of it when they want ten chicken nuggets for $2.
Consider some recent flops. McDonald's launched Premium McWraps in 2013, and they failed. Mighty Wings — which cost almost $1 per wing — failed in 2013. The chain made a splashy foray into build-your-own burger territory with the Create Your Taste menu in 2014 — and that will be pared down to a smaller menu with fewer choices this May.
As all these tests at the fancy end of the market fizzled, "we were losing customers [on] the value-end of our menu for a period of time," Easterbrook said. Meanwhile, McDonald's consistently wins at selling fast, cheap food — the McPick 2 menu, $1 drinks, and other low-cost items.
Thanks in part to "beverage value promotions," the company said, sales at restaurants open at least a year rose 1.7% in the first three months of the year, regaining momentum after declining in late 2016.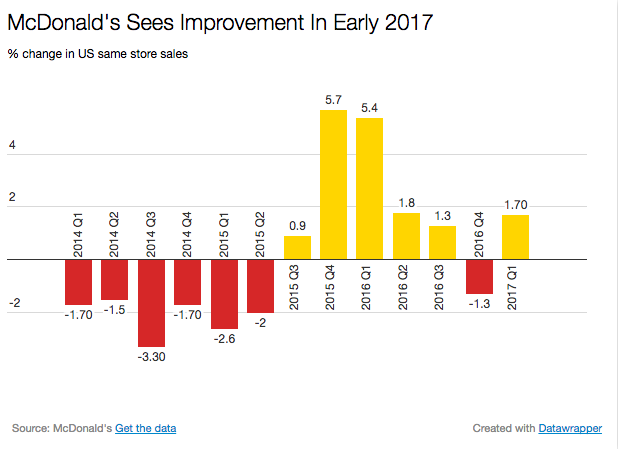 That's the thing about McDonald's, which built a global empire selling bargain burgers that just about anyone could afford. It doesn't just need to be cheap, but aggressively cheap.
"For the past several years, McDonald's value offering has lagged our nearing competitors, each of whom has invested significantly more to drive traffic into their restaurants," McDonald's US President Chris Kempczinski told investors in March. The McPick 2 value menu "helped to slow these losses, but quite honestly, it wasn't strong enough," he said.
What McDonald's found was customers like a simple value menu, and the cheaper the better. "Combinations at lower price points like $2, $2.50 and $3 performed better than those at higher price points, suggesting that entry-level pricing was very important. And we learned that McPick, when paired with an aggressive local beverage value program, outperformed all other value programs," said Kempczinski.
Thus McDonald's recent beverage promotions.
McDonald's launched a promotion for $1 soft drinks and $2 McCafe beverages in April.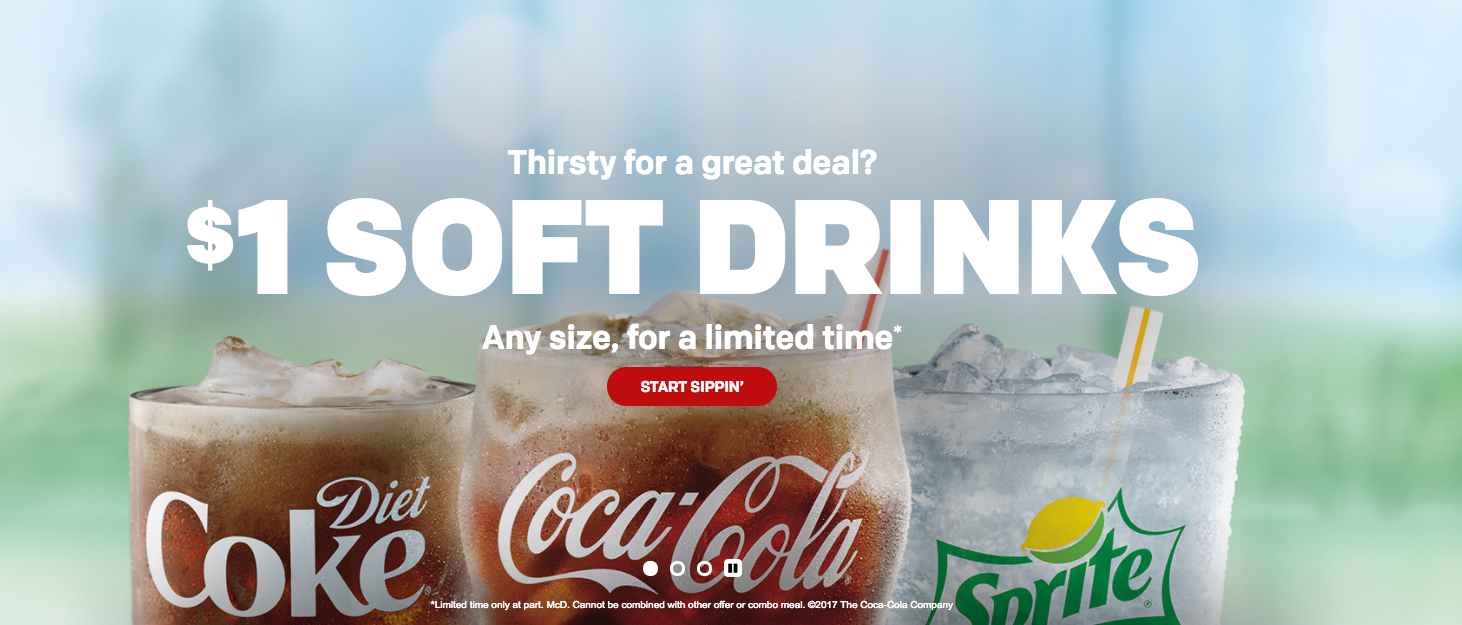 "We cannot drive sustained long-term growth without a stronger national value program," Kempczinski said.

Despite McDonald's efforts, most people looking for a premium burger still look elsewhere, and for now, the chain is trying to get people interested again in classics like the Big Mac. After that "we can explore more at the premium end, and our credibility grows with that," said Easterbrook.