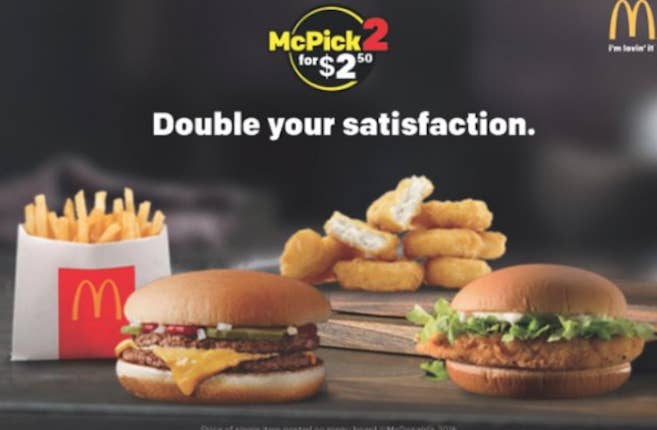 In an ongoing price war that has been heating up with fast food competitors this year — driven in part by cheap commodities — McDonald's is making a long-term commitment to a new kind of low-cost deal, one that frees restaurants from the $1 price point of yesteryear.
The chain today said its "McPick 2" deals — which give customers a rotating menu of items to build a cheap, two-piece snack or meal, or two items to share — are now part of the company's value offerings nationwide. "We are committed to making McPick 2 our value platform that will continue to evolve over the foreseeable future," McDonald's spokeswoman Lainey Garcia told BuzzFeed News in an email.
For those who don't want to "McPick" two things, the Everyday Value Menu (formerly the Dollar Menu & More, though few things there still cost $1) will still be available.
Chains like Wendy's and Burger King have also focused on bundle deals (offering four or five items for $4), and some customers have been left missing simple old dollar menus, which allowed them to actually spend just a dollar.

In summer of 2015, McDonald's offered a two for $2.50 combo, but it wasn't until November that the company filed to trademark "McPick."
It then offered a McPick 2 deal this past January, offering two items for $2, and in March relaunched it as a two-for-$5 deal after franchisees complained that $2 was just too low.
One operator went as far as to call the $2 deal "the most devastating promotion to operator cash flow we have run in the past 10 years" in an analyst survey.
As Burgerbusiness.com first reported, the "two-for" deal starting next week will be a choice of a Big Mac, 10-piece Chicken McNuggets, Filet-O-Fish, plus some additional options that will vary by region, for $5.
But we've already seen some regional variation on the "McPick" scheme. Take for example this McPick 2 for $4 breakfast deal in Central Indiana.
And this two for $3 deal in New Orleans.
McDonald's in the New York City area is still offering a McPick 2 for $2.50.
McDonald's CEO Steve Easterbrook told investors in April the McPick 2 framework gives the chain flexibility in terms of region, price, and variety. "You will see us dial it up and down, national and local, but the one thing you will always see, there will always be value at McDonald's," he said.