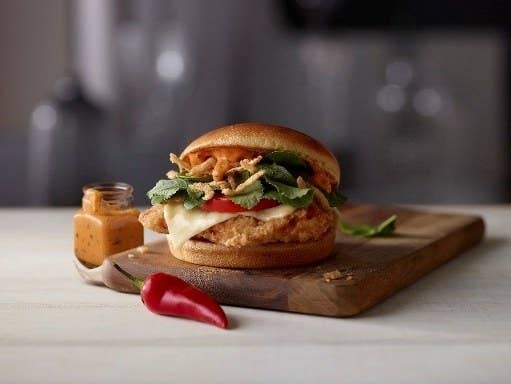 McDonald's much-hyped "Create Your Taste" menu, which allowed customers in about 2,000 US restaurants to build their own burgers using touch-screen kiosks from more than 30 different meat, topping, and bun options, has reached a quiet end. In its place, the chain is rolling out a simplified version called "Signature Crafted Recipes" that offers customers a selection of four toppings bundles on a beef or chicken burger. Sandwiches from the new menu will still come with table service, which was introduced as part of the Create Your Taste program, and can be ordered from the drive-thru.

"We continue to test a more modern restaurant experience in select markets in the US featuring kiosks that allow customers to pick their bun, protein and ingredients under the Signature Crafted concept and also enjoy table service," said a McDonald's spokeswoman in an emailed statement.
The change, first reported by Business Insider, was made after restaurant operators worried making super customized burgers would slow down the kitchen. But according to Richard Adams, a consultant to McDonald's franchisees, the program never even got that far. "Create Your Taste was never successful in testing," Adams said, and few people ordered off that menu.
There were several problems with Create Your Taste. The custom sandwiches cost were not available in the drive-thru, where McDonald's does the majority of its business, he said. At a cost of roughly $8 to $10, they targeted a higher-spending consumer that was not part of the chain's core customer base. And they simply took too long to prepare to be desirable to fast food customers.

The four Signature Crafted topping bundles that replace the long list of individual ingredients are: maple bacon dijon, deluxe, buffalo bacon, and pico guacamole, according to BI. Customers can also choose from three meats: beef, buttermilk crispy chicken, or grilled chicken. Adams said the burgers cost less than those built from the Create Your Taste menu.
Menu customization has been an unlikely but important part of the Golden Arches' menu strategy since domestic sales began falling several years ago. In 2014, when the chain was starting to roll out Create Your Taste, then-CEO Don Thompson said "this is not a test." (Nonetheless, it's over.)
"We are leveraging the learnings from Create Your Taste to provide our customers with a great experience when they visit McDonald's," a spokeswoman told BuzzFeed News. The chain is also working on other menu initiatives, such as expanding all-day breakfast, mobile ordering, and tweaking iconic items like the Big Mac, to sustain a recent sales turnaround.